The impact of green buildings
Building green facilities and adopting eco-friendly practices isn't just good for the environment and our patients' health — it also helps drive down healthcare costs. Here are a few ways we're going green.
LEED-certified hospitals
LEED, or Leadership in Energy and Environmental Design, is the most widely used green building rating system in the world — the rankings include certified, silver, gold and platinum.

Developed by the U.S. Green Building Council, LEED provides a framework for creating healthy, highly efficient and cost-saving green buildings. Benefits of a LEED-certified building include:
Healthier buildings: Certified buildings feature cleaner air, access to daylight and are free from harmful chemicals found in paints.
Improved air quality: Better indoor air quality can help alleviate symptoms for those living with asthma and respiratory allergies. It can even help relieve stress and boost your mood.
Reduced pollution: LEED-certified buildings are energy efficient, which means they help reduce pollution and improve outdoor air quality.
To get a building LEED-certified, an organization must accrue points across several sustainability criteria. Examples of this criteria includes increasing energy efficiency, installing electric vehicle charging stations or making bike racks available, to name a few.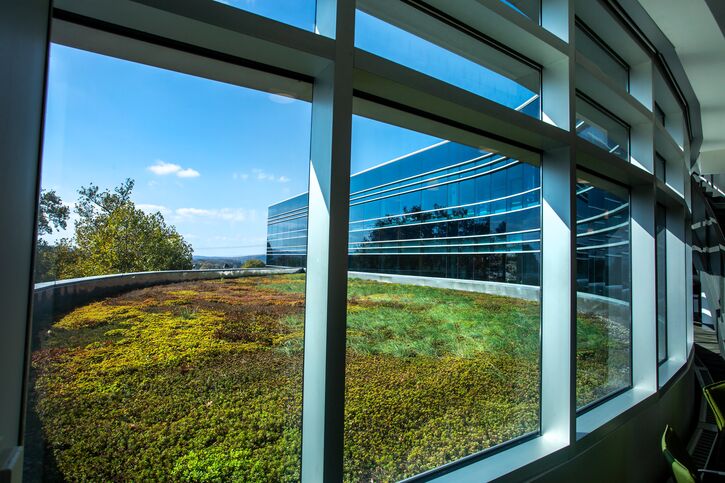 Our first LEED-certified facility, the Henry Hood Center for Health Research in Danville, Pa., received silver certification in 2007. And Geisinger Gray's Woods in State College, Pa., was the first healthcare facility in Pennsylvania to earn a LEED gold designation.
To date, many of our facilities are certified, including silver and gold designations. And we've committed to pursuing LEED certification for all new buildings.
A focus on sustainable building materials
When possible, we use renewable materials from local sources when building our facilities. These materials, including steel, rubber and bamboo (instead of hardwood, carpeting or vinyl tile), help us to reduce our carbon footprint and as a result, improve the air quality in our communities.
The Good Food, Healthy Hospitals pledge
Going green extends beyond our facilities into our cafeterias and foodservice venues, where we serve patients, employees and visitors every day.
We've signed a pledge to the Good Food, Healthy Hospitals initiative to increase offerings of healthier and more sustainable food and beverage options in all our locations. Some of these include:
Offering locally grown produce when available
Sourcing antibiotic- and hormone-free chicken
Introducing the "better burger," a blend of local hormone-free beef and locally grown mushrooms
Offering only fresh produce on our menus
Reducing waste through a refillable cup program
Replacing salad bar bowls with paper boxes
Good Food, Healthy Hospitals started in Philadelphia and has expanded across the state through a grant and additional funding from the Pennsylvania Department of Health and the Centers for Disease Control and Prevention.