Recycling and community impacts
Recycling and reuse
Geisinger strives to recycle as many supplies, materials, and products as possible to reduce what we send to the landfill. Across the Geisinger system, our recycling rate is 15-35 percent. A few examples:
Computers and electronic devices are either refurbished and donated, or the parts are recycled. Geisinger donates or recycles an average of 5,000 pieces of equipment each year.
Used oil from Geisinger fleet vehicles heats the automotive shop in Danville, and any extra oil is recycled.
Geisinger also recycles light bulbs, aluminum, magazines and newspapers, plastics, and many types of batteries.
Geisinger's medical equipment recovery program puts inactive medical equipment to good use - whether within Geisinger or at another organization. Many "single use" medical devices are also collected for reprocessing; they are sterilized and tested so they can be reused safely more than once, and recycled when they can no longer be used.
Geisinger has installed bottle-filling stations in multiple locations to reduce disposable plastic drink bottles. In September 2016, employees using the EZH2O bottle filling station installed in Geisinger Office Building 1 reached a green milestone. Using the station for just a few months, they saved approximately 8,500 bottles or 475 pounds of plastic, the equivalent of more than one mile of plastic bottles laid end to end. Geisinger has committed to including them in all new construction and renovations.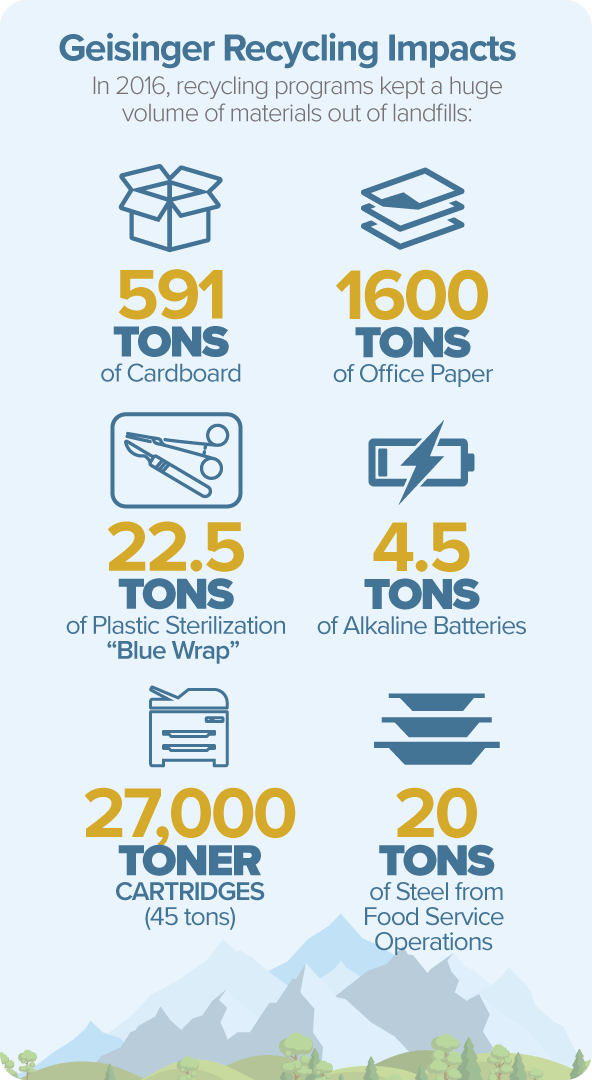 Community Initiatives
Geisinger's Stewardship Forest and trails
Established in 1994, the Geisinger Forest Stewardship Plan conserves more than 300 acres of wooded land in Montour County, which Geisinger manages as part of the Pennsylvania Stewardship Forest. The
forest protects the local ground water supply.
Geisinger supports
12 miles of recreational trails
through the forest, on the hillside behind Geisinger Medical Center. Trailheads are found along Powder Mill Road, behind the heliport.
Geisinger's Sports Medicine Department installed a kiosk with a color-coded trail map, to help users take advantage of scenic, hilly trails. To learn more, get directions or access to trail maps, visit the
Geisinger's Stewardship Forest
page.
---
Geisinger Foundation green fund
In May 2013, the Geisinger Foundation established a "green fund" to meet the desires of employees, vendors and others to contribute to sustainability initiatives.

The fund helps implement sustainable energy projects that might not be feasible without external support. The inaugural green fund project was a solar PV (photovoltaic) array on Geisinger Janet Weis Children's Hospital, with the fund augmenting a generous grant from the West Penn Power Sustainable Energy Fund.
---
Patient environmental education
Geisinger created Healthy Geisinger, Healthy You to help patients, families and surrounding communities learn how environmental quality impacts personal health - and things that individuals and families can do at home to create a positive impact. Program content is disseminated to hospital patients via iPad.
---
Environmental Health Institute
Geisinger Center for Health Research and the Johns Hopkins Bloomberg School of Public Health partnered to form the
Environmental Health Institute (EHI)
in 2007.
EHI's mission is to
understand how land use, the built environment, energy production and use, and food and water systems may impact human health in central and northeastern Pennsylvania.
This knowledge can
improve the health of Geisinger patients
, and
increase understanding of how to develop and promote healthy and sustainable communities.
---
Chemical Safety
Geisinger received the 2015 'Making Medicine Mercury-Free" Award from Practice Greenhealth. Practice Greenhealth is the nation's leading health care community dedicated to increasing efficiencies and environmental stewardship while improving patient safety and care. The award recognizes organizations that have virtually eliminated mercury from their facilities and have demonstrated a commitment to continue to be mercury-free. Award criteria include mercury-free management and purchasing policies, and staff education.
In addition to eliminating mercury, Geisinger has replaced toxic chemicals like ethylene oxide, xylene and glutaraldehyde with equally effective, environmentally friendly sterilization options.