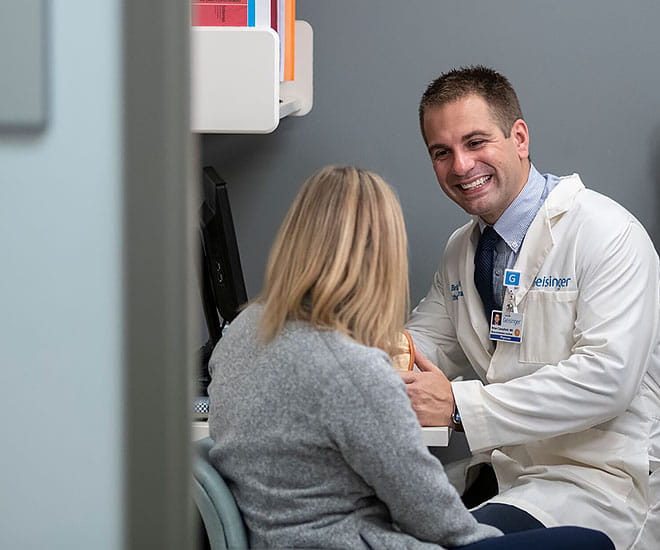 Thank you, heroes
Send a message of thanks and donate to support their lifesaving work.
Thank you for honoring a Geisinger caregiver who's made a difference in your life. Your words of support mean so much to those who dedicate their lives to providing high-quality, compassionate care here.
Your donation also directly supports their work through investments in training and resources they use every day. As a nonprofit healthcare organization, we thank you sincerely.
My mother had numerous complex health issues and was confident Geisinger doctors were doing the best for her. My father also liked Geisinger's hospital and donated every year until his death in 2019. I donate because Geisinger has a high standard of care and serves a rural population. Keep up the good work!
I give because Dr. Evans is a very professional and caring doctor in the post-anesthesia care unit. He and his nurse always came by to see their patients and explained the post-operative care in detail. He was available for any needs.
I'm lucky to have lived a healthy life and feel it's my responsibility to give back to help those less fortunate. That's why I give. Thank you for being such a huge part of this community. Geisinger is bigger than just providing healthcare; it provides hope to so many.
By submitting this form, you agree that this message may be chosen and used on the Geisinger Health Foundation website, and/or published in future print materials. You may receive email updates from Geisinger Health Foundation and can opt-out at any time.
Charitable organizations that solicit contributions are required by the Commonwealth of Pennsylvania to provide the following statement: "A copy of the official registration and financial information may be obtained from the Pennsylvania Department of State by calling toll free, within Pennsylvania, 800-732-0999. Registration does not imply endorsement." Read our disclosure statement.
Content from General Links with modal content