Over the years, Geisinger has developed a model of care based on innovation, quality and value. Our commitment to these three areas has allowed us to become a financially strong organization - a result which helps us carry forward our not-for-profit mission of care that reinvests every dollar back into the care we provide. Below is a snapshot of how our dollars were used in fiscal year 2016.


Financial summary FY 16
Geisinger ended fiscal year 2016 with an operating income, after interest expense, of $127.9 million, a 2.3 percent return on $5.5 billion of revenue. The economic benefit to Pennsylvania (from direct spending and an indirect ripple effect of spending) totaled $9.9 billion, as reported by The Hospital and Health System Association of Pennsylvania. Despite the continuing challenges of a weak economy, the uncertainty of health care reform and ongoing reimbursement shortfalls, Geisinger provided $580.2 million of community benefits, including uncompensated care and care provided under government programs at less than cost. Revenue grew by 21.4 percent over FY 2015, once again a remarkable achievement in the current environment and the highly regulated, competitive health care industry. In addition, Geisinger invested $284.3 million in capital projects.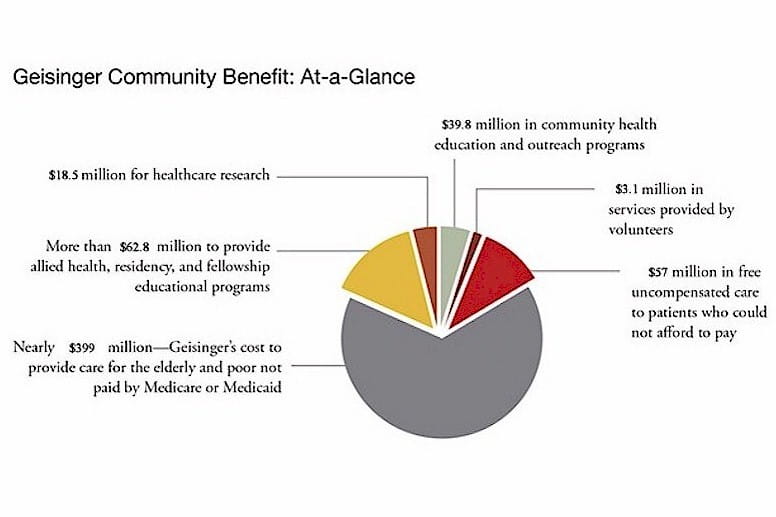 * July 1, 2014 - June 30, 2015
As a not-for-profit organization, we are accountable to the communities we serve - not to shareholders. This means we are wise stewards of resources, demonstrating that stewardship in many ways:


$580.2 million in community support last year alone - which is 14.66 percent of our operating expenses and three times greater than the amount of community service necessary to meet

Pennsylvania's standards as a charitable mission.

$399 million in Geisinger's cost to provide care for the elderly and the poor not paid by Medicare or Medicaid
$62.8 million to provide allied health, residency and fellowship educational programs
$57 million in free, uncompensated care to patients who could not afford to pay
$18.5 million for health care research
$39.8 million in community health, education and outreach programs
$3.1 million in services provided by volunteers



More than $9.9 billion in annual economic impact to the state of Pennsylvania*, according to The Hospital & Health System Association of Pennsylvania. Through direct employment, spending and the ripple effect of its utilization of local, regional and state vendors, Geisinger provided nearly 44,000 jobs to the Commonwealth's workforce in 2015.
*Total: $10.5 billion economic impact to Pennsylvania and New Jersey