Top baby names at Geisinger hospitals revealed
FOR IMMEDIATE RELEASE:

DANVILLE, PA -- Parents are gaga over Jackson and Emma.

Geisinger Health System (GHS) has tabulated the most popular names of the more than 5,000 babies delivered at its hospitals throughout 2016. For the second year, variations of the name Jackson were the top moniker for baby boys. Grayson climbed the crib rails into the top 10 list, overcoming Liam to settle into second place. Olivia crawled up eight spots to tie with Emma for the top girls' name, bumping Adalynn to the backseat.

Most of the girls' names are new to our top 10 list, except for family favorites Olivia, Emma and Adalynn. For the boys, Aidan and Gabriel lost their top spots, making room for names like Wyatt and Oliver for the first time.

Below are our top 10 baby names in 2016, as well as the trendiest names at Geisinger hospitals including Geisinger Bloomsburg Hospital, Bloomsburg; Geisinger Lewistown Hospital, Lewistown; Geisinger Medical Center, Danville; and Geisinger Wyoming Valley Medical Center, Plains Twp.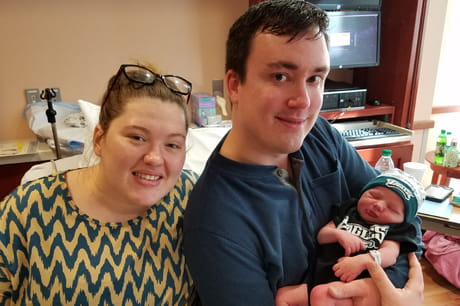 Top 2016 names at Geisinger Health System (all hospitals)
Female
Olivia
Emma
Adalynn
Madison
Charlotte
Harper
Grace
Sophia
Lillian
Amelia
Male
Jackson
Grayson
Liam
Noah
Jacob
Mason
Wyatt
Oliver
Carter
William
Most popular names at each hospital
Geisinger Bloomsburg Hospital, Bloomsburg – 294 babies
Female
Evelyn
Morgan
Skylar
Geisinger–Lewistown Hospital, Lewistown – 508 babies
Geisinger Medical Center, Danville – 1,795 babies
Geisinger Wyoming Valley Medical Center, Plains Twp.- 1,554 babies
To find these results, we combined different spelling variations of the same sounding name. For example, the ranking for Adalynn also includes variations Adalinn, Adalyn, Addalyn and Addalynn. While Jackson also includes variations such as Jacksen, Jaxon, Jaxson and Jaxxon. Many of the other names on the list include multiple spellings.

In comparison, website BabyCenter.com recently released that the most popular names of 2016 as reported by their subscribers were Sophia for girls and — surprise — Jackson for boys.
About Geisinger
Geisinger is committed to making better health easier for the more than 1 million people it serves. Founded more than 100 years ago by Abigail Geisinger, the system now includes 10 hospital campuses, a health plan with more than half a million members, a research institute and the Geisinger College of Health Sciences, which includes schools of medicine, nursing and graduate education. With more than 25,000 employees and 1,700+ employed physicians, Geisinger boosts its hometown economies in Pennsylvania by billions of dollars annually. Learn more at geisinger.org or connect with us on Facebook, Instagram, LinkedIn and Twitter.