Geisinger Commonwealth holds White Coat Ceremony for Class of 2021
A chaplain, a Fulbright scholar and a music therapist; 22 students with graduate degrees and 31 students who are the first member of their family to go to college. These and other accomplished individuals received the first symbol of their new profession as Geisinger Commonwealth School of Medicine (Geisinger Commonwealth) held its ninth annual White Coat Ceremony for the Class of 2021 on Friday, Aug. 4 at the St. Robert Bellarmine Theater at Scranton Preparatory School.
At the ceremony, Geisinger Commonwealth's president and dean, Steven J. Scheinman, MD, told the students, "Some doctors succumb to the temptation to think of their white coat as a shield, or a barrier, or a status symbol… You won't be one of those doctors. You will come to see this white coat not as a symbol of status, but as a reminder that your role is one of service: to the community and to your patients."
Gerald Tracy, MD presented the Dr. Lester Saidman Memorial Lecture, named in honor of the well-respected physician and educator from Luzerne County. Dr. Tracy is a co-founder of Geisinger Commonwealth and a champion of local medical education.
The Class of 2021's 113 future doctors participated in a ceremony, held in common with virtually every other medical school in the nation, designed to welcome new medical students into the profession. Students recited an oath acknowledging their responsibilities as future physicians and their obligations to future patients. Then they were cloaked with the white coat – the mantle of the medical profession – by a member of Geisinger Commonwealth's faculty. White coats were provided by The Stanley J. Dudrick, MD, and Alan G. Goldstein Endowed Fund.
A reception immediately followed in the lobby of Geisinger Commonwealth's Medical Sciences Building, 525 Pine St., Scranton.


About Geisinger Commonwealth School of Medicine
Geisinger Commonwealth School of Medicine (Geisinger Commonwealth) is a member of the Geisinger family. Geisinger Commonwealth offers a community-based model of medical education with campuses in Danville, Doylestown, Scranton, Sayre and Wilkes-Barre. Geisinger Commonwealth offers Doctor of Medicine (MD) and Master of Biomedical Sciences (MBS) degrees. The school's innovative curriculum, focused on caring for people in the context of their lives and their community, attracts the next generation of physicians and scientists from within its region in northeastern and central Pennsylvania, as well as from across the state and the nation. The school also has over 440 graduate medical students in 24 residency programs and 19 accredited fellowships. Geisinger Commonwealth is committed to non-discrimination in all employment and educational opportunities. For more information, visit

www.geisinger.edu/gcsom

, or connect with us on

Facebook

,

Instagram

,

LinkedIn

and

Twitter

.
About Geisinger
Geisinger is an integrated health services organization widely recognized for its innovative use of the electronic health record and the development of innovative care delivery models such as ProvenHealth Navigator®, ProvenCare® and ProvenExperience®. As one of the nation's largest health service organizations, Geisinger serves more than 3 million residents throughout 45 counties in central, south-central and northeast Pennsylvania, and also in southern New Jersey at AtlantiCare, a Malcolm Baldrige National Quality Award recipient. In 2017, the Geisinger Commonwealth School of Medicine and Geisinger Jersey Shore Hospital became the newest members of the Geisinger Family. The physician-led system is comprised of approximately 30,000 employees, including nearly 1,600 employed physicians, 13 hospital campuses, two research centers, and a 583,000-member health plan, all of which leverage an estimated $12.7 billion positive impact on the Pennsylvania and New Jersey economies. Geisinger has repeatedly garnered national accolades for integration, quality and service. In addition to fulfilling its patient care mission, Geisinger has a long-standing commitment to medical education, research and community service. For more information, visit www.geisinger.org, or connect with us on Facebook, Instagram, LinkedIn and Twitter.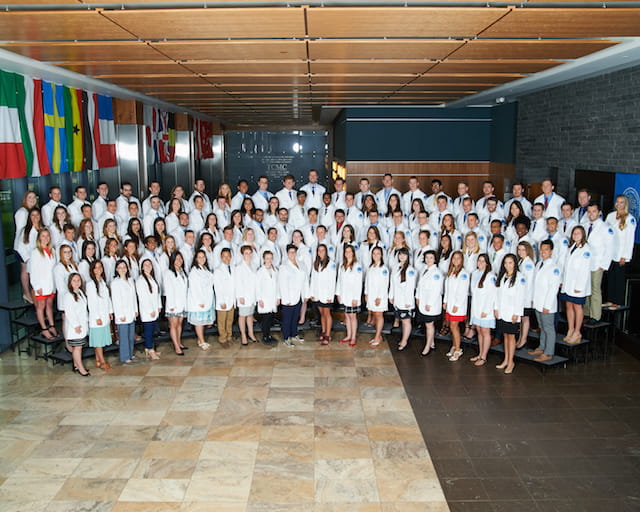 For GCSOM media inquiries
Elizabeth Zygmunt
Director of Media and Public Relations
Geisinger Commonwealth School of Medicine
Office: 570-504-9687
On call: 570-687-9703
ezygmunt@som.geisinger.edu