Geisinger Commonwealth holds White Coat Ceremony for Class of 2021
A chaplain, a Fulbright scholar and a music therapist; 22 students with graduate degrees and 31 students who are the first member of their family to go to college. These and other accomplished individuals received the first symbol of their new profession as Geisinger Commonwealth School of Medicine (Geisinger Commonwealth) held its ninth annual White Coat Ceremony for the Class of 2021 on Friday, Aug. 4 at the St. Robert Bellarmine Theater at Scranton Preparatory School.
At the ceremony, Geisinger Commonwealth's president and dean, Steven J. Scheinman, MD, told the students, "Some doctors succumb to the temptation to think of their white coat as a shield, or a barrier, or a status symbol… You won't be one of those doctors. You will come to see this white coat not as a symbol of status, but as a reminder that your role is one of service: to the community and to your patients."
Gerald Tracy, MD presented the Dr. Lester Saidman Memorial Lecture, named in honor of the well-respected physician and educator from Luzerne County. Dr. Tracy is a co-founder of Geisinger Commonwealth and a champion of local medical education.
The Class of 2021's 113 future doctors participated in a ceremony, held in common with virtually every other medical school in the nation, designed to welcome new medical students into the profession. Students recited an oath acknowledging their responsibilities as future physicians and their obligations to future patients. Then they were cloaked with the white coat – the mantle of the medical profession – by a member of Geisinger Commonwealth's faculty. White coats were provided by The Stanley J. Dudrick, MD, and Alan G. Goldstein Endowed Fund.
A reception immediately followed in the lobby of Geisinger Commonwealth's Medical Sciences Building, 525 Pine St., Scranton.


About Geisinger Commonwealth School of Medicine
Geisinger Commonwealth School of Medicine (Geisinger Commonwealth) is a member of the Geisinger family. Geisinger Commonwealth offers a community-based model of medical education with campuses in Danville, Doylestown, Scranton, Sayre and Wilkes-Barre. Geisinger Commonwealth offers Doctor of Medicine (MD) and Master of Biomedical Sciences (MBS) degrees. The school's innovative curriculum, focused on caring for people in the context of their lives and their community, attracts the next generation of physicians and scientists from within its region in northeastern and central Pennsylvania, as well as from across the state and the nation. The school also has over 440 graduate medical students in 24 residency programs and 19 accredited fellowships. Geisinger Commonwealth is committed to non-discrimination in all employment and educational opportunities. For more information, visit

www.geisinger.edu/gcsom

, or connect with us on

Facebook

,

Instagram

,

LinkedIn

and

Twitter

.
About Geisinger
Geisinger is committed to making better health easier for the more than 1 million people it serves. Founded more than 100 years ago by Abigail Geisinger, the system now includes 10 hospital campuses, a health plan with more than half a million members, a research institute and the Geisinger College of Health Sciences, which includes schools of medicine, nursing and graduate education. With more than 25,000 employees and 1,700+ employed physicians, Geisinger boosts its hometown economies in Pennsylvania by billions of dollars annually. Learn more at geisinger.org or connect with us on Facebook, Instagram, LinkedIn and Twitter.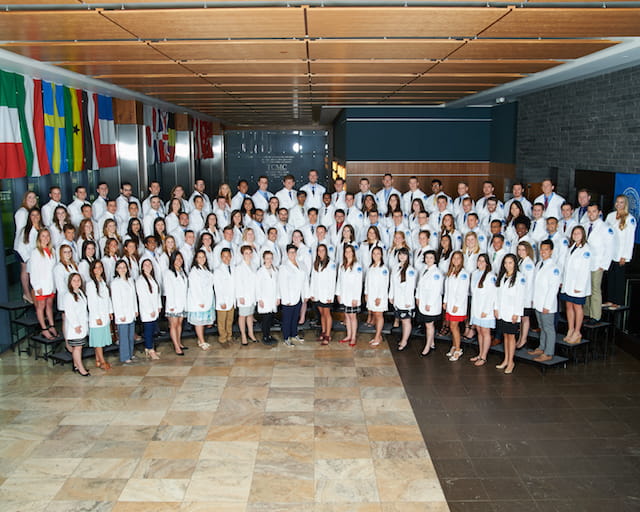 For education media inquiries
Elizabeth Zygmunt
Marketing and Communications Strategist for Education
Office: 570-504-9687
On call: 570-687-9703
emzygmunt1@geisinger.edu