Jessica Briscoe selected for Howard Hughes Medical Institute's Medical Research Fellows Program
The Howard Hughes Medical Institute's (HHMI) Medical Research Fellows Program has selected 79 talented medical and veterinary students to conduct in-depth, mentored biomedical research. Among the fellows chosen is Jessica Briscoe of Houston, now completing her third year of medical school at Geisinger Commonwealth School of Medicine. She will participate in mentored research this summer at Harvard Medical School.

According to HHMI, 53 percent of the awardees are female, the greatest representation of women in the program to date. Starting this summer, each fellow will spend a year pursuing basic, translational, or applied biomedical research at one of 32 academic or nonprofit research institutions across the United States.

"The Med Fellows Program allows exceptional MD, DVM, and DDS students to effectively shift course and conduct rigorous research at top institutions throughout the country," said David Asai, senior director in science education at HHMI. "It's an extraordinary opportunity for future physicians, veterinarians, and dentists to explore the intersection of medicine and scientific discovery, and we hope that each student comes away further empowered to pursue a career as a physician-scientist."

The Med Fellows Program takes a multilevel mentoring approach to help incoming fellows get off to a strong start, make new connections, and access a network of support throughout their fellowship year. Various meetings bring the fellows together to connect with newly minted Med Fellow alumni, early-career faculty, and senior investigators to participate in seminars and learn from physician-scientists at various career stages. The most direct form of support comes from each fellow's mentor.

In collaboration with HHMI, five partners – the American Society of Human Genetics, Burroughs Wellcome Fund, Citizens United for Research in Epilepsy, Foundation Fighting Blindness, and Parkinson's Foundation – will fund eight of the 79 aspiring physician- and veterinarian- scientists, bringing the program's total investment to $3.4 million. Today, 28 years after the Med Fellows Program was first launched, it has helped more than 1,700 medical, veterinary and dental students establish a foothold in the research world.
About Geisinger Commonwealth School of Medicine
Geisinger Commonwealth School of Medicine (Geisinger Commonwealth) is a member of the Geisinger family. Geisinger Commonwealth offers a community-based model of medical education with campuses in Danville, Doylestown, Scranton, Sayre and Wilkes-Barre. Geisinger Commonwealth offers Doctor of Medicine (MD) and Master of Biomedical Sciences (MBS) degrees. The school's innovative curriculum, focused on caring for people in the context of their lives and their community, attracts the next generation of physicians and scientists from within its region in northeastern and central Pennsylvania, as well as from across the state and the nation. The school also has over 440 graduate medical students in 24 residency programs and 19 accredited fellowships. Geisinger Commonwealth is committed to non-discrimination in all employment and educational opportunities. For more information, visit

www.geisinger.edu/gcsom

, or connect with us on

Facebook

,

Instagram

,

LinkedIn

and

Twitter

.
About Geisinger
One of the nation's most innovative health services organizations, Geisinger serves more than 1.5 million patients in Pennsylvania and New Jersey. The system includes 13 hospital campuses, a nearly 600,000-member health plan, two research centers and the Geisinger Commonwealth School of Medicine. Geisinger is known for its focus on caring and innovative programs including the ProvenCare® best-practice approach to maximize quality, safety and value; ProvenHealth Navigator® advanced medical home; Springboard Health® population health program to improve the health of an entire community; ProvenExperience™ to provide refunds to patients unhappy with their care experience; and Geisinger's MyCode® Community Health Initiative, the largest healthcare system-based precision health project in the world. With more than 215,000 volunteer participants enrolled, MyCode is conducting extensive research and returning medically actionable results to participants. A physician-led organization, with approximately 32,000 employees and more than 1,800 employed physicians, Geisinger leverages an estimated $12.7 billion positive annual impact on the Pennsylvania and New Jersey economies. Repeatedly recognized nationally for integration, quality and service, Geisinger has a long-standing commitment to patient care, medical education, research and community service. For more information, visit www.geisinger.org, or connect with us on Facebook, Instagram, LinkedIn and Twitter.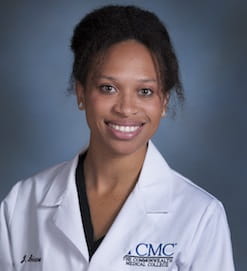 For GCSOM media inquiries
Elizabeth Zygmunt
Director of Media and Public Relations
Geisinger Commonwealth School of Medicine
Office: 570-504-9687
On call: 570-687-9703
ezygmunt@som.geisinger.edu