Scranton, Hazleton students to benefit from grant to Geisinger Commonwealth program
A $75,000 grant will expand the reach of an enrichment program for health careers, supporting and encouraging low-income and first-generation-to-college students from Scranton and Hazleton as they pursue successful careers in the field.

Geisinger Commonwealth School of Medicine (Geisinger Commonwealth) recently received the grant from the PPL Foundation. These funds will expand the school's Regional Education Academy for Careers in Health – Higher Education Initiative (REACH-HEI) by supporting programs for students in both the Hazleton and Scranton school districts.

REACH-HEI is an out-of-school time program that provides academic enrichment opportunities and enables students in northeastern Pennsylvania to succeed in health-related professions. A longitudinal program helping high school and undergraduate students, REACH-HEI has a proven track record of success, with hundreds of its program participants successfully completing their high school goals and fulfilling their college dreams. The first cohort of high school students graduates in 2017 from universities and colleges. Some are joining their Geisinger Commonwealth REACH-HEI family as students in the school's doctor of medicine (MD) and master of biomedical science (MBS) programs.

"PPL's generous grant will allow Geisinger Commonwealth to help more young people realize their dreams and reach their full potential," said Ida Castro, JD, Geisinger Commonwealth's vice president for government & community relations and chief diversity officer. "I am grateful for their support and look forward to welcoming new students to our one-of-a-kind program."

The PPL Foundation awards annual grants through a competitive application and review process.

This year, the PPL Foundation received nearly 100 applications requesting more than $5 million during this highly competitive grant cycle. Geisinger Commonwealth School of Medicine was one of 14 organizations selected for a grant.

"The REACH-HEI program is a great example of a community initiative that strengthens our workforce in a critical industry and creates opportunities for young people who might not otherwise have them," said Alana Roberts, regional affairs director for PPL Electric Utilities. "We're pleased to support REACH-HEI as the program works to make a real and lasting difference —in the lives of students, the lives of their future patients, and our communities."
About Geisinger Commonwealth School of Medicine
Geisinger Commonwealth School of Medicine (Geisinger Commonwealth) is a member of the Geisinger family. Geisinger Commonwealth offers a community-based model of medical education with campuses in Danville, Doylestown, Scranton, Sayre and Wilkes-Barre. Geisinger Commonwealth offers Doctor of Medicine (MD) and Master of Biomedical Sciences (MBS) degrees. The school's innovative curriculum, focused on caring for people in the context of their lives and their community, attracts the next generation of physicians and scientists from within its region in northeastern and central Pennsylvania, as well as from across the state and the nation. The school also has over 440 graduate medical students in 24 residency programs and 19 accredited fellowships. Geisinger Commonwealth is committed to non-discrimination in all employment and educational opportunities. For more information, visit

www.geisinger.edu/gcsom

, or connect with us on

Facebook

,

Instagram

,

LinkedIn

and

Twitter

.
About Geisinger
Geisinger is committed to making better health easier for the more than 1 million people it serves. Founded more than 100 years ago by Abigail Geisinger, the system now includes 10 hospital campuses, a health plan with more than half a million members, a research institute and the Geisinger College of Health Sciences, which includes schools of medicine, nursing and graduate education. With more than 25,000 employees and 1,700+ employed physicians, Geisinger boosts its hometown economies in Pennsylvania by billions of dollars annually. Learn more at geisinger.org or connect with us on Facebook, Instagram, LinkedIn and Twitter.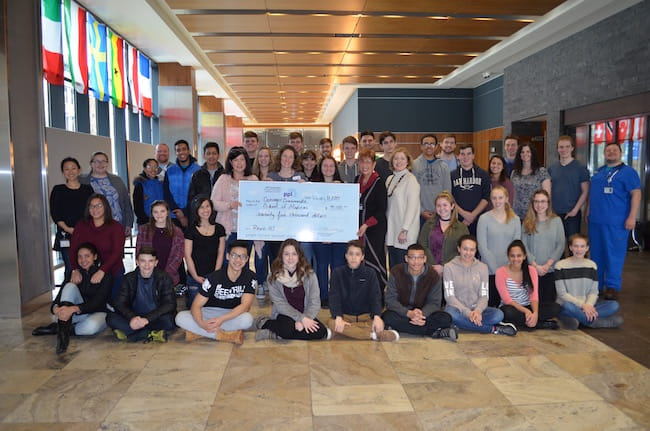 For education media inquiries
Elizabeth Zygmunt
Marketing and Communications Strategist for Education
Office: 570-504-9687
On call: 570-687-9703
emzygmunt1@geisinger.edu
Content from General Links with modal content