GCMC achieves national accreditation from Metabolic and Bariatric Surgery Accreditation and Quality Improvement Program
Scranton hospital meets national quality standards to ensure safe, high quality bariatric patient care
SCRANTON, Pa. – Geisinger Community Medical Center (GCMC) has received three-year national accreditation from the Metabolic and Bariatric Surgery Accreditation and Quality Improvement Program (MBSAQIP), a joint program of the American College of Surgeons and American Society for Metabolic and Bariatric Surgery. The distinction recognizes comprehensive bariatric surgery programs which meet the highest standards for patient safety and quality.

GCMC is the only location in Lackawanna County to earn this accreditation, just one year after establishing its bariatric surgery program. Led by minimally invasive/bariatric surgeon, Ryan Horsley, D.O., GCMC's program has completed 130 bariatric surgeries since its inception in August 2016.

The MBSAQIP Standards ensure bariatric surgical patients receive a multidisciplinary program, not just a surgical procedure, which improves patient outcomes and long-term success. GCMC's bariatric surgery program offers pre- and post-operative care including behavior medication, nutritional and exercise programs, support groups and surgical options, designed specifically for severely obese patients. Part of Geisinger's Center for Nutrition, Weight Management and Metabolic Surgery, GCMC's program includes obesity medicine specialist Jila Kaberi-Otarod, M.D., a team of registered dieticians, clinical nurse specialists, physician assistants, behavioral health specialists and a bariatric nurse coordinator, to create a customized plan for patients who are overweight or suffer from obesity.

"This achievement solidifies our dedication to bariatric surgery patients," said Anthony Petrick, M.D., Geisinger's director of bariatrics and minimally invasive surgery. "Dr. Horsley and the surgical weight-management team have earned this accreditation within one year – an accolade typically unheard of in such a short time. We are extremely proud of this program, which is helping patients live healthier, happier, longer lives."

To earn MBSAQIP designation, GCMC met essential criteria for staffing, training, facility infrastructure and protocols for care, ensuring its ability to support patients with severe obesity. The hospital also underwent an extensive site visit to review its structure, process and clinical outcomes data. Additionally, GCMC's program participates in a national data registry that yields quality reports on its processes and outcomes, identifying opportunities for continuous quality improvement.

"Severe obesity is a complex disease in which no two patients are alike," said Anthony Aquilina, D.O., regional president for Geisinger Northeast. "That is why a multidisciplinary approach tailored to each patient is so critical to their success. We are proud to earn this distinction and to provide reliable, accessible, best-in-class care to severely obese patients throughout Northeast Pennsylvania."

Around 15.5 million people in the U.S. suffer from severe obesity, according to the National Institutes of Health – and the number continues to climb. Obesity increases the risks of morbidity and mortality because of the diseases and conditions commonly associated with it, including type II diabetes, hypertension and cardiovascular disease. Metabolic and bariatric surgical procedures have proven to be effective in the reduction of comorbid conditions related to severe obesity.*

Dr. Horsley sees patients at Geisinger Mt. Pleasant, Scranton, Geisinger Mt. Pocono and performs surgeries at GCMC. Dr. Otarod sees patients at Geisinger Mt. Pleasant and Geisinger Wyoming Valley, Wilkes-Barre.

To schedule a consultation for Geisinger's bariatric surgery program, please call 844-703-4262.

________________________
*Buchwald H, Avidor Y, Braunwald E, et al. Bariatric Surgery: A Systematic Review and Meta-analysis. JAMA. 2004;292(14):1724-1737. DOI:10.1001/jama.292.14.1724.
About the American College of Surgeons
The American College of Surgeons is a scientific and educational association of surgeons that was founded in 1913 to raise the standards of surgical education and practice and to improve the quality of care for the surgical patient. Its achievements have placed it at the forefront of American surgery and have made the College an important advocate for all surgical patients. The College has more than 80,000 members and is the largest organization of surgeons in the world.

About the American Society for Metabolic and Bariatric Surgery
The American Society for Metabolic and Bariatric Surgery, founded in 1983, was formed to advance the art and science of metabolic and bariatric surgery by continually improving the quality and safety of care and treatment of people with obesity and related diseases through educational and support programs for surgeons and integrated health professionals.
About Geisinger
Geisinger is committed to making better health easier for the more than 1 million people it serves. Founded more than 100 years ago by Abigail Geisinger, the system now includes 10 hospital campuses, a health plan with more than half a million members, a research institute and the Geisinger College of Health Sciences, which includes schools of medicine, nursing and graduate education. With more than 25,000 employees and 1,700+ employed physicians, Geisinger boosts its hometown economies in Pennsylvania by billions of dollars annually. Learn more at geisinger.org or connect with us on Facebook, Instagram, LinkedIn and Twitter.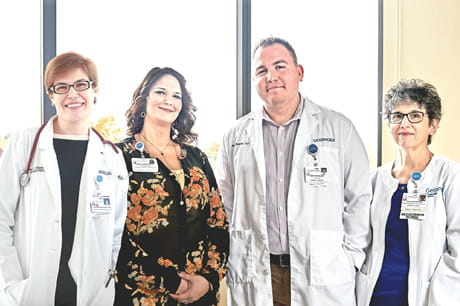 Content from General Links with modal content