Geisinger shares top 10 social media posts of 2017
DANVILLE, Pa. – Sometimes you don't need to look too far to find a great story. At Geisinger, some of the best stories come from the patients, members, employees and students who receive care and work across the system every day.

As Geisinger heads into a new year of caring, a big thank you needs to be given to everyone who allowed Geisinger to be a part of their 2017 journey. In many cases, that included sharing personal and touching stories with Geisinger's tens of thousands of social media fans.

It was all of the likes, shares, views and comments on those stories that showed which ones truly resonated with Geisinger's loyal social media followers and shaped Geisinger's Top 10 social media list of 2017.

Kitties in an emergency room, a blizzard baby and the world's greatest medical students all made the top 10, as did genetics, the Fresh Food Farmacy and so much more.

The top 10 list is below and can also be found on Geisinger's Facebook, Instagram and Twitter pages by searching #GeisingerTop10.

Patients and employees can share their own story with Geisinger as the journey into 2018 begins. Submit stories by emailing geisingerstories@geisinger.edu.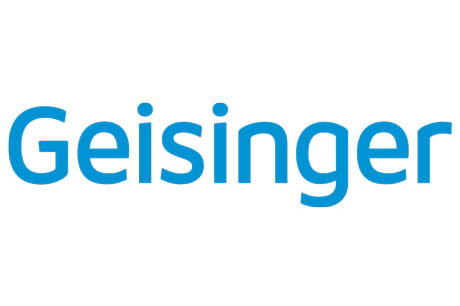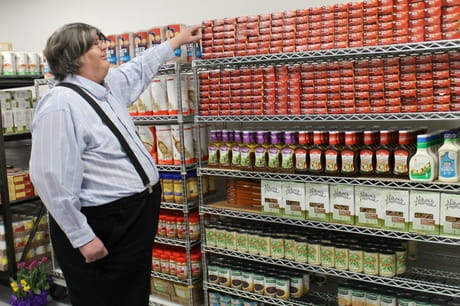 No. 10 – The Tweet Heard 'round the World
In June, Amazon.com CEO Jeff Bezos Tweeted a request for ideas on how his philanthropic activity could help people "in the here and now." Geisinger jumped at the chance to share the incredible journey of Tom Shicowich, one of the first participants in Geisinger's Fresh Food Farmacy. The program, which offers free, nutritional food to food-insecure diabetics and their entire families, has disrupted the healthcare industry with a "food as medicine" approach. And while Tom's healthy evolution went viral along with the Tweet, we're still waiting to hear from Mr. Bezos, especially now that he's purchased Whole Foods Market and could provide a lifetime supply of almond butter, multi-grain quinoa and organic chicken to each and every one of our patients.
---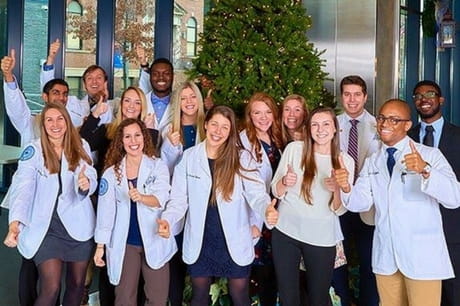 No. 9 -- All in the Family
One of the country's newest medical colleges paired up with one of the nation's oldest healthcare systems as the new year welcomed the Geisinger Commonwealth School of Medicine to the Geisinger family. The superstar students shined bright throughout the year and their fresh faces topped a number of social media posts across multiple channels. Wishing a fantastic 2018 to all of our med students: Here's looking at you kids!
---
No. 8 – Genetic Counselors: We Want YOU
The field of genetic counselors is hot, hot, hot, and expected to grow 29 percent in six years. Back in August, Geisinger – already at the forefront of this high-flying curve thanks to our MyCode Community Health Initiative – attracted yet another national spotlight when CNBC's Kate Rogers and crew headed to Danville for an all-day "Where the Jobs Are" feature on our successful recruitment efforts. Broadcasting live from our Danville laboratory, Kate's story resonated far and wide and made it to number 8 on our Top 10 list. Still, we think our genetic counselors – and all the familiar faces who showed up in the segments – are number one.
---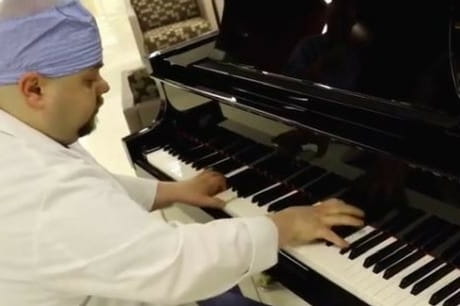 No. 7 – The Sound of Surgeons
Dr. Ricky Clay keeps his fingers nimble and mind sharp by tickling the ivories of the Steinway Boston grand piano found in the lobby of Scranton's Geisinger Community Medical Center. From Rachmaninoff to Radio Head, this general surgeon's musical tastes fill the hallways – and the hearts – of patients and employees alike. When this video posted on Instagram back in June, thousands of you applauded by liking, commenting and sharing. We thought the post deserved an encore.
---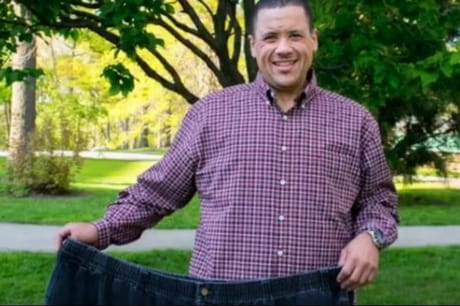 No. 6 – Three years, 300 pounds
The finish line is in sight for the remarkable James Ross. The Scranton man's amazing, three-year weight loss journey is coming to an end after a staggering 300-pound weight loss following gastric bypass surgery in 2015. James was featured in a #GeisingerStories back in May, with more than 35,000 followers cheering his victory. Once unable to walk to the bathroom, James shared that he feels "invincible" and could outrun his five kids. Now a healthy 225 pounds, the fitness aficionado hits the gym four days a week and sticks to his doctor's advice to "never refrain" when eating. Instead, mindfulness and moderation are key. We checked in with James for an update. "I'm doing great," he happily reports. "It's not just the way I look, it's how I feel. I feel great." May James inspire us all when it comes to New Year's resolutions.
---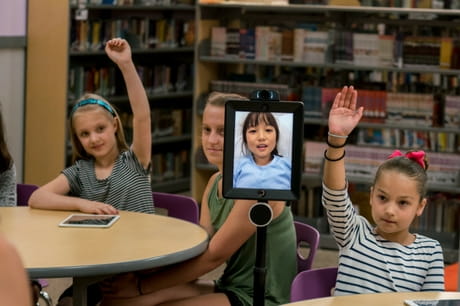 No. 5 – An Apple A Day
Healthcare technology is revolutionizing the way we care for our patients. This amazing video demonstrates how Geisinger incorporates iOS technology into almost every level of patient care, using iPad and Apple Watch and Apps, oh my! More than 77,000 of you viewed it since its Facebook premiere back in November.
---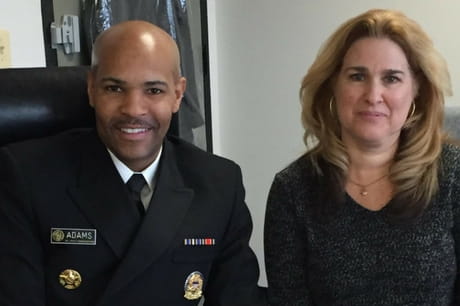 No. 4 – Bridget Goes to Washington
Geisinger registered nurse Bridget Farrell lost her vibrant daughter Delaney to an opioid overdose in July. When it came time to write her daughter's obituary, Bridget decided to include a heart-wrenching poem penned by Delaney about her personal struggles with addiction. Today, Bridget is on a mission to stop the suffering of other families like hers. "I want to help them to not go through what we went through," she says. In December, Bridget was asked to speak at the National Opioid Symposium hosted by the U.S. Department of Health and Human Services in Washington, D.C., which included a private meeting with U.S. Surgeon General Jerome Adams. Bridget's noble mission and her unyielding bravery resonated far and wide with our followers.
---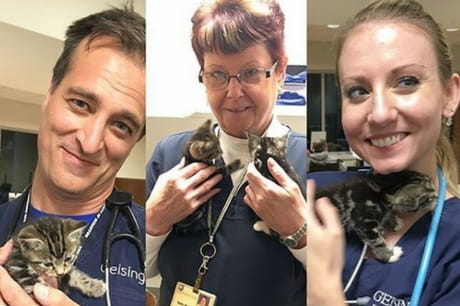 No. 3 – Two Little Kittens
These furry felines didn't just lose their mittens, they were sealed in a box and tossed into a field back in September. Lucky for them, a pet-loving patient spotted the pretty kitties on her way to Geisinger Medical Center so she brought them along with her to the emergency department. After snuggling into the hearts of emergency medicine physician Dr. Robert Strony and resident Dr. Lindsey Duguet, nurse Sally Rightmyer soon fell in love and adopted the tabbies. Now 4-months-old, Sally says Stu and Max are inseparable. They're happy, healthy and are absolute joys to have in the home.
---
No. 2 – The Baby and the Blizzard
Who could forget the national fame bestowed on a toddler from Mount Pocono during March snow madness? Little Bentley Gingerlowski, a Geisinger heart patient, made global news when he was transported from Leigh Valley Hospital -- Pocono to Geisinger's Janet Weis Children's Hospital during the infamous Winter Storm Stella. Bentley made the 80-mile trek thanks to snowplows and State Troopers who battled Mother Nature through a wild nor'easter that dumped three feet of snow in their path. Stella!
---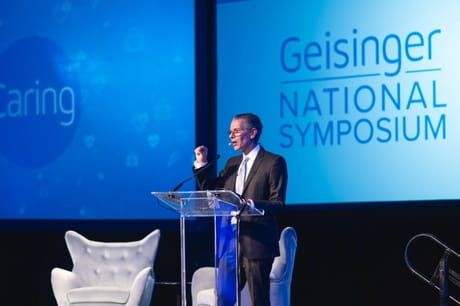 No. 1 – Magic Under the 'Caring' Dome
"Why don't we see if we can get an A-List of people to come to Central Pennsylvania…the Who's Who in healthcare." This was the challenge issued by Dr. David Feinberg, Geisinger president and CEO, to attract the biggest names in healthcare as both presenters and attendees at Geisinger's National Symposium. Industry innovators and policy makers across the nation heeded his call for what turned out to be an event that exceeded every expectation. The social media tsunami surrounding the November event was massive, with one employee asking: "Why is my company trending on Twitter?" Thanks for your engagement and we hope you join us further on this digital journey throughout 2018. Have a Happy and Healthy New Year!
About Geisinger
One of the nation's most innovative health services organizations, Geisinger serves more than 1.5 million patients in Pennsylvania and New Jersey. The system includes 13 hospital campuses, a nearly 600,000-member health plan, two research centers and the Geisinger Commonwealth School of Medicine. Geisinger is known for its focus on caring and innovative programs including the ProvenCare® best-practice approach to maximize quality, safety and value; ProvenHealth Navigator® advanced medical home; Springboard Health® population health program to improve the health of an entire community; ProvenExperience™ to provide refunds to patients unhappy with their care experience; and Geisinger's MyCode® Community Health Initiative, the largest healthcare system-based precision health project in the world. With more than 215,000 volunteer participants enrolled, MyCode is conducting extensive research and returning medically actionable results to participants. A physician-led organization, with approximately 32,000 employees and more than 1,800 employed physicians, Geisinger leverages an estimated $12.7 billion positive annual impact on the Pennsylvania and New Jersey economies. Repeatedly recognized nationally for integration, quality and service, Geisinger has a long-standing commitment to patient care, medical education, research and community service. For more information, visit www.geisinger.org, or connect with us on Facebook, Instagram, LinkedIn and Twitter.