Local students selected to receive Northeastern Pennsylvania Health Care Foundation scholarships to attend Geisinger Commonwealth
Two incoming members of Geisinger Commonwealth School of Medicine's (GCSOM) MD Class of 2022 have been named Northeastern Pennsylvania Health Care Foundation scholars.
Randy Lesh of Scranton and Stephanie Tilberry of Taylor have been selected for the scholarship, which significantly reduces their tuition burden. Both scholarship recipients have demonstrated academic excellence and a desire to serve the communities of northeastern Pennsylvania.
The Northeastern Pennsylvania Health Care Foundation (NEPA HCF) was established in 2011 following the sale of Mercy Hospital in Scranton. The foundation is dedicated to improving the health and well being of the people of the region, particularly the most vulnerable and most underserved of the population. The Scranton Area Foundation (SAF) serves as foundation administrator.
"Establishing this scholarship made sense, given NEPA HCF's direct charge to improve the region's health and wellbeing," said Laura Ducceschi, administrator of NEPA HCF & SAF's president and CEO. "Incoming medical students who apply for the scholarship must have a demonstrated commitment to practicing medicine in northeastern Pennsylvania and a strong history of service to the community. Giving these students the financial support necessary to get their medical education helps ensure that talented future physicians can stay here in the region and care for our neighbors."
"We are grateful to the Northeastern Pennsylvania Health Care Foundation for giving these deserving students such generous support as they begin the study of medicine," said Steven J. Scheinman, MD, president and dean of GCSOM. "The academic road to becoming a doctor is difficult by itself. Financial concerns should not be an extra burden for these talented students."

Lesh, a graduate of Scranton High School, credits his mother and a great high school chemistry teacher for helping him achieve his dream of becoming a doctor. His mother inspired his work ethic, while his teacher ignited a passion for learning. Lesh, who received a degree in biochemistry, cell and molecular biology from the University of Scranton, said receiving the NEPA HCF scholarship will greatly relive the financial pressures on both himself and his mother, who sometimes juggled as many as three jobs to help pay for her son's education.
Tilberry is a graduate of Riverside High School and Washington and Colgate University. She also has a master of biomedical sciences (MBS) from GCSOM. She said she wants to become a doctor because she enjoys problem-solving but also has a desire to serve her community. A career in medicine offers a chance to pursue both passions. Like Lesh, Tilberry held part-time and work-study jobs in college and even while pursuing her MBS. She said two things have "changed her life – getting into medical school and receiving the NEPA HCF scholarship."
Pictured: Seen, first row from left are: Jason Homza of Kingston, NEPA HCF scholar, Class of 2020; Jim Clemente, board chair, NEPA HCF; Jacob Parrick of Duryea, NEPA HCF scholar, Class of 2019; Stephanie Tilberry; Jennifer Jordan of Scott Township, NEPA HCF scholar, Class of 2021; and Laura Ducceschi, Scranton Area Foundation president and CEO. Second row, from left: Michele McGowan, board member, NEPA HCF; Randy Lesh; Kerry O'Grady, Natalie Gelb and Judge Terrence Nealon, all board members, NEPA HCF. Third row: Erin Connolly of Shickshinny, NEPA HCF scholar, Class of 2020; Laura Barna of Mountain Top, NEPA HCF scholar, Class of 2019; and Katherine Snyder of Dallas, NEPA HCF scholar, Class of 2021. Back row: Mark Mitchell, James Mileski, Jeremiah Eagen, MD, all board members, NEPA HCF.
About Geisinger Commonwealth School of Medicine

Geisinger Commonwealth School of Medicine (Geisinger Commonwealth) is a member of the Geisinger family. Geisinger Commonwealth offers a community-based model of medical education with campuses in Atlantic City, Danville, Doylestown, Sayre, Scranton and Wilkes-Barre. Geisinger Commonwealth offers Doctor of Medicine (MD), Master of Biomedical Sciences (MBS) and Professional Science Master's (PSM) degrees. The school's innovative curriculum, focused on caring for people in the context of their lives and their community, attracts the next generation of physicians and scientists from within its region, as well as from across the nation. The school also has more than 500 residents and fellows in 31 accredited residency programs and 23 accredited fellowships. Geisinger Commonwealth is committed to non-discrimination in all employment and educational opportunities. For more information, visit
www.geisinger.edu/gcsom
, or connect with us on
Facebook
,
Instagram
,
LinkedIn
and
Twitter
.
About Geisinger
One of the nation's most innovative health services organizations, Geisinger serves more than 1.5 million patients in Pennsylvania and New Jersey. The system includes 13 hospital campuses, a nearly 600,000-member health plan, two research centers and the Geisinger Commonwealth School of Medicine. A physician-led organization, with approximately 32,000 employees and more than 1,800 employed physicians, Geisinger leverages an estimated $12.7 billion positive annual impact on the Pennsylvania and New Jersey economies. Repeatedly recognized nationally for integration, quality and service, Geisinger has a long-standing commitment to patient care, medical education, research and community service. For more information, visit www.geisinger.org, or connect with us on Facebook, Instagram, LinkedIn and Twitter.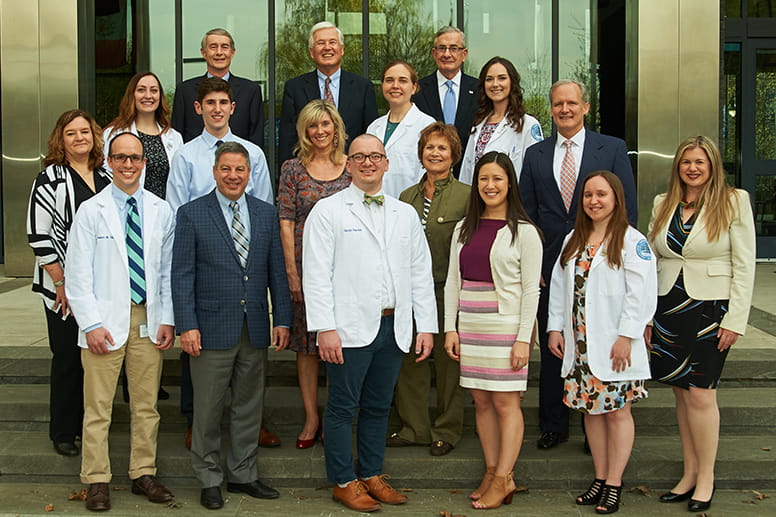 For GCSOM media inquiries
Elizabeth Zygmunt
Director of Media and Public Relations
Geisinger Commonwealth School of Medicine
Office: 570-504-9687
On call: 570-687-9703
ezygmunt@som.geisinger.edu