Geisinger Commonwealth golf tournament to fund MD student scholarships
Golf-ball drop from helicopter is highlight of 10th annual event
On Monday, June 11, Geisinger Commonwealth School of Medicine (GCSOM) will host its 10th annual golf classic at Glenmaura National Golf Club in Moosic. PNC Bank is the tournament's presenting sponsor. All proceeds will benefit the school's student scholarship fund that helps defray the cost of medical school tuition.
Organizers have planned a new event they say will bring an element of fun and celebration to the tourney. "Thanks to support from our sponsor, Blaise Alexander, we plan to cap the day with a golf-ball drop. This hasn't been done before in our area and the planning committee believes it will add a lot of excitement," said Kara Badyrka. "A helicopter will hover over the course and drop 500 golf balls on the 18th fairway. Golfers, attendees or anyone who wants to play can purchase a ball for $20. The ball that lands in or closest to the hole wins a $5,000 cash prize."
Badyrka said golf ball chances can be purchased by calling 570-504-9065, ordering online or contacting a member of the planning committee. The balls will be sold until noon on June 11 or until 500 are sold.
"Our annual golf tournament is not just fun, it's meaningful," said Steven J. Scheinman, MD, president and dean of Geisinger Commonwealth. "It gives the community a chance to get together with a wonderful group of people for a spirited competition while raising critical funds for student scholarships. We sincerely appreciate the generosity of PNC Bank, Blaise Alexander and all of this year's sponsors."
Since 2009, Geisinger Commonwealth's annual golf tournaments have raised more than $353,000 for scholarships.
Registration and a continental breakfast begin at 9 a.m. followed by a shotgun start at 10 a.m. The captain-and-crew format is limited to 128 golfers. The cost is $300 per golfer, $1,200 for a foursome and includes 18 holes of golf, complimentary gifts, breakfast, lunch, dinner and awards ceremony. Sponsorships are available. For more information, call Geisinger Commonwealth's Development Office at 570-504-9619 or register online.
If you are unable to participate and would like to contribute to the student scholarship fund, please email golf@som.geisinger.edu or donate online.
About Geisinger
Geisinger is committed to making better health easier for the more than 1 million people it serves. Founded more than 100 years ago by Abigail Geisinger, the system now includes 10 hospital campuses, a health plan with more than half a million members, a research institute and the Geisinger College of Health Sciences, which includes schools of medicine, nursing and graduate education. With more than 25,000 employees and 1,700+ employed physicians, Geisinger boosts its hometown economies in Pennsylvania by billions of dollars annually. Learn more at geisinger.org or connect with us on Facebook, Instagram, LinkedIn and Twitter.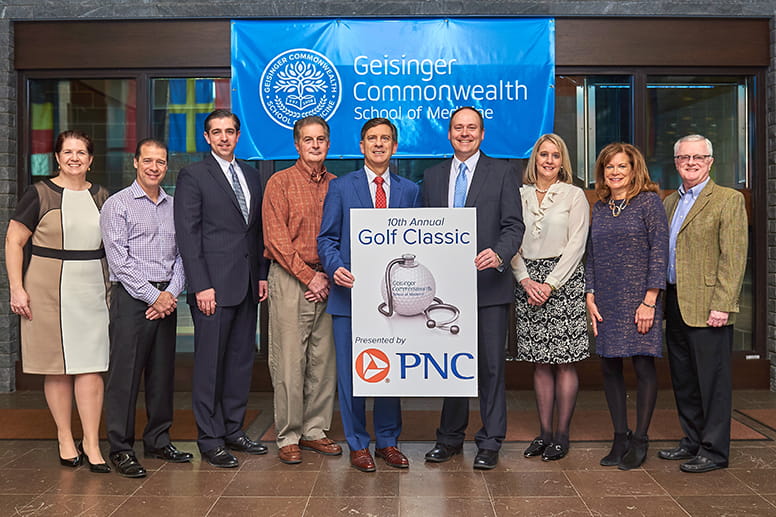 For education media inquiries
Elizabeth Zygmunt
Marketing and Communications Strategist for Education
Office: 570-504-9687
On call: 570-687-9703
emzygmunt1@geisinger.edu