Geisinger and AstraZeneca Create New Asthma App Suite
DANVILLE, Pa.
– Geisinger and AstraZeneca have partnered to improve asthma care by creating a suite of products that integrate into the electronic health record (EHR). The goal is to engage patients and providers in co-managing the disease, especially during intervals between office visits.
The mobile app data is connected to a real-time, web-based application called Provider Asthma Management Assistant. The assistant combines EHR and patient-reported data feeds to enable asthma educators and respiratory therapists to triage patients on the fly and bring in specialists as needed.
Asthma
is a chronic respiratory disease where the airways in the lungs become swollen or inflamed making it difficult to breath. Asthma symptoms can vary over time and worsening of asthma (an asthma attack) can be triggered by environmental exposure or allergies. There is no cure for asthma, but it can be managed.
"Asthma symptoms can be unpredictable and breathing issues don't always occur in the doctor's office – a tool to help patients and physicians stay connected and share information in real-time is what connected health is all about," said Tosh Butt, Vice President, Respiratory, AstraZeneca. "AstraZeneca's partnership with Geisinger is focused on how we can arm patients and physicians with digital tools with the intention of speeding diagnosis and treatment decisions. This is an exciting time in patient care."
The new asthma app suite includes a mobile app that allows patients to view asthma-related weather forecasts, log symptoms and asthma triggers, establish medication reminders, track health status over time, and, crucially, communicate with their healthcare team.
"Patients sometimes do a lot worse with their asthma than we know based on a three-, six-, or nine-month periodic office visit," said
Paul Simonelli
, M.D., Ph.D., chair of Pulmonary and Critical Care Medicine at Geisinger. "This new suite of products could easily be adapted to any long-term chronic respiratory illness that needs monitoring, including COPD (chronic obstructive pulmonary disease)."
Some asthma patients can have multiple attacks per week, and it isn't feasible or necessary to see a doctor every time. With the new app products, attacks and symptoms can be tracked and easily monitored in real-time by the full spectrum of the health care team.
Geisinger and AstraZeneca's partnership in developing the asthma app suite uses scientific expertise from both companies in disease management, patient engagement, adherence, healthcare innovation, research, and technology to fundamentally redesign how asthma patients are diagnosed and treated.
"Using technology to improve patient outcomes and move healthcare forward — as these products do — meshes neatly with the overall translational nature of Geisinger research," said David H. Ledbetter, Ph.D., executive vice president and chief scientific officer.
About Geisinger
Geisinger is committed to making better health easier for the more than 1 million people it serves. Founded more than 100 years ago by Abigail Geisinger, the system now includes 10 hospital campuses, a health plan with more than half a million members, a research institute and the Geisinger College of Health Sciences, which includes schools of medicine, nursing and graduate education. With more than 25,000 employees and 1,700+ employed physicians, Geisinger boosts its hometown economies in Pennsylvania by billions of dollars annually. Learn more at geisinger.org or connect with us on Facebook, Instagram, LinkedIn and Twitter.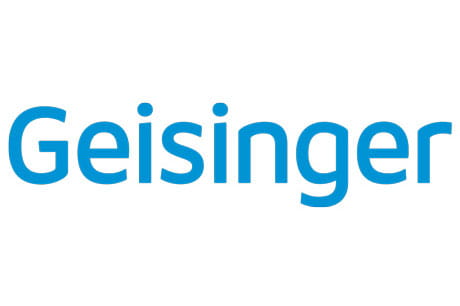 For media inquiries: