Geisinger puts focus on employment of military veterans
Veteran Employment and Training Specialist to recruit, transition and retain veterans
DANVILLE, Pa. – Geisinger is building upon its commitment to military veterans by putting an increased focus on creating employment opportunities for those transitioning to a civilian career. The newly-created Veteran Employment and Training Specialist (VETS) position will recruit, transition and retain veterans to the organization.
"Hiring a diverse workforce has always been a priority for Geisinger and that includes hiring veterans," said Amy Brayford, executive vice president, chief human resource officer, chief of staff for Geisinger. "This new role will focus on attracting active duty military, veterans seeking new or different employment and military personnel serving in the Reserve or National Guard."
Christopher Grill, a military veteran, will take on the VETS role for Geisinger. Grill is a West Point graduate and served in the U.S. Army and U.S. Army Reserve. He was deployed to Iraq in 2011 in support of Operation New Dawn and multiple times to Afghanistan in support of Operation Enduring Freedom. He joined Geisinger in 2017 as a lean change agent.
"This move sends a clear message that Geisinger is committed to bringing in more military veterans and supporting the veteran community," said Grill. "It speaks volumes to the organization and it motivates me in my new role. This will help care for our patients better and allow our organization to grow."
In this role, Grill will develop veteran-specific outreach programs to recruit veterans and assist those who have significant barriers to employment.
During his time at Geisinger, Grill has been a voice for military veterans. In October 2017, he helped launch VetNet, an employee resource group dedicated to veteran issues. He looks forward to continuing this work in his new role and making Geisinger an employer of choice among veterans.
"We are thrilled that Chris will lead our recruitment efforts and will enhance our focus on making military veterans hiring a priority at Geisinger," Brayford added. "We respect the sacrifice, commitment, discipline and work ethic inherent in military service and look forward to welcoming more individuals with military experience into our Geisinger family."
Veterans at Geisinger serve at all levels of the organization, including physician, nurse, Life Flight pilot, security, facilities and executive leadership.
About Geisinger
Geisinger is committed to making better health easier for the more than 1 million people it serves. Founded more than 100 years ago by Abigail Geisinger, the system now includes 10 hospital campuses, a health plan with more than half a million members, a research institute and the Geisinger College of Health Sciences, which includes schools of medicine, nursing and graduate education. With more than 25,000 employees and 1,700+ employed physicians, Geisinger boosts its hometown economies in Pennsylvania by billions of dollars annually. Learn more at geisinger.org or connect with us on Facebook, Instagram, LinkedIn and Twitter.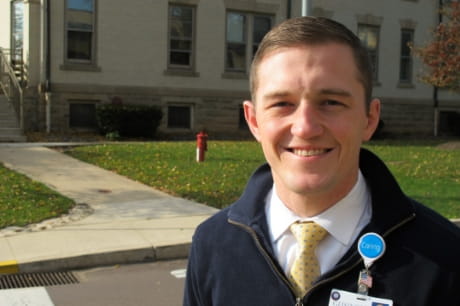 Content from General Links with modal content