Geisinger Heart and Vascular Center opens in Scranton
New $4M center unifies patient services
SCRANTON, Pa. – Geisinger has announced the opening of the Geisinger Heart and Vascular Center, a $4 million outpatient hub specializing in prevention, diagnosis and treatment of heart conditions and vascular diseases.

Construction on the 22-exam room, 10,000-square-foot clinic in Geisinger Community Medical Center, 1800 Mulberry St., Scranton, began in May. The center opens Dec. 10, 2018, and streamlines cardiology, cardiac and thoracic surgery and vascular services.

"The Geisinger Heart and Vascular Center brings our outstanding heart and vascular care providers and leading-edge technology under one roof," said Anthony Aquilina, D.O., regional president for Geisinger Northeast. "These unified services enhance patient safety, quality and efficiency. That means we can provide patients with an even higher level of care and convenience here in Scranton."

The center is supported by a multidisciplinary team of 52 physicians, advanced practitioners and support staff. The newly designed space boasts two nursing stations, comfortable exam rooms, an ultrasound room, a registration and check-out area and staff offices.

"We already offer advanced technology and innovative techniques to treat heart conditions," said cardiothoracic surgeon Al Casale, M.D., associate chief medical officer for Geisinger and chair of the Geisinger Heart Institute. "With this union, our patients now have all of their appointments and testing done in one place with more comfort and less travel."

Heart and vascular services were previously located off-campus at 1360 Wyoming Ave. and 475 Morgan Highway will now join together inside the city hospital.

"Our patients will benefit from having both teams in one location for enhanced care, communication and efficiency," added Mohsen Shabahang, M.D., chair of the Geisinger Surgery Institute.

Advanced Heart Care
From preventive care to heart surgery, the Heart Institute team's mission is to keep patients healthy and active. The center's specialists treat all types of heart and blood vessel conditions, including the most complex, including:
Ablation
Adult congenital heart disease
Angioplasty
Aortic stenosis
Arrhythmia
Atrial fibrillation
Cardiac resynchronization therapy
Cardiomyopathy
Coronary artery bypass graft (CABG) surgery
Coronary artery disease
Electrophysiology
Familial hypercholesterolemia
Heart attack
Heart disease and cancer/CardioOncology
Heart failure
Heart imaging
Heart surgery
Heart valve disease
Heart valve surgery
Left ventricle assist device (LVAD)
Mitral regurgitation (leaky valve)
Pacemakers and defibrillators
Transcatheter aortic valve replacement (TAVR)
Transcatheter mitral valve repair (TMVR) and MitraClip
Watchman
Women's heart health
Advanced Vascular Care
Vascular surgeons treat patients with all types of vascular diseases — such as conditions in which the normal flow of blood through the arteries and veins becomes blocked. They manage patients' conditions through a treatment plan that includes medical therapy, minimally invasive catheter procedures and surgical reconstruction, including:
Aneurysm repair
Carotid artery disease (CAD)
Deep vein thrombosis
Peripheral artery disease (PAD)
Renal artery disease
Vascular conditions
Vascular disease
Varicose veins
For more information, please call 570-703-4830 or click here for heart care and here for vascular care.
About Geisinger
Geisinger is committed to making better health easier for the more than 1 million people it serves. Founded more than 100 years ago by Abigail Geisinger, the system now includes 10 hospital campuses, a health plan with more than half a million members, a research institute and the Geisinger College of Health Sciences, which includes schools of medicine, nursing and graduate education. With more than 25,000 employees and 1,700+ employed physicians, Geisinger boosts its hometown economies in Pennsylvania by billions of dollars annually. Learn more at geisinger.org or connect with us on Facebook, Instagram, LinkedIn and Twitter.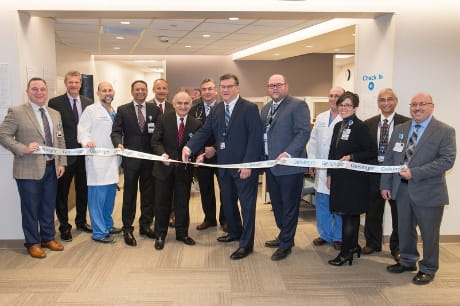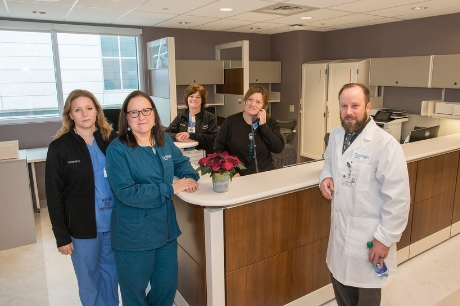 Content from General Links with modal content