Geisinger Commonwealth students to participate in leadership summit
Geisinger Commonwealth School of Medicine (GCSOM) students Sarah Dwyer and John Piserchio, both members of the MD Class of 2022, were selected to participate in the STARS Leadership Summit in Austin, Texas from Jan. 11 through Jan. 13.
At this summit, the GCSOM students, along with other medical-student leaders, will share ideas and resources related to Choosing Wisely, an initiative of the American Board of Internal Medicine (ABIM) Foundation. Choosing Wisely seeks to advance a national dialogue on avoiding unnecessary medical tests, treatments and procedures. They will also learn about creating local and regional change in the areas of medical waste and overuse and drive change at their medical schools to improve the value of patient care.
"This is a wonderful opportunity for our students to learn about value-based care and to help faculty to promote it in the GCSOM curriculum," said Steven J. Scheinman, MD, GCSOM president and dean. "Being chosen for the leadership summit in Austin is an honor and places our school and our students at the forefront of leading the change to value-based care. We couldn't be more proud of Sarah and John."'
Dell Medical School at The University of Texas at Austin launched the U.S. STARS (Students and Trainees Advocating for Resource Stewardship) program in 2017 with the goal of creating better health outcomes for patients at lower costs. ABIM Foundation and the Josiah Macy Jr. Foundation support the initiative, which selects and gathers student leaders from across the country to coach them on the tenets of value-based care and to review medical society Choosing Wisely recommendations.
Following the summit, the selected students will work with a GCSOM faculty mentor and the Choosing Wisely STARS learning community to advance healthcare value topics in medical education.
The mission of Choosing Wisely is to promote conversations between clinicians and patients by helping patients choose care that is:
Supported by evidence
Not duplicative of other tests or procedures already received
Free from harm
Truly necessary


About Geisinger Commonwealth School of Medicine
Geisinger Commonwealth School of Medicine (Geisinger Commonwealth) is a member of the Geisinger family. Geisinger Commonwealth offers a community-based model of medical education with campuses in Atlantic City, Danville, Doylestown, Sayre, Scranton and Wilkes-Barre. Geisinger Commonwealth offers Doctor of Medicine (MD), Master of Biomedical Sciences (MBS) and Professional Science Master's (PSM) degrees. The school's innovative curriculum, focused on caring for people in the context of their lives and their community, attracts the next generation of physicians and scientists from within its region, as well as from across the nation. The school also has more than 500 residents and fellows in 31 accredited residency programs and 27 accredited fellowships. Geisinger Commonwealth is committed to non-discrimination in all employment and educational opportunities. For more information, visit www.geisinger.edu/gcsom, or connect with us on Facebook, Instagram, LinkedIn and Twitter.
About Tempus
Tempus is a technology company advancing precision medicine through the practical application of artificial intelligence in healthcare. With one of the world's largest libraries of clinical and molecular data, and an operating system to make that data accessible and useful, Tempus enables physicians to make real-time, data-driven decisions to deliver personalized patient care and in parallel facilitates discovery, development and delivery of optimal therapeutics. The goal is for each patient to benefit from the treatment of others who came before by providing physicians with tools that learn as the company gathers more data. For more information, visit tempus.com.
About Geisinger
Geisinger is committed to making better health easier for the more than 1 million people it serves. Founded more than 100 years ago by Abigail Geisinger, the system now includes 10 hospital campuses, a health plan with more than half a million members, a Research Institute and the Geisinger Commonwealth School of Medicine. With nearly 24,000 employees and more than 1,700 employed physicians, Geisinger boosts its hometown economies in Pennsylvania by billions of dollars annually. Learn more at Facebook, Instagram, LinkedIn and Twitter.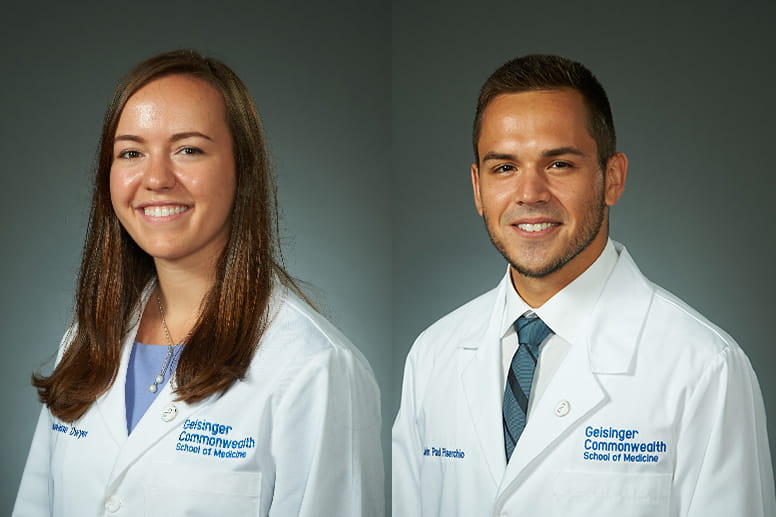 Geisinger Commonwealth School of Medicine
Elizabeth Zygmunt
Director, Media and Public Relations
Office: 570-504-9687
On Call: 570-687-9703
ezygmunt@som.geisinger.edu