Geisinger Commonwealth names first 'Abigail Geisinger Scholars' recipients
Purpose-driven program will keep young doctors in region to practice
The future just got a lot brighter and healthier for the communities that Geisinger serves. Through the innovative Abigail Geisinger Scholars Program, Geisinger Commonwealth School of Medicine (GCSOM) has announced that 10 doctors-in-training have committed to staying in the region to practice medicine with the unique blend of personal caring and scientific sophistication that has become synonymous with Geisinger.
Abigail Geisinger Scholars pay no tuition, in exchange for an obligation to work at Geisinger once they finish residency.
"I am proud to announce the first round of Abigail Geisinger Scholars," said Steven J. Scheinman, MD, GCSOM president and dean and executive vice president, Geisinger. "These students are brilliant but, more importantly, they are devoted to our region and have promised to serve as Geisinger physicians in their future. Because of their commitment, they will have no medical school tuition debt. We can think of no better way to free our scholars to practice medicine in the way GCSOM is teaching them – with caring rooted in scientific evidence and centered around the patient – than by forgiving the debt that might otherwise dictate their career choices."
The announcement marks the first Abigail Geisinger Scholars Program awards distribution to qualified medical students at GCSOM. The purpose-driven program selects students through a competitive application process. Those chosen pay no tuition, in exchange for an obligation to work at Geisinger once they finish residency. Preference is given to students who express a desire to care for the communities Geisinger serves. Selection criteria includes demonstrated financial need, academic merit, diversity and predictors of whether the applicant is likely to stay in the region Geisinger serves. According to Dr. Scheinman, no fewer than 10 awards will be made annually, with an eye toward expanding the number of recipients in the coming years.
Medical school debt can be crushing. According to the American Association of Medical Colleges (AAMC), average medical student debt is $192,000 and one out of five students accumulates debt of more than $300,000. GCSOM students graduate with an average debt of $256,000.
Such debt can drive students' career decisions. The Abigail Geisinger Scholars Program debt forgiveness empowers GCSOM students to follow their passion, not their balance sheet. For example, award recipient Saran Kunaprayoon, a second-year medical student from Bethlehem, said interest accumulating on loans as he pursues a career with lengthy residency requirements was a concern. "I have always dreamed of working in the neurosciences as a physician ever since high school. Through this program, I will be able to focus on my dream with the support from Geisinger and also serve and enhance the health of the community that nurtured me through all these years," he said.
For Jeremy Tokash and his family, receiving the award means the Scranton native is assured of practicing medicine among the people he loves. "I went to West Scranton High School. My family is from West Scranton, so is my fiancée, Maria's," he said. "I have deep roots here so it's great to know I will be able to stay in the community I want to care for," he said.
"The Abigail Geisinger Scholars Program was the perfect opportunity for me," said Tara Fritz, a Danville native interested in pediatrics. "I grew up in the area and always intended to return, so ever since I heard about the program, I've been holding my breath. I wanted it so badly. But now I can breathe and focus on my future."
The first Abigail Geisinger Scholars Program recipients are:
MD Class of 2021
Alexa Bolock, from Waverly
Hannah Bohr, from Williamsport
Max Cornell, from Jermyn
Tara Fritz, from Danville
Saran Kunaprayoon, from Bethlehem
Jeremy Tokash, from Scranton
MD Class of 2022
Anton Androsov, from Roanoke, Va.
Youngeun Choi, from Montgomery, Pa.
Alex Mettler, from Danville
John Pacheco, from Harrisville, R.I.


About Geisinger
Geisinger is committed to making better health easier for the more than 1 million people it serves. Founded more than 100 years ago by Abigail Geisinger, the system now includes 10 hospital campuses, a health plan with more than half a million members, a research institute and the Geisinger College of Health Sciences, which includes schools of medicine, nursing and graduate education. With more than 25,000 employees and 1,700+ employed physicians, Geisinger boosts its hometown economies in Pennsylvania by billions of dollars annually. Learn more at geisinger.org or connect with us on Facebook, Instagram, LinkedIn and Twitter.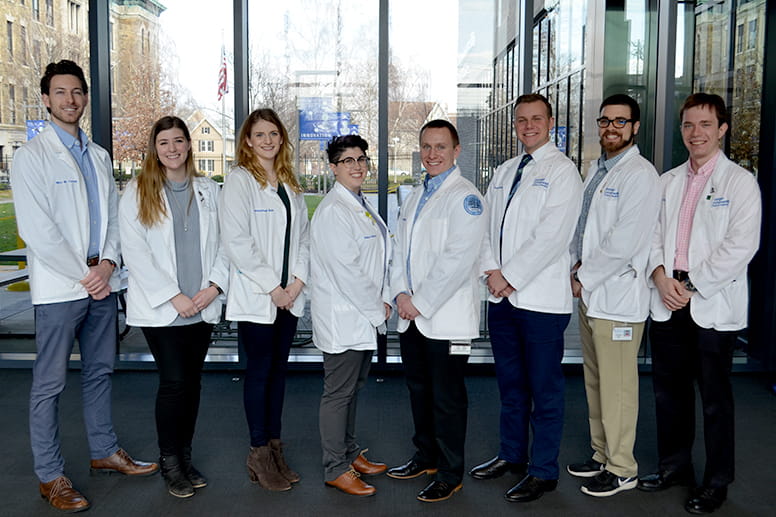 Geisinger Commonwealth School of Medicine
Elizabeth Zygmunt
Director, Media and Public Relations
Office: 570-504-9687
On Call: 570-687-9703
ezygmunt@som.geisinger.edu