Is it a mole, a freckle or something more serious?
Find out April 6 at Geisinger Commonwealth School of Medicine's free skin-cancer screening
On Saturday, April 6, student members of the Dermatology Interest Group at Geisinger Commonwealth School of Medicine (GCSOM) will host a free skin-cancer screening from 10 a.m. to 1 p.m. at the school's Medical Sciences Building, 525 Pine Street in Scranton.
Several area dermatologists will screen individuals for skin cancer. Walk-ins are welcome.
"Skin cancer is the most common form of cancer. Fortunately, unlike other cancers, it is highly preventable and treatable," said Brandon Bombar, a second-year student organizer. "The goal of this screening is early detection. Dermatologists will perform exams and determine if there are any suspicious areas that require follow-up or treatment. We also want the community to remember that, as the weather gets warmer, it is important to consistently apply sunscreen and be mindful of sun safety."
While people with light skin, hair or eye color; freckles or moles; a family history of skin cancer; and/or chronic exposure to sunlight or UV light may have a greater risk of skin cancer, everyone has some risk and should be screened.
The Dermatology Interest Group at Geisinger Commonwealth seeks to raise awareness of and encourage medical student interest in the specialty of dermatology through educational seminars with guest speakers, faculty and dermatology residents. This is the eighth free skin-cancer screening hosted by the school.
Please call 570-207-3683 if you have any questions. On the day of the event, please call 570-558-4250 to secure a time slot.
About Geisinger
Geisinger is committed to making better health easier for the more than 1 million people it serves. Founded more than 100 years ago by Abigail Geisinger, the system now includes 10 hospital campuses, a health plan with more than half a million members, a research institute and the Geisinger College of Health Sciences, which includes schools of medicine, nursing and graduate education. With more than 25,000 employees and 1,700+ employed physicians, Geisinger boosts its hometown economies in Pennsylvania by billions of dollars annually. Learn more at geisinger.org or connect with us on Facebook, Instagram, LinkedIn and Twitter.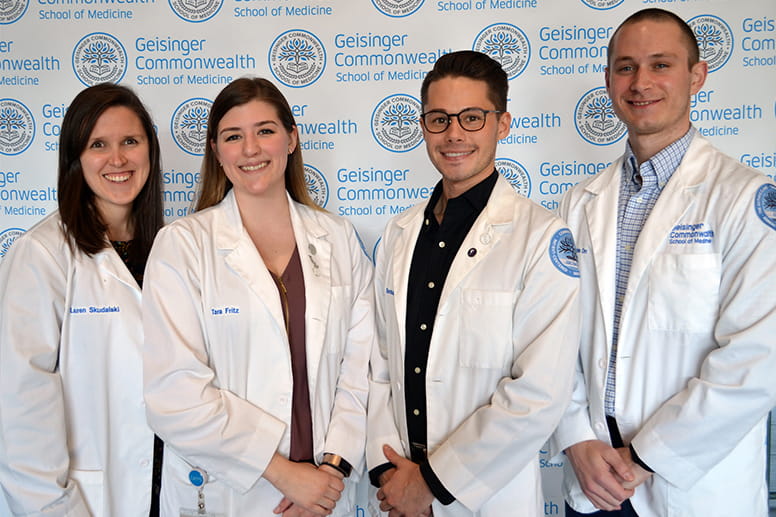 Geisinger Commonwealth School of Medicine
Elizabeth Zygmunt
Director, Media and Public Relations
Office: 570-504-9687
On Call: 570-687-9703
ezygmunt@som.geisinger.edu