Are you at risk for a bone fracture?
Find out April 13 at a free osteoporosis screening hosted by Geisinger Commonwealth School of Medicine and the Geisinger Musculoskeletal and Sports Medicine Clinic
On Saturday, April 13, members of the Student Musculoskeletal Society at Geisinger Commonwealth School of Medicine (GCSOM), in partnership with the Geisinger Musculoskeletal Institute, will host a free osteoporosis screening from 11 a.m. to 2 p.m. at the Geisinger Musculoskeletal and Sports Medicine Clinic at 3 W Olive Street, Scranton.
Attendees will learn about osteoporosis and receive a free screening using quantitative ultrasonography – one of the latest and safest screening methods. Representatives from Geisinger rheumatology, nutrition, primary care and both occupational and physical therapy will be on site to discuss osteoporosis risk and prevention, screening results and how to follow up with proper care.
No registration is required. If you have questions, please call 570-961-3823, option 4.
More than 10 million Americans over age 50 have osteoporosis and many don't realize it until after they sustain a fracture. Fortunately, there are simple steps patients and their physicians can take for prevention. Screening is recommended for all women over 65, for younger women with risk factors (family history, smoking and certain medications, among others), as well as for some men.
"We're hoping we can identify people who may not have realized they're at risk and get them connected with proper care to save them the pain and trouble of a future fracture," said Dan Sylvestre, a second-year student organizer.
The Student Musculoskeletal Society (SMS) is a student-run organization which fosters clinical experience, education and professional development through guest lectures, clinical/surgical skills workshops and opportunities for mentorship. Learn more about SMS at geisinger.org/gcsomsms.
About Geisinger
Geisinger is committed to making better health easier for the more than 1 million people it serves. Founded more than 100 years ago by Abigail Geisinger, the system now includes 10 hospital campuses, a health plan with more than half a million members, a research institute and the Geisinger College of Health Sciences, which includes schools of medicine, nursing and graduate education. With more than 25,000 employees and 1,700+ employed physicians, Geisinger boosts its hometown economies in Pennsylvania by billions of dollars annually. Learn more at geisinger.org or connect with us on Facebook, Instagram, LinkedIn and Twitter.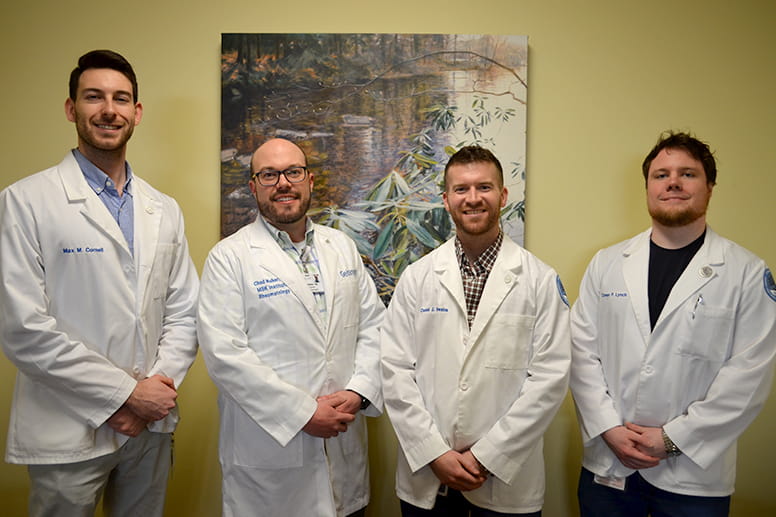 Geisinger Commonwealth School of Medicine
Elizabeth Zygmunt
Director, Media and Public Relations
Office: 570-504-9687
On Call: 570-687-9703
ezygmunt@som.geisinger.edu