Geisinger Commonwealth's Student Musculoskeletal Society to host Sports Medicine Lecture Series
First topic will focus on concussions and head injuries
Two student leaders at Geisinger Commonwealth School of Medicine (GCSOM) announced that "Concussions and Head Injuries," the inaugural offering of a new Sports Medicine Lecture series at GCSOM, will be held on Tuesday, Sept. 17 at 6:30 p.m.
Michael Pheasant of East Stroudsburg and Bradley Garcia of Doylestown, both third-year medical students, are members of GCSOM's Student Musculoskeletal Society (SMS). Together they and Mark Seeley, MD, SMS club advisor and faculty sponsor, developed the concept for sharing information on safety, exercise and health for free with the community. The Musculoskeletal Institute at Geisinger then helped to create and launch the program. Lectures will offer expert insight that will help athletes, coaches, parents and community members gain a better understanding of topics focused on healthy living through a sports medicine perspective.
At the Sept. 17 lecture, Roxanna Larsen, director of sports medicine, orthotics & fitness, Musculoskeletal Institute at Geisinger and Kelly Clark, program manager of sports medicine, Geisinger Wyoming Valley will present "Concussions and Head Injuries," a National Institutes of Health (NIH) funded lecture. Both Larsen and Clark were instrumental in guiding the students and recruiting future speakers.
The lecture will be held at GCSOM, 525 Pine Street in Scranton and is free and open to the public. If you have any questions, contact Michael Pheasant at mpheasant@som.geisinger.edu.
About Geisinger
Geisinger is committed to making better health easier for the more than 1 million people it serves. Founded more than 100 years ago by Abigail Geisinger, the system now includes 10 hospital campuses, a health plan with more than half a million members, a research institute and the Geisinger College of Health Sciences, which includes schools of medicine, nursing and graduate education. With more than 25,000 employees and 1,700+ employed physicians, Geisinger boosts its hometown economies in Pennsylvania by billions of dollars annually. Learn more at geisinger.org or connect with us on Facebook, Instagram, LinkedIn and Twitter.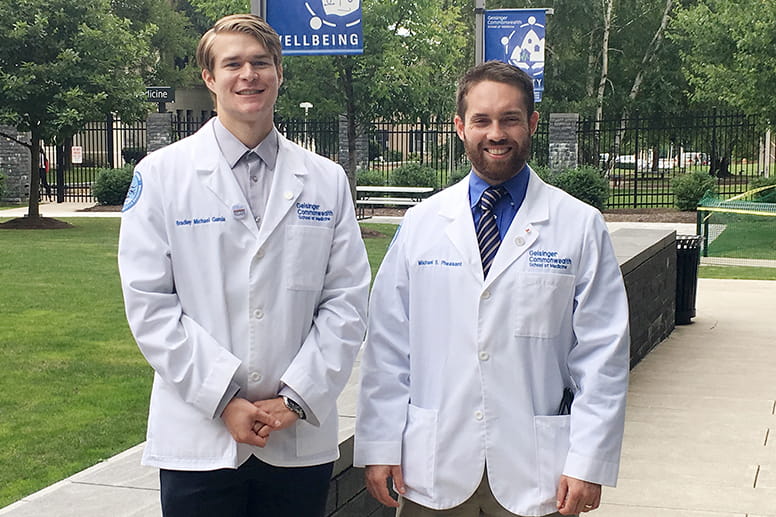 Geisinger Commonwealth School of Medicine
Elizabeth Zygmunt
Director, Media and Public Relations
Office: 570-504-9687
On Call: 570-687-9703
ezygmunt@som.geisinger.edu