Students, professionals from every discipline invited to 'hack' a health problem for prizes
Oct. 5 Hacking Health at Geisinger Commonwealth School of Medicine is not just for coding
Hacking isn't exclusively about coding anymore, especially when it comes to health. On Saturday, Oct. 5 anyone with an entrepreneurial, problem-solving streak is invited to join "Hacking Health," a team-based case competition where participants will put their expertise and innovation to work to "solve" the problem of provider burnout.
The Hacking Health event is being hosted for the second time by Geisinger's Steele Institute for Health Innovation and Geisinger Commonwealth School of Medicine (GCSOM).
Matthew Hope, a member of GCSOM's MD Class of 2021, participated in the inaugural Hacking Health in 2018. "This isn't just about tech," he said. "Multidisciplinary teams are asked to 'hack' a problem – to attack it from a variety of perspectives in a collaborative way. Last year the problem presented was healthcare affordability. Our team had members with backgrounds in administration, policy and medicine, as well as tech. We forged a solution based on price transparency."
This year, "hackers" will be asked to think about possible solutions for the "burnout" many healthcare providers experience because of operational inefficiencies linked to electronic health record (EHR) systems documentation requirements and the current regulatory landscape.
Participants can be anyone, from any background. This event is looking for diverse thinkers. Teams are welcome; however, members must register individually. No team? No problem! Individual registrants have the opportunity to join a team to learn and design think with!.
The top proposal will be rewarded with a cash prize of $5,000, while the top two runner-up teams will receive a smaller cash prize and the opportunity to meet with some of Geisinger's Steele Institute for Health Innovation leadership. The Steele Institute is dedicated to forging solutions that improve health, the patient experience, care delivery and affordability. The top three teams will have the opportunity for a potential initial investment to develop their solution then later pitch for a second investment.
Every participant will have an experience that tests their creativity and imagination. The day will be filled with breakout educational sessions on design think, commercialization and lean process improvement. In addition, every participant will get to work in a multidisciplinary team that will build insight into other fields and how varied expertise is required to solve healthcare's most pressing problems.
Register here! Participants must register by Friday, Sept. 20, to receive a gift. Day-of registration will also be available. Preregistration cost is $25 until Sept. 20, and $30 on the day of the event. Food and beverages will be provided to participants during the event.
For more information about the event, visit geisinger.edu/hackathon.
About Geisinger Commonwealth School of Medicine
Geisinger Commonwealth School of Medicine (Geisinger Commonwealth) is a member of the Geisinger family. Geisinger Commonwealth offers a community-based model of medical education with campuses in Atlantic City, Danville, Doylestown, Sayre, Scranton and Wilkes-Barre. Geisinger Commonwealth offers Doctor of Medicine (MD), Master of Biomedical Sciences (MBS) and Professional Science Master's (PSM) degrees. The school's innovative curriculum, focused on caring for people in the context of their lives and their community, attracts the next generation of physicians and scientists from within its region, as well as from across the nation. The school also has more than 500 residents and fellows in 31 accredited residency programs and 27 accredited fellowships. Geisinger Commonwealth is committed to non-discrimination in all employment and educational opportunities. For more information, visit www.geisinger.edu/gcsom, or connect with us on Facebook, Instagram, LinkedIn and Twitter.
About Geisinger
Geisinger is committed to making better health easier for the more than 1 million people it serves. Founded more than 100 years ago by Abigail Geisinger, the system now includes 10 hospital campuses, a health plan with more than half a million members, a Research Institute and the Geisinger Commonwealth School of Medicine. With nearly 24,000 employees and more than 1,700 employed physicians, Geisinger boosts its hometown economies in Pennsylvania by billions of dollars annually. Learn more at Facebook, Instagram, LinkedIn and Twitter.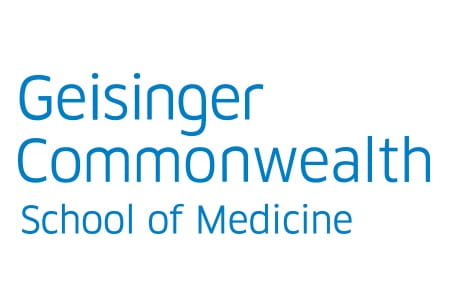 Geisinger Commonwealth School of Medicine
Elizabeth Zygmunt
Director, Media and Public Relations
Office: 570-504-9687
On Call: 570-687-9703
ezygmunt@som.geisinger.edu