First Geisinger Primary Care Scholars named
Medical students receive tuition relief, stipend and learn unique approach that places primary care at center of patient first medicine
Primary care is claiming a central role at Geisinger and nowhere is its fundamental position more evident than in a new program at Geisinger Commonwealth School of Medicine (GCSOM). Last fall, GCSOM announced the
Geisinger Primary Care Scholars Program
, in which selected scholars receive a monthly stipend and pay no tuition or fees in exchange for an obligation to work in a primary care area (family medicine, internal medicine or medicine-pediatrics) at Geisinger once they finish residency. Today, GCSOM announces the first cohort of students accepted to the program. In addition to the tuition relief and stipend, the scholars will also receive mentorship and training in Geisinger's newly redesigned practices where primary care is emphasized as the most important doctor-patient relationships are built. The redesign has elevated primary care and provided clinicians with more time and resources to focus on patients, not administrative tasks.
"I am proud to announce the first students admitted to the Geisinger Primary Care Scholars program," said Steven J. Scheinman, MD, GCSOM president and dean and executive vice president, Geisinger. "They have all demonstrated a strong commitment to primary care. A common theme among these students is a deep desire to be a lifelong positive force in the lives of their patients and the broader community. In this way, they are the perfect embodiment of Geisinger's vision for primary care and its power to promote wellness by building close doctor-patient bonds."
Tiffany Garcia of Reading is among the first group of Geisinger Primary Care Scholars. She said, "I am drawn to primary care because it's the center point for patients. The primary care doctor guides patients and knows everything about them." Scholar Christopher Kropiewnicki of Nanticoke did a gap year between graduate school and medical school, during which time he worked in an internist's office. "I observed his relationships with patients. He had known them for years and he seemed to be everybody's best friend. I decided I want those relationships and that rapport," he said. Kara Romanowski of Swoyersville has selected medicine-pediatrics as her specialty. "I know I'll like the continuity of care in med/peds. I enjoy watching kids grow and getting to know people over their lifetimes – and I am excited about staying in NEPA. I have roots here and friends. I am happy to serve my neighbors," she said.
The announcement marks the first Geisinger Primary Care Scholars program awards distribution to qualified medical students at GCSOM. The students were chosen through a competitive application process. Those selected for the program will receive a monthly stipend and will pay no tuition, in exchange for an obligation to work in a primary care field at Geisinger once they finish residency. Preference is given to students who express a desire to care for the communities Geisinger serves. Selection criteria includes commitment to primary care, demonstrated financial need, academic merit, diversity and predictors of whether the applicant is likely to stay in the region Geisinger serves. According to Dr. Scheinman, up to 40 awards will be made annually.
The first Geisinger Primary Care Scholars are:
MD Class of 2022
Sajal Datta of State College
Tiffany Garcia of Reading
Christopher Kropiewnicki of Nanticoke
Steven Picozzo of Moscow


MD Class of 2023
Scott Delenick of Pottsville
Joseph Hagedorn of Rochester, MN
Automm Lombardo of Yardley
Kara Romanowski of Swoyersville
Thomas Timmerman of Newtown
Alison Varano of Mount Carmel
Calum Wallace of Stewartstown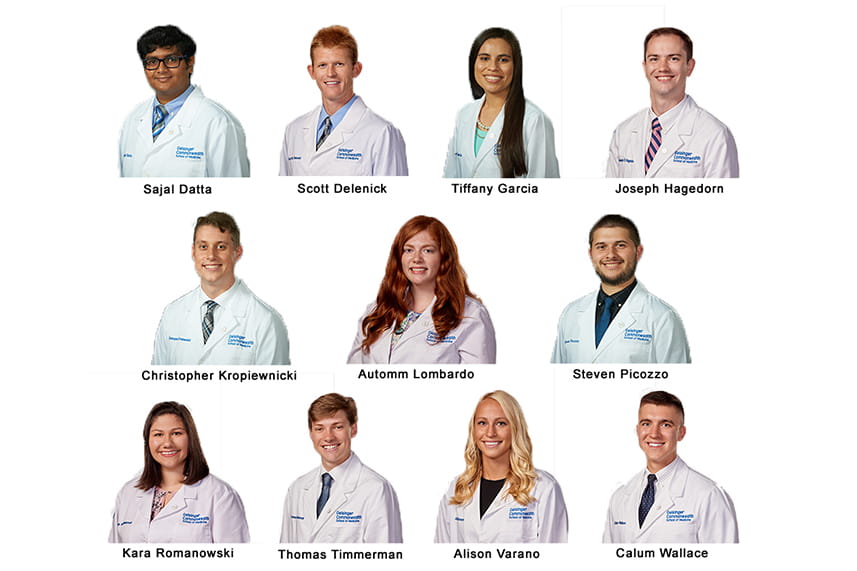 About Geisinger
Geisinger is committed to making better health easier for the more than 1 million people it serves. Founded more than 100 years ago by Abigail Geisinger, the system now includes 10 hospital campuses, a health plan with more than half a million members, a research institute and the Geisinger College of Health Sciences, which includes schools of medicine, nursing and graduate education. With more than 25,000 employees and 1,700+ employed physicians, Geisinger boosts its hometown economies in Pennsylvania by billions of dollars annually. Learn more at geisinger.org or connect with us on Facebook, Instagram, LinkedIn and Twitter.
Geisinger Commonwealth School of Medicine
Elizabeth Zygmunt
Director, Media and Public Relations
Office: 570-504-9687
On Call: 570-687-9703
ezygmunt@som.geisinger.edu