Geisinger relocating Danville walk-in clinic
New location offers more space for care
DANVILLE, Pa.
– Geisinger is set to open a walk-in care clinic in Danville, offering more space and triple the number of exam rooms, helping to make health care easier.
Geisinger Convenient Care Danville will open at 9 a.m. on Thursday, April 30, at 175 Northumberland St. in the plaza across Route 11 from Danville Middle School. Hours will be weekdays from 9 a.m. to 8 p.m., and Saturdays and Sundays from 8 a.m. to 6 p.m.
To prepare for opening the new clinic location, Geisinger will close its walk-in Careworks clinic on Continental Boulevard (Weis Plaza) at 3 p.m. on Monday, April 27. This closure will allow for equipment to be relocated to the new clinic.
Geisinger Convenient Care Danville is a larger space and will feature six exam rooms. The location will offer X-ray imaging services and is the best place to go for minor health issues that can be resolved in a single visit. These include cold and flu symptoms, allergies, earaches, tick removal, sprains and minor cuts.
To encourage physical distancing and to minimize time in the clinic's reception area, patients are encouraged to visit
geisinger.org/urgent
to check wait times or use online check-in to hold their place in line. To align with Geisinger's
COVID-19 policies
, anyone entering the clinic should wear a mask, or will have one made available to them upon arrival. If possible, patients should only have one person accompany them for care.
"The relocation of Danville's Convenient Care walk-in clinic is a significant benefit for community members looking for health care services closer to home," said Dr. Richard Martin, M.D., medical director at Geisinger Convenient Care. "Our location is designed to be there when you need it the most. The addition of these services to our expanding network helps make health care easier for our neighbors in the community."
About Geisinger
Geisinger is committed to making better health easier for the more than 1 million people it serves. Founded more than 100 years ago by Abigail Geisinger, the system now includes 10 hospital campuses, a health plan with more than half a million members, a research institute and the Geisinger College of Health Sciences, which includes schools of medicine, nursing and graduate education. With more than 25,000 employees and 1,700+ employed physicians, Geisinger boosts its hometown economies in Pennsylvania by billions of dollars annually. Learn more at geisinger.org or connect with us on Facebook, Instagram, LinkedIn and Twitter.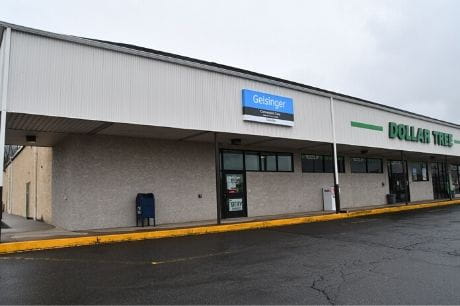 Content from General Links with modal content