Geisinger Commonwealth School of Medicine graduates 26 medical students early
As the COVID-19 pandemic abruptly eroded their fourth-year expectations, 26 Geisinger Commonwealth School of Medicine (GCSOM) students decided on a new plan. Having completed all of the required objectives, they asked to receive their medical doctorate degrees early.
Steven J. Scheinman, president and dean of GCSOM and executive vice president and chief academic officer at Geisinger, found their decision inspiring. "We believe students who apply to medical school do so because they want to serve – to promote health and help the sick. That is certainly true of these graduates. Many of them sought early graduation because they were motivated by a desire to get into the fight against COVID-19."
One such student is Chris Musto, MD, a student who matched into a radiology residency at Geisinger. When he learned he could begin to help Geisinger patients before his residency began in July, he applied to get his degree early. He received it on April 17 and on April 20 began training at Geisinger to take calls on COVID-19 for Employee Health Services, answering questions from his new co-workers about symptoms, return-to-work guidelines and other concerns.
Chris said, "I hit me how great the need must be when we were offered early graduation. Geisinger has invested a lot in me and I feel I owe it to the community. It's perfect for me, especially since I will be staying in this community. Naturally, if I am assigned to the testing activity, I have concerns. But others are already taking great risk to help and it's what I signed up to do as a doctor. So, I'm ready."
Congratulations to the 26 MDs who were graduated early between April 10 and April 24!
About Geisinger
Geisinger is committed to making better health easier for the more than 1 million people it serves. Founded more than 100 years ago by Abigail Geisinger, the system now includes 10 hospital campuses, a health plan with more than half a million members, a research institute and the Geisinger College of Health Sciences, which includes schools of medicine, nursing and graduate education. With more than 25,000 employees and 1,700+ employed physicians, Geisinger boosts its hometown economies in Pennsylvania by billions of dollars annually. Learn more at geisinger.org or connect with us on Facebook, Instagram, LinkedIn and Twitter.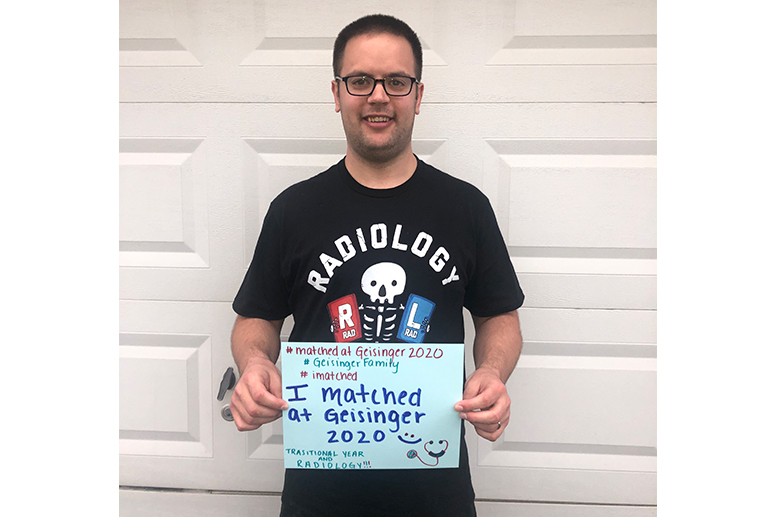 Geisinger Commonwealth School of Medicine
Elizabeth Zygmunt
Director, Media and Public Relations
Office: 570-504-9687
On Call: 570-687-9703
ezygmunt@som.geisinger.edu