Geisinger's Education and Medical Simulation Center receives accreditation from Society for Simulation in Healthcare
Geisinger's Education and Medical Simulation (GEMS) Center on Sept. 30 received accreditation from the Society for Simulation in Healthcare (SSH).
The accreditation is an important recognition of both the excellence of the GEMS Center and the growing consensus that simulation plays an essential role in patient safety.
"SSH has pushed for improving types of simulation technology, creating best practices in simulation and supporting rigorous educational assessment," said Nicole Woll, PhD, MEd, associate chief academic officer, interprofessional education associate dean, faculty and continuing professional development. Samantha Lee, MHS, program manager, agrees. "In fact, one big reason to pursue SSH accreditation is the shift in thinking that's occurred over the past decade," Lee said. "There's a recognition that simulation is a really valuable part of healthcare education. It's all about patient safety and patient care and how we use simulation to get there."
The SSH seal affirms that the GEMS Center meets all core standards for excellence in teaching and education. In addition, however, the accreditors specifically praised Dr. Woll and her team for creating "rich and high-fidelity/realistic communication simulations" and for cultivating "leadership who understand the power of simulation and integration into the healthcare system." That affirmation is important to Dr. Woll because she is specially interested in applying "the power of simulation" to improve patient care and safety. "Simulation creates better healthcare overall because you are standardizing techniques. A good example is central line care," she said. "Central lines are used across departments and across platforms. We can use simulation to standardize the methodology for insertion, removal and maintenance."
In addition to recognition of the simulation center's excellence, SSH accreditation also benefits Geisinger by giving the GEMS team a ready source for consultation and best practices, as well as enhancing Geisinger's academic reputation among residents, fellows and medical students.
"I congratulate Dr. Woll and team for garnering this important recognition. We know that all learners, especially residents, fellows and medical students, look for prestigious accreditations as a means of assessing a program's excellence," said Steven J. Scheinman, MD, executive vice president, Geisinger and president and dean of Geisinger Commonwealth School of Medicine. "SSH accreditation confirms that high-quality simulations are an essential component of education at Geisinger."
Dr. Woll said the five-year accreditation is not the end of our plans to grow and enrich the GEMS programs. "Accreditation is the crowning piece of our efforts, that's true," she said. "It really is the culmination of a lot of hard work. But we still have a lot of goals we want to achieve at the same time."
Congratulations to the GEMS team:
Nicole Woll, PhD, Associate Chief Academic Officer
April Morgan, MEd, Manager - Interprofessional Education
Sandy Green, MD, Medical Director - Clinical Skills Program
Mary Harris, MD, Medical Director - Healthcare Communication Program
Samantha Lee, MHS, Program Manager
John Cromis, Simulation Technician
Pam Domenico, EMT, Senior Program Coordinator
Samantha Norton, MFA, Education Specialist
Mary Jean Parry, Administrative Assistant
About Geisinger
Geisinger is committed to making better health easier for the more than 1 million people it serves. Founded more than 100 years ago by Abigail Geisinger, the system now includes 10 hospital campuses, a health plan with more than half a million members, a research institute and the Geisinger College of Health Sciences, which includes schools of medicine, nursing and graduate education. With more than 25,000 employees and 1,700+ employed physicians, Geisinger boosts its hometown economies in Pennsylvania by billions of dollars annually. Learn more at geisinger.org or connect with us on Facebook, Instagram, LinkedIn and Twitter.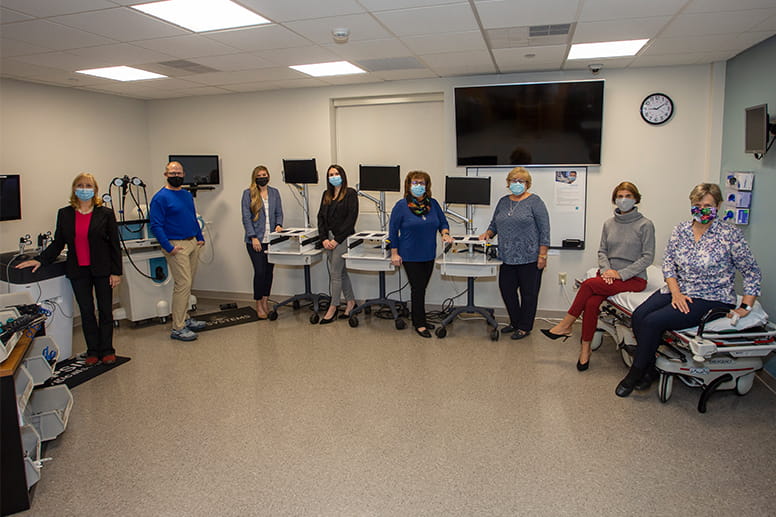 Geisinger Commonwealth School of Medicine
Elizabeth Zygmunt
Director, Media and Public Relations
Office: 570-504-9687
On Call: 570-687-9703
ezygmunt@som.geisinger.edu