Geisinger, Medacta partner to be first in the world to guarantee patient outcomes for knee, hip and shoulder replacement surgeries
CASTEL SAN PIETRO, Switzerland and DANVILLE, Pa. – Going for a joint replacement surgery is a major decision made by patients and it often goes through various stages of deliberation.
Geisinger, one of the nation's most innovative health systems, Geisinger Health Plan and Medacta, a high-growth, pure play orthopaedics company, announced today that they will offer a two-year guarantee for total hip, knee and shoulder replacement surgeries. The guarantee applies to all patients who are a member of a qualifying Geisinger Health Plan and remain in the care of a Geisinger provider.
Geisinger, through its partnership with Medacta, also offers a lifetime guarantee for total hip, knee and revision knee replacement surgeries for qualifying patients.
Joint replacement surgeries are very common and safe for the treatment of severe osteoarthritis. However, this guarantee provides much-needed peace-of-mind for patients who need surgery to relieve their joint pain. Patients with comorbidities are also included in the guarantee. Comorbidity is a major factor in determining the outcomes of various orthopaedic conditions. Patients with comorbidities have higher revision rates than patients without comorbidities.
"We understand that the decision to have surgery is not made lightly. This guarantee offers patients a sense of security while making that crucial decision," said Michael Suk, M.D., J.D., chair of the Geisinger Musculoskeletal Institute. "Geisinger is centered around making health easier. We offer world-class joint replacement expertise to our patients and we're willing to stand behind our surgeries for a lifetime. We are proud of this ground-breaking offering because of the many benefits it brings our patients, both physically and mentally."
A global leader in orthopaedic medical devices, Medacta provides uncommon resources to train surgeons–including those at Geisinger–in surgical techniques and the use of their specially-designed hip, knee and shoulder implants for minimally-invasive surgeries. Medacta innovative Solutions, among which its patient-matched technologies (MyKnee®, MyShoulder®, MyHip®) to facilitate accurate implant positioning and OR efficiency through advanced 3D pre-operative planning and patient specific instruments, and its Anterior Minimally Invasive Surgery (AMIS®) technique for hip replacements, are designed to enable a healthy and active lifestyle for every patient, reducing postoperative pain and shortening the rehabilitation time.
"The promotion of patient well-being by advancing surgical approaches, implants and instruments through responsible innovation, is a cornerstone of Medacta's mission," said Francesco Siccardi, Chief Executive Officer at Medacta International. "This expansion of our successful value-based initiatives with Geisinger, initiated in 2018 launching the hip replacement program with positive responses, demonstrates how Medacta brings our patient focused mission to life."
In 2014, Geisinger launched ProvenCare Hip Fracture, Total Hip, Total Knee and Lumbar Spine in yet another chapter of the health system's transformative care. In 2018, in association with Medacta, Geisinger became the first health system to offer a lifetime guarantee for eligible total hip replacements. In 2019, Geisinger extended the same lifetime guarantee to eligible new knee replacement surgeries.
Patients are encouraged to find out more from their doctors on both the two-year and lifetime guarantees. For more information, please visit www.geisinger.org/ortho.
About Medacta
Medacta is an international company specializing in the design and production of innovative orthopaedic products and the development of accompanying surgical techniques for joint replacement, spine surgery, and sports medicine. Established in 1999 in Switzerland, Medacta's products and surgical techniques are characterized by innovation. Medacta is a pioneer in developing new offerings on the basis of minimally invasive surgical techniques, in particular its Anterior Minimally Invasive Surgery ("AMIS") technique for hip replacements. Medacta has leveraged its orthopaedic expertise and comprehensive understanding of the human body to develop the sophisticated "MySolutions" technology, which offers surgeons highly personalized pre-operative planning and implant placement methodologies by creating advanced personalized kinematic models and 3D planning tools for use in hip, knee, shoulder and spine procedures.
About Geisinger
Geisinger is committed to making better health easier for the more than 1 million people it serves. Founded more than 100 years ago by Abigail Geisinger, the system now includes 10 hospital campuses, a health plan with more than half a million members, a research institute and the Geisinger College of Health Sciences, which includes schools of medicine, nursing and graduate education. With more than 25,000 employees and 1,700+ employed physicians, Geisinger boosts its hometown economies in Pennsylvania by billions of dollars annually. Learn more at geisinger.org or connect with us on Facebook, Instagram, LinkedIn and Twitter.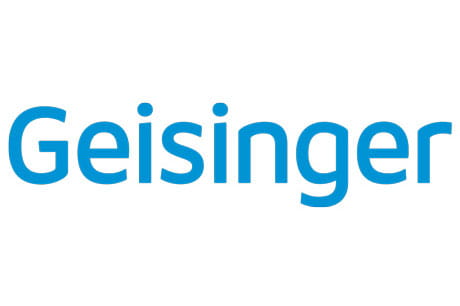 Content from General Links with modal content