Lauri Andress, PhD, named associate dean for equity, inclusion and community engagement at Geisinger Commonwealth School of Medicine
Lauri Andress, MPH, JD, PhD, has been named Geisinger Commonwealth School of Medicine's (GCSOM) associate dean for equity, inclusion and community engagement.
William B. Jeffries, PhD, vice dean for medical education and vice president for academic affairs, said Dr. Andress's appointment is effective immediately.
As associate dean for equity, inclusion and community engagement, Dr. Andress will lead the school's efforts to promote health equity and inclusion and maintain an optimal learning environment suitable for students, faculty and staff. She reports directly to William Jeffries, PhD, vice dean for medical education and vice president for academic affairs, and will collaborate with faculty, staff and community leaders to develop programs within and beyond the school that promote equity and inclusion. She will also support Geisinger community initiatives as part of GCSOM strategic workforce diversity initiatives and seek additional funding sources to support curriculum, pipeline and service-learning projects.
"GCSOM is fortunate that Dr. Andress will lead us on issues of and initiatives around equity and community engagement," Dr. Jeffries said. "We made these areas integral to the Department of Medical Education's new Total Health Curriculum. Dr. Andress has significant experience as a community-engaged researcher, educator and leader in both academia and the public sector. She has carved out a body of qualitative research illustrating the lived experiences of underrepresented populations. More specifically Dr. Andress uses the social determinants of health (SDOH) to examine the production of health and how that reshapes the pursuit of health in healthcare settings and our society. Our Total Health Curriculum requires that students focus on these issues throughout all four years of their education. Dr. Andress is the ideal person to guide our students' experience."
"I am grateful for the opportunity to contribute to the Geisinger Commonwealth School of Medicine where such a high value is placed on community engagement, equity and social justice," Dr. Andress said. "I admire the emphasis Geisinger places on population health and the array of tools and programs it has deployed to improve the lives of the people it serves. I am eager to begin work on integrating our students more deeply into these efforts and making the experience meaningful and transformative for tomorrow's doctors."
Dr. Andress most recently served as assistant professor of policy, management and leadership at West Virginia University's (WVU) School of Public Health and as an assistant professor at the John C. Edwards School of Medicine at Marshall University. She has also served as an advisor to the Wisconsin Center for Health Equity and the Center for Health Equity in Louisville, Ky. She has published numerous peer-reviewed research papers and practice-based reports in the areas of the SDOH; food security in rural regions; the intersection of place and health; and social movements and agenda setting.
Dr. Andress has a PhD in management and policy sciences and a master of public health (MPH) from the University of Texas Health Science Center's School of Public Health in Houston. She also holds a juris doctor (JD) degree from South Texas College of Law in Houston. She completed her undergraduate degree at one of our Nation's Historically Black Colleges and Universities (HBCUs), Bethune-Cookman University in Daytona Beach.
About Geisinger
Geisinger is committed to making better health easier for the more than 1 million people it serves. Founded more than 100 years ago by Abigail Geisinger, the system now includes 10 hospital campuses, a health plan with more than half a million members, a research institute and the Geisinger College of Health Sciences, which includes schools of medicine, nursing and graduate education. With more than 25,000 employees and 1,700+ employed physicians, Geisinger boosts its hometown economies in Pennsylvania by billions of dollars annually. Learn more at geisinger.org or connect with us on Facebook, Instagram, LinkedIn and Twitter.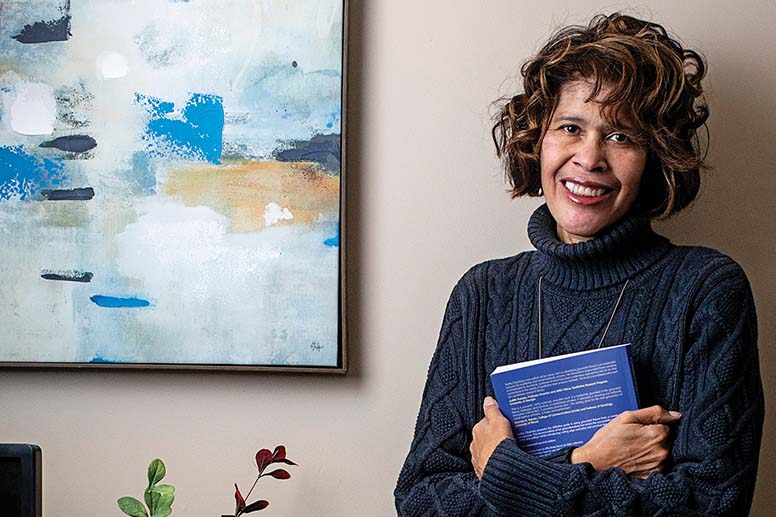 Geisinger Commonwealth School of Medicine
Elizabeth Zygmunt
Director, Media and Public Relations
Office: 570-504-9687
On Call: 570-687-9703
ezygmunt@som.geisinger.edu