Pennsylvania's 'Walk with a Doc' kicks off in Danville with help from Geisinger Commonwealth School of Medicine student
'Walk with a Future Doc' program at Geisinger Commonwealth School of Medicine (GCSOM) will host walk Sept. 25 at Lackawanna River Heritage Trail in Scranton.
On Aug. 25, Emily Grimes, a member of Geisinger Commonwealth School of Medicine's MD Class of 2024, joined Pennsylvania Department of Conservation and Natural Resources (DCNR) Secretary Cindy Adams Dunn, along with officials from Geisinger and the Pennsylvania Medical Society officials at Hess Recreation Area in Danville to launch 'Walk with a Doc' statewide.
Emily, an Abigail Geisinger Scholar and future family physician, is carrying on an effort initiated by Cecelia Strauch, MD '24, who founded the GCSOM chapter of 'Walk with a Future Doc' as a community service project of the Family Medicine Interest Group when she was a second-year medical school student. "I was honored to be part of the kickoff event where I spoke about the importance of connecting with our communities, as well as my own experiences within the program," Emily said. "I look forward to seeing successful walks across the state, including our GCSOM walk on Saturday, Sept. 25 at 9 a.m. at the Lackawanna River Heritage Trail Olive Street entrance."
The Aug. 25 event kicked off a series of walks with medical professionals throughout the state during Trails Month in September. After remarks, officials took the first walk of about a mile on a loop trail at the recreation area.
"Participating in the Walk with a Doc program has been such a positive experience for me," Emily said. "Our chapter of Walk with a Future Doc encourages students to become part of the Scranton community while also promoting healthy lifestyle choices such as walking. As an Abigail Geisinger Scholar interested in family medicine, I plan to work within the Geisinger system and realize these community members could one day be my patients."
"I am happy to see the Walk with a Doc program get such a high profile with DCNR," said Jennifer Joyce, MD, professor of family medicine at GCSOM. "The program has had tremendous participation and success in hundreds of cities around the country and has shown improved health results for countless people around the country. I am so proud of our students for founding their own program in Scranton and being able to take part in the statewide kick off."
About Geisinger College of Health Sciences
Geisinger College of Health Sciences is the research and education arm of the Geisinger family. The college houses Geisinger Commonwealth School of Medicine, Geisinger School of Nursing and Geisinger School of Graduate Education. The college is committed to non-discrimination in all employment and educational opportunities.
About Geisinger
Geisinger is committed to making better health easier for the more than 1 million people it serves. Founded more than 100 years ago by Abigail Geisinger, the system now includes 10 hospital campuses, a health plan with more than half a million members, a research institute and the Geisinger College of Health Sciences, which includes schools of medicine, nursing and graduate education. With more than 25,000 employees and 1,700+ employed physicians, Geisinger boosts its hometown economies in Pennsylvania by billions of dollars annually. Learn more at geisinger.org or connect with us on Facebook, Instagram, LinkedIn and Twitter.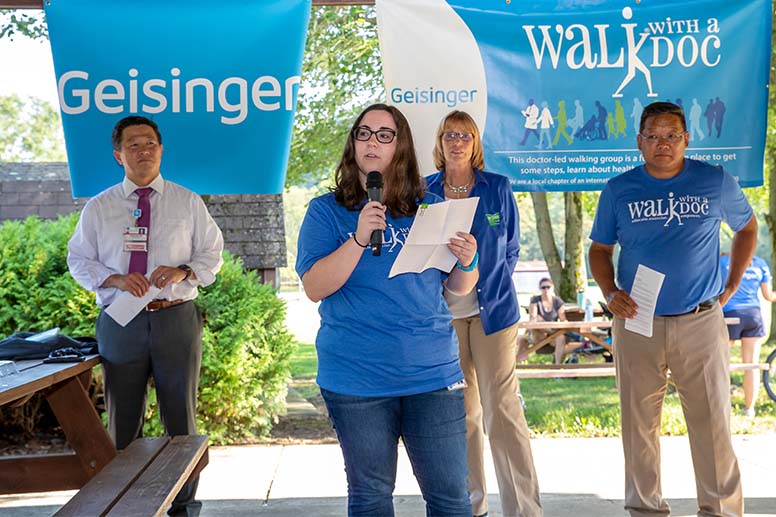 Geisinger Commonwealth School of Medicine
Elizabeth Zygmunt
Director, Media and Public Relations
Office: 570-504-9687
On Call: 570-687-9703
ezygmunt@som.geisinger.edu