Geisinger Commonwealth School of Medicine to graduate tenth MD class
Commencement to be held May 15
SCRANTON – Geisinger Commonwealth School of Medicine will confer Doctor of Medicine (MD) degrees upon the 114 students in the Class of 2022 at commencement ceremonies Sunday, May 15 at 11 a.m. at the Pavilion at Montage Mountain in Scranton.
Julie Byerley, M.D., M.P.H., Geisinger Commonwealth's president and dean, will welcome guests and graduates. Greetings will be offered on behalf of the school's board of directors by board chair Virginia McGregor and Geisinger CEO Jaewon Ryu, M.D.
William Jeffries, Ph.D., vice president for academic affairs and vice dean of medical education, together with Dr. Byerley, will present the commencement speaker, Susan Skochelak, M.D., with an honorary Doctor of Medical Arts degree.
Prior to her recent retirement, Dr. Susan Skochelak served as the chief academic officer and the group vice president for medical education at the American Medical Association (AMA). She led the AMA's Accelerating Change in Medical Education initiative promoting innovation to align physician training with the changing needs of our healthcare system. Since 2013, the AMA has awarded more than $40 million in grant funding to medical schools, residency programs and health systems to transform medical education through bold, rigorously evaluated projects to create the medical schools of the future and to reimagine residency training.
Melissa Buck, M.D., a member of the Class of 2013, will offer greetings from Geisinger Commonwealth's growing Alumni Society.
For a live stream of the ceremony, visit geisinger.edu/commencement.
ABOUT GEISINGER COMMONWEALTH SCHOOL OF MEDICINE

Geisinger Commonwealth School of Medicine (GCSOM) is a member of the Geisinger family. Geisinger Commonwealth offers a community-based model of medical education with campuses in Atlantic City, Danville, Lewistown, Scranton, Sayre and Wilkes-Barre. Geisinger Commonwealth offers Doctor of Medicine (MD) and a portfolio of graduate degrees. The school's innovative curriculum, focused on caring for people in the context of their lives and their community, attracts the next generation of physicians and scientists from within its region, as well as from across the state and the nation. Geisinger Commonwealth is committed to non-discrimination in all employment and educational opportunities. Visit www.geisinger.edu/gcsom.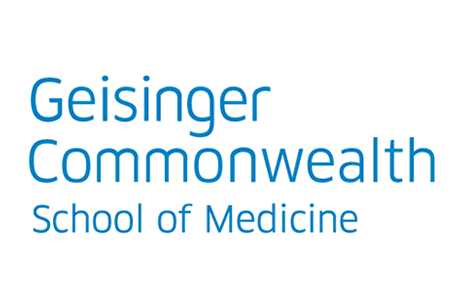 For education media inquiries
Elizabeth Zygmunt
Marketing and Communications Strategist for Education
Office: 570-504-9687
On call: 570-687-9703
emzygmunt1@geisinger.edu