Become a nurse leader of tomorrow

Geisinger Lewistown Hospital School of Nursing 
Become an RN in just 2 years
Geisinger Lewistown Hospital School is an affordable, fully accredited nursing degree program with RN and LPN advanced placement programs. Whether you're beginning, enhancing or changing your career, you can become an RN in as little as two years, receiving excellence in education and clinical experience.
Accelerated RN programs
No matter where you are in your nursing journey, our two-year (six-semester) nursing program gives you the hands-on training you need in a hospital setting.

With experienced faculty members and staff to guide you at every step, you'll gain the skills and knowledge to become the best nurse you can be. You'll take courses including:
Nursing fundamentals
Critical thinking
Anatomy and physiology
Pharmacology
And more
Our faculty and staff are dedicated to seeing nursing students like you excel. In fact, in seven of the last eight years, our NCLEX pass rate (short for National Council Licensure Examination) has been 100%.
We're here to prepare you for a career in nursing, making sure you have the resources and support you need to succeed.
How to get started
Apply today for our August 2022 session. You can complete your application online, then mail in or drop off the required materials, along with the $130 application fee.

Ours is a full-day program, with all courses offered during the day at Geisinger Lewistown Hospital's campus.
If you need to take general education courses, evening classes are available through HACC (Harrisburg Area Community College).
Find the right nursing program for you
If you're thinking about practicing nursing at a higher level, it's important to find a program that's right for you. We offer an LPN advanced placement program for existing LPNs with an active license in good standing.
Or, if you've always dreamed of a career as a nurse, our RN diploma program can help you get there.
You'll never feel like a number here. You'll enjoy small class sizes and hands-on experience at a top-ranked Pennsylvania nursing school. In just two years, you can make a difference by caring for others as an RN.
Apply today or contact us at 717-242-7930 to learn more about our nursing program.


100% of 2018 GLHSON grads employed within 1 month

Fast facts:
• Average RN starting salary: $73,220
• Student-faculty ratio: 10:1
Geisinger Lewistown Hospital School of Nursing grads are doing great things!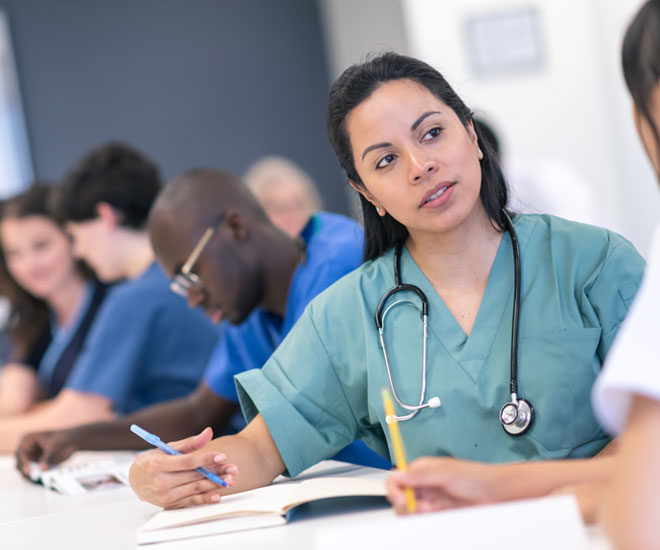 "Ever since I stepped into an OR at 19, it was my goal to work in one. That dream became reality when, after graduating, I became an OR RN. Today, I'm nursing operations director of surgical suites for Geisinger's Western Region."
– Heather Lehman, RN, Geisinger Lewistown Hospital School of Nursing alumna