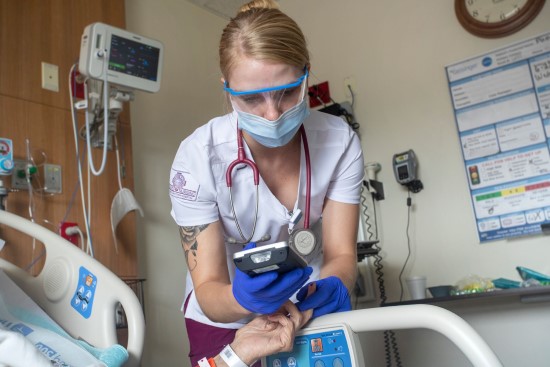 Become a registered nurse in just two years
Geisinger School of Nursing
At Geisinger School of Nursing you'll get an excellent education and hands-on clinical experience — helping you enter a secure and rewarding career as a nurse in as little as two years.
Earn an Associate Degree in Nursing
Geisinger School of Nursing offers one program of study in professional nursing that awards an Associate Degree in Nursing (ADN). Graduates are eligible to apply for the National Licensure Exam (NCLEX-RN) to become a Registered Nurse.
To complete the ADN program, students must complete 70 credits — 46 credits offered by the school and 24 credits of college courses offered by Harrisburg Area Community College. Or you can complete these 24 credits at a college of your choice.
If you're an LPN, you can complete the program sooner.
As an LPN, you're eligible for advanced placement and granted nine credits when you:
Meet all admission and prerequisite requirements
Are a graduate of a board-approved program
Have a current LPN license and is in good standing
Meet all written work and testing with satisfactory performance in the transition course to continue in the program*
*Additional theory and clinical time may be recommended, even if advanced standing is granted.
Why Geisinger School of Nursing?
Whether you're beginning, growing or changing your career, a degree from Geisinger will put you on a flexible career path that can take you anywhere.
Hear from our alumni
See why these graduates chose Geisinger School of Nursing:
I've accepted an offer to work as an RN at Geisinger Medical Center's ED in Danville. I start in October. I can't wait to use the skills I've learned. In class, we talk about biases, so I know it's not our job to judge, just to treat. Thanks to Geisinger, I have a patient-advocate heart.
My first career was teaching, but after layoffs, I decided to pursue a nursing career. Getting my RN from Geisinger led me back to my teaching roots. As a member of the School of Nursing faculty, it's my job to help new nurses discover what this field can offer.
Nursing is a second career for me, and I feel very strongly in motivating others towards the profession. As a supervisor, I feel a large portion of my role is to help staff understand their strengths, and how to use their talents to pursue their dreams.
I've just started my career and have already been given leadership roles, one that includes teaching new nurses. Geisinger truly supports the growth and advancement of their nurses up the clinical ladder."
Disclaimer: The Lewistown School of Nursing Diploma Program is in the process of merging into an Associate's Degree of Nursing Program and federal funding is pending approval by the Department of Education until the merger is complete.