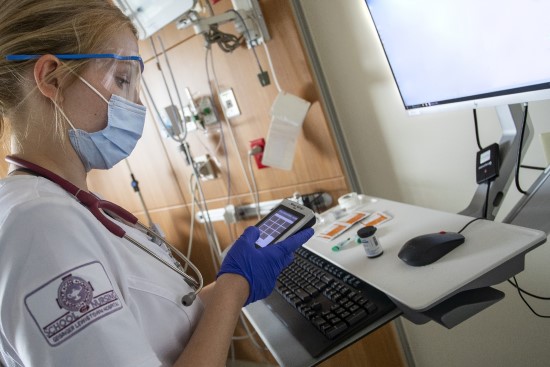 Academics
About the Program
RN program

Geisinger School of Nursing offers one program of study in professional nursing. After you complete the program, you'll receive an Associate Degree in Nursing (ADN). You'll then be eligible to apply for the National Licensure Exam (NCLEX-RN) to become a Registered Nurse.

To graduate from the GSON program, you'll complete 70 credits. The nursing courses, totaling 46 credits, will be offered by GSON.

The remaining 24 credits are general education courses. We've partnered with Harrisburg Area Community College to offer these courses to our students, but you can take them at a college of your choice.

Meet with the financial aid advisor to discuss financial aid before scheduling your college courses.

General education courses will be taken in the evening for anyone who hasn't completed them before starting the RN program at GSON. Take them at an institution of your choice. Courses must be taken during or before the semester listed. And all general education courses must be completed before your final semester.
LPN advanced placement: Do I qualify?

The LPN – RN track/plan of study requires 54 credits (30 nursing and 24 general education). Before starting nursing courses, you'll need to complete Anatomy & Physiology I and II, General Psychology & Life Cycle Development. The plan of study must be completed within three years.

Applicant eligibility for advanced placement:
Meet all admission and prerequisite requirements
Graduate from a board-approved program
Have a current U.S. LPN license in good standing
All written work and testing must be met with satisfactory performance in the transition course to continue in the program.
GSON may recommend additional theory and clinical time, even if advanced standing is granted.
Students with advanced placement will automatically be excused from the following courses:
N101: Nursing Fundamentals
N111: Health Promotion for the Adult
N121: Nursing Care of the Childbearing Family
Plan of study
GSON offers a 5 semester plan of study.
Year one: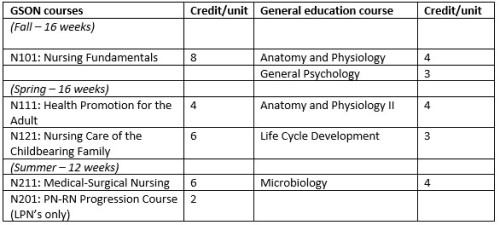 Year two: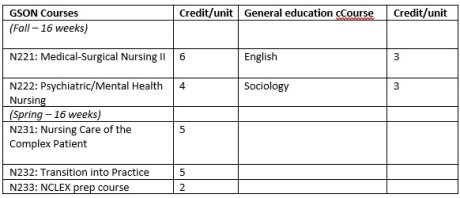 Grading
Grades will be reported within two weeks of the end of each semester.
Grades are on a numerical and letter scale as follows:

The clinical component of all nursing courses must be passed in order to pass the class.

Any grade below a C is considered not passing.

To pass any course, you must achieve a minimum of 75% cumulative average on exams before any extra points can be added.
Pennsylvania requirements for eligibility for licensure or entry into the nursing profession
Pennsylvania requirements for eligibility for licensure or entry into the nursing profession
Degree requirement:
Completion of approved nursing program
An applicant, to be eligible for examination for licensure as a registered nurse, shall furnish evidence satisfactory to the Board that they have completed work equal to a standard high school course as evaluated by the Board and has satisfactorily completed an approved program of professional nursing. Approved programs shall include an associate degree, bachelor's degree, or diploma nursing program.
Examination requirement:
1 Examination: An applicant must receive a passing grade on either the National Council of State Boards - Registered Nursing Exam (NCLEX-RN) or the State Board Test Pool Exam (SBTPE) as a requirement for licensure.
Experience:
No experience requirement for licensure.
Continuing education:
3 Hours: Applicants must complete 3 hours of Board-approved continuing education in child abuse recognition and reporting for initial licensure.
30 hours of continuing education is required for biennial renewal of license. Of those 30 hours, 2 hours must be Board-approved continuing education in child abuse recognition and reporting.
Initial licensing fee:
$95 – Fee for in-state educated RN exam applicants
$115 – Fee for RN exam applicants educated in another state or jurisdiction
$120 – Fee for applications for licensure by endorsement
$145 – Fee for licensure by endorsement with examination
Licensure Renewal Fee:
$122 – Biennial renewal of license.
End of program student learning outcomes
At the end of the program the graduate will:
Model caring and safe nursing care in diverse settings. (Safety)
Collaborate with the client, family and members of the healthcare team to assist the client in achieving optimal outcomes. (Teamwork and Collaboration)
Implement clinical judgement when providing client-centered care. (Client-centered care and clinical judgment)
Integrate data and technology for information-gathering, communication and client care. (Informatics)
Practice within the ethical, legal and regulatory framework of nursing and standards of nursing practice. (Professionalism)
Examine evidence-based research to guide nursing practice. (Evidence-based practice)