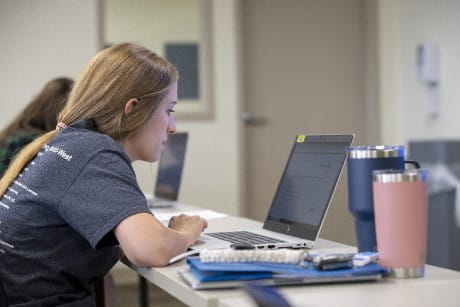 Requirements for admission consideration are as follows:
High school education – You must have completed work equal to a standard high school education. A Commonwealth Secondary School Diploma (CSSD) is accepted as a standard high school education. If you obtained your CSSD (GED) outside the Commonwealth of Pennsylvania, you are required to submit a Certificate of Preliminary Education from the Pennsylvania Department of Education. An official high school transcript is required of all applicants.
Grade point average (GPA) – GPA is considered for all applicants. A "C" grade or better required in algebra, general biology and general chemistry, and each must be one full credit. C-minus won't be accepted.
Previous coursework or equivalent work – You must have completed work equivalent to a high school education with a minimum of 16 units, including:

Four units of English
Three units of social studies
Two units of mathematics (one of which is algebra) and
Two units of science (general biology and general chemistry) with a related laboratory or the equivalent.
*Algebra taken at a post-secondary school must be a college algebra or intermediate algebra.
Testing – You may take an entrance exam. The ATI TEAS test, National League for Nursing Preadmission Examination for RN, ACT or SAT tests are acceptable for consideration for admission for the program. There is not a minimum score on these entrance exams; however, the score is considered as part of the evaluation process for admission consideration.
Postsecondary education – If you have completed post-secondary coursework, you must submit a transcript(s) and detailed course description(s) for evaluation of academic achievement and possible credit transfer. Cumulative GPA of 2.5 or above is preferred. Note that all post-secondary coursework must be completed at an accredited university. View the approved transfer courses.
Test of English as a Foreign Language (TOEFL) – Official TOEFL test scores are required if English isn't your first language. The minimum passing score for the TOEFL iBT is 84 or higher total score, with a minimum speaking score of 26. The minimum passing score for the TOEFL PBT is 540 or higher total score.
Citizenship – You must be a U.S. citizen or permanent resident of the United States.
Minimum age – You must be 18 years of age by the time of entrance into the program.
At Geisinger, leading healthcare changes starts with open minds and lifelong learning. From the breakroom to the classroom, you can feel confident knowing when you speak up, your voice will be heard. We're committed to:
Ensuring respect and inclusion are foundational to all policies, programs and services
Creating a culture that embraces and values differences
Eliminating disparities to provide the highest-quality care for every patient, every time
Read more about Diversity, equity and inclusion at Geisinger.
Geisinger complies with applicable federal civil rights laws and doesn't discriminate on the basis of age, sex, race, color, religion, sexual orientation, income, education, national origin, ancestry, marital status, culture, language, disability or gender identity.
Disclaimer: The Lewistown School of Nursing Diploma Program is in the process of merging into an Associate's Degree of Nursing Program and federal funding is pending approval by the Department of Education until the merger is complete.
Content from General Links with modal content