She had a birth plan. He had other ideas.
Everyone worked together to make sure Forest and his mother had the best possible birth experience.

by Paula Franken
Jackie Compton laughs as she cuddles 7-week old Forest, the 50th baby born at Geisinger's new Childbirth Center in Scranton. "I'd done a ton of research and knew what I wanted: a natural birth — no medication," she explains. "But 43 hours of labor? I hadn't planned for that."
Forest's birth story began on Dec. 5, 2019, at 1 a.m. when his mother's water broke even though she wasn't having contractions. "I decided to go back to bed and monitor myself for contractions," she says. "I called my midwife at 6:30 and she said we could take our time. We checked into the birthing center at 9:30. Still no contractions."
Making themselves at home at the hospital
Ms. Compton, her husband, Chance, and both sets of grandparents-to-be made themselves at home in the room where she would go through labor and delivery and stay after the baby's birth. "The rooms are very comfortable and spacious," she says. "There was plenty of room for all of us and the nurses and midwife. And I was free to move around as much as I wanted."
Since labor wasn't progressing, Ms. Compton was given medication to soften her cervix.
This 12-hour treatment brought on irregular contractions — still not true labor. So she got a second dose. Same results. Four hours later, she was given Pitocin®, a synthetic version of oxytocin, the hormone your body naturally produces to induce contractions.
That's when active labor finally began.

Changing her birth plan after hours of labor
Ms. Compton had planned on a natural birth — no epidural, minimal drug intervention and nitrous oxide to help manage pain. By this time, she was pretty worn out. But she was determined to stick to the plan.
"I used the birthing ball to open my pelvis and get the contractions moving," she says. She also took a long, hot shower and had her husband apply pressure to ease her back pain. But after hours of active labor, she was only dilated 2 centimeters. When she heard that, her heart sank.
"That's when my labor nurse asked me if I'd like to reconsider having an epidural," Ms. Compton explains. "She was very sweet about it and the choice was completely mine. I'm very glad I had the option to switch my plan, and I like that the midwives and the OB-GYN were communicating closely at this point."
Ms. Compton had to control her contractions while the needle was inserted for the epidural and she began to second-guess her choice. "Then I asked myself if I'd be able to control myself in two hours and the answer was no," she says. "I was exhausted. My body was crying out for help and I needed to do what was best for my baby."
"I think some people may have a misconception about what it means to deliver by midwife," says Heather Mecone, Geisinger certified nurse-midwife. "Yes, we encourage natural births with as little intervention as possible, but pain medication is always an option if requested, and if an OB-GYN needs to step in, there's always one on hand. The bottom line is, we all want what's best for a safe delivery."
After the epidural, Ms. Compton's pain ceased, labor progressed smoothly, and she could relax and enjoy her family's company. Six hours later, she was ready to start pushing. Two hours later, at 8:04 p.m. on Dec. 6, Forest Robert Compton arrived.
Meeting Forest at last
"They put him on my abdomen right away and we began bonding immediately. It was an amazing experience," says Ms. Compton. "It had been 43 hours since my water broke. I was so happy to be done."
But the Comptons weren't done. Forest developed jaundice, a common condition that occurs when a baby's system contains a high level of bilirubin. Jaundice is easily treated with light therapy, so a special incubator was brought into the birthing room. After nearly a week, Forest was given a "bili blanket" to help stabilize his bilirubin levels and got to go home.
"I really can't say enough good things about the staff at the Childbirth Center," says Ms. Compton. "I'd met all the midwives during my prenatal visits, so I knew I'd be familiar with whoever was on call. Turns out, I got to work with four of the five of them. And the lactation consultant was amazing, too. Everyone was there to support me and make sure I had the best possible experience — which meant being flexible when things didn't go exactly as planned. Welcome to motherhood, right?"
Next steps:
Learn more about pregnancy care
Are you pregnant? Here's your trimester guide to pregnancy
Get postpartum and newborn care
Find an OB-GYN or midwife near you
Watch Jackie Compton's experience with the midwife program at Geisinger's new Childbirth Center in Scranton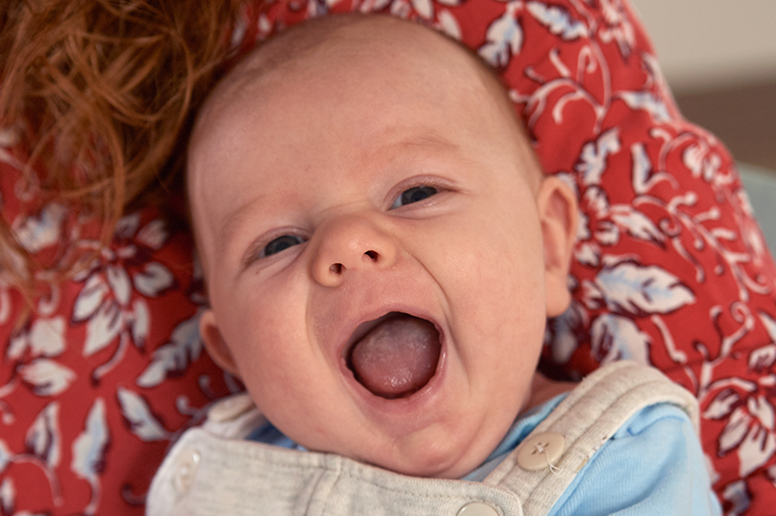 "They put him on my abdomen right away and we began bonding immediately. It was an amazing experience."
Content from General Links with modal content