Surgery during a pandemic: Successful and safe
David Chapple was COVID-19-positive and needed emergency surgery. But he — and his care team — got through it safely.
by Paula Fanken
Looking back, David Chapple realizes he should have known something was wrong when he bit into his Italian hoagie and tasted only salt. "It was really strange," he says. "I'd also had an annoying cough and a few body aches but assumed it was a typical flu, so I wasn't too worried."
What did worry the 64-year-old West Pittston resident was his stomach. It had been bothering him for a while, but when he first sought treatment, he was told he had a stomach bug. And because he didn't have a fever and hadn't been anywhere the virus was prevalent, they didn't think he had COVID-19.
Days later, in the early hours of Easter morning, Mr. Chapple's pain was so bad that he decided to go to the Emergency Department at Geisinger Wyoming Valley Medical Center. "I was hesitant because I was afraid of being exposed to COVID-19," he says. "Turns out, that was ironic."
At a screening tent outside the hospital, Mr. Chapple had a fever of 101.4° F, so he was tested for COVID-19 right away with a nasal swab. Then he went to the emergency room for a CT scan and an X-ray. When those results came back, he asked if they were going to admit him to the hospital.
"They told me I was most likely COVID-positive, had a touch of pneumonia and they were prepping me for emergency surgery for an abdominal aortic aneurysm — so yes, I was definitely being admitted," he says. "Later, I learned that my aneurysm was the size of an avocado."

An aneurysm is an enlarged area in a blood vessel. In Mr. Chapple's case, his aneurysm was in the lower part of the major vessel that runs from his heart through the center of his chest and abdomen.
Geisinger endovascular surgeon Boyoung Song, MD, operated on Mr. Chapple even before the results of his COVID-19 test were ready. "It really didn't matter what the results would be," she says. "An aneurysm larger than 5.5 centimeters in an adult male needs to be treated. If this type of aneurysm ruptures, it's usually fatal. Mr. Chapple's was at 8 centimeters. We proceeded as if he was COVID-positive — which in fact he was."
There are two ways to treat an aneurysm like Mr. Chapple's. The traditional way is to reach it through a large incision in the abdomen, which involves a lengthy stay in the hospital and a long recovery. Dr. Song used a less invasive method — endovascular surgery — which requires only two small slits in the groin.
Because he was COVID-positive, Mr. Chapple had to spend some time recovering in a negative-pressure isolation room. No visitors were allowed and any staff who entered his room wore full protective gear. "The staff was fantastic, very compassionate and friendly," he says. "Still, it was very strange to be isolated with my own thoughts and worries. I had total confidence in Dr. Song — I knew the surgery was a success. But still, I worried. Would I end up on a ventilator? Would the COVID lead to unforeseen complications?"
Ultimately, Mr. Chapple says he found comfort in his faith, Nichiren Buddhism, a practice he's followed for more than 50 years through Soka Gakkai International (SGI), a worldwide Buddhist network that promotes peace, culture and education.
"We learn from all our experiences and try to find the most valuable outcome in any situation," he explains. "I reflected on that wisdom and practiced the mantra Nam myoho renge kyo. I really believe that, and focusing on my family and friends at SGI, are what got me through."
In Sanskrit, the word "nam" means "to devote oneself" and "myoho renge kyo" is the title of the Lotus Sutra, widely regarded as one of the most important sacred scriptures of Buddhism.
On the Tuesday after Easter, Mr. Chapple went home. Within a month, he was taking extended walks and looking forward to getting back on his bike. And best of all, his pain was gone.
"My recovery has been seamless, and my scars are healing great," he says. "Dr. Song is an outstanding surgeon. She could probably work anywhere. We're very lucky to have her here."
For her part, Dr. Song is glad Mr. Chapple paid attention to the warning signs. "Geisinger has taken numerous steps to make sure patients and staff are protected from COVID-19," says Dr. Song. "I cannot stress enough that it's safe to come to the hospital, and there's no reason to ignore symptoms or put off needed care. In fact, doing so can be very risky. Mr. Chapple is very fortunate that he came in when he did."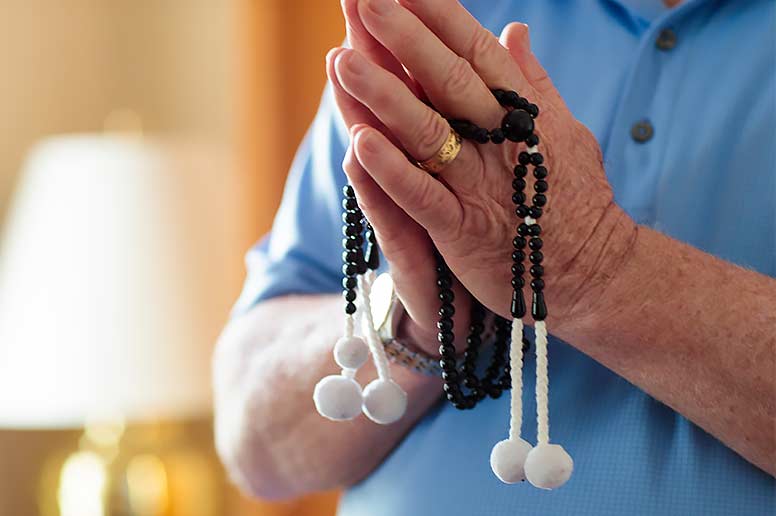 "My recovery has been seamless."