Confronted with a tricky tumor, a surgeon turns to a 3D model.
by Paula Fanken
Treating Frank Ditaranto's rare cancer, diagnosed in an unusual location, required out-of-the-box — or in this case, out-of-the-printer — thinking.
"I'm one in a million," says the Winfield resident, who developed chordoma, a cancer that really does impact an estimated 1 in 1 million people. And the odds of developing a tumor in the neck, where Mr. Ditaranto's was located, are even lower.
His original doctor suspected Mr. Ditaranto had ALS, also known as Lou Gehrig's disease, because he had some troubling symptoms. He walked carefully, for fear of falling. His toes were curled, his hands and feet were numb, and his tongue quivered involuntarily. But tests showed a mass on the side of his neck, and Mr. Ditaranto was referred to Geisinger, where neurosurgeon Sanjay Konakondla, MD, told him he had chordoma. It was a condition Dr. Konakondla was familiar with, having trained with world-renowned specialists in the disease at Brown University's Rhode Island Hospital.
"With chordoma, it is very important to get all of the tumor out without cutting into it," Dr. Konakondla explains. "If you break into the capsule, the cancer can spread. I knew I had to work on all the healthy areas around the tumor while avoiding it completely."

To prepare for the surgery, Dr. Konakondla worked with Sarah Flora, program director of Geisinger's 3D Imaging and Printing Lab. "Medical 3D printing is being used for a multitude of reasons here at Geisinger such as presurgical planning, surgical simulation, patient and learner education and surgical aid tools," Ms. Flora explains. "In Mr. Ditaranto's case, we provided printed models to Dr. Konakondla for surgical planning and simulation. The 3D models were direct replicas of Mr. Ditaranto's tumor as well as any important anatomy near the mass such as his spine, airway, esophagus and the arteries in his neck. The only other way surgeons get to see this anatomy prior to operating is from a CT or MRI scan, which are made of thinly sliced black-and-white images."
"Geisinger's 3D lab truly sets us apart," says Dr. Konakondla. "These models are created at no cost to patients and are great tools for explaining upcoming procedures to them. Frank got to hold his own spine in his hands — and keep it as a souvenir."
Mr. Ditaranto's surgery began on Oct. 8, 2019, and ended 19 hours later. Dr. Konakondla never took a break other than to eat a granola bar while his team maneuvered Mr. Ditaranto onto his back. "It was a very complicated procedure because of the tumor's location," Dr. Konakondla explains. "Ultimately, it involved the second through seventh cervical vertebrae as well as the first and second thoracic levels."
And even after such a complex surgery, which removed the entire tumor, the 64-year-old was out of the ICU after two days and up and walking soon after that.
When Mr. Ditaranto asked his oncologist about next steps, he was told no radiation was needed. Every 6 months, he'll get an MRI to make sure he's still clear. But for now, he's fine.
Mr. Ditaranto says he can't say enough good things about Dr. Konakondla. He even sent a picture of the two of them together to Dr. Konakondla's instructor at Brown. "He's a great doctor and a great man, even if he is a Yankees fan," laughs Mr. Ditaranto. "Guess I'm lucky he still did my surgery after seeing my Mets blanket."
As for the 3D model of his spine, Mr. Ditaranto is happy to show it to anyone who wants to see it. "It's a terrific way to tell my story," he says. "I'm glad Dr. K. let me keep it."
Next steps:
Learn more about how 3D printing is revolutionizing care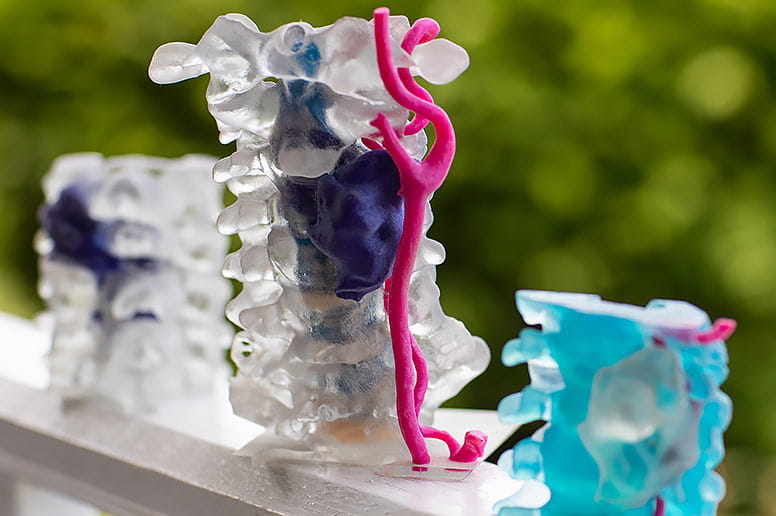 "These models are created at no cost to patients and are great tools for explaining upcoming procedures to them. Frank got to hold his own spine in his hands — and keep it as a souvenir."