Thriller + Filler + Spiller = Wow!

Looking to add a splash of color to your deck or patio? Try container gardening, which lets you quickly create flower displays tailored to your landscape, porch or patio.
The magic formula in almost all beautiful container gardens lies in a simple formula.


Thriller + Filler + Spiller = A showstopping arrangement.
Start with a well-drained pot filled with quality potting soil. Then combine plants of different heights and sprawling habits in each pot.

Thrillers are tall, upright plants that add the height to the arrangement. Place one, like this spike dracaena, in the middle of the container.

From there, work your way down and around with your filler — plants that contrast with the central plant and fill in the pot. We're using 4 red petunias.

Finally, add your spiller — a vine that spills over the pot's edge, making your container look full and robust. We're using 2 variegated vinca vines.

When buying plants, read the tag and note light and water requirements. Spacing is a consideration, too, but plants are typically spaced closer together in container gardens than in garden beds.

Place the container in a perfect eye-catching spot. If your container is on a deck or similar surface, you may want to use a saucer to protect the wood beneath it. Add sun and water. For extra beauty, fertilize with a diluted plant food every 2 weeks, remove any dead foliage, and you'll have a beautiful container that will last through the fall.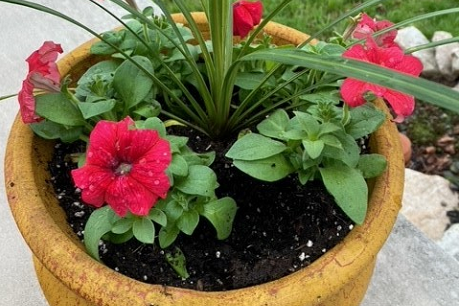 Content from General Links with modal content