5 ways to ride ATVs safely
Avoid a trip to the ER or urgent care with these ATV safety tips.
Riding through the woods or a down a long country road on a dirt bike or ATV is a great way to spend an afternoon with family and friends. Just be sure to practice safety precautions so you can make the most of your ride.
"We treat many patients suffering from injuries sustained while riding ATVs and dirt bikes," says Bradley Brocious, DO, an emergency medicine physician at Geisinger. "It's not only new riders we treat. Even experienced riders can get into trouble if they're not following the proper safety procedures."
Looking to enjoy some trail time on your ATV? You can have fun while staying safe:
1. Keep common ATV safety precautions in mind
Before you ride your ATV, learn proper riding technique from a professional by taking an ATV safety course. And always wear DOT-compliant helmet, goggles, long-sleeved shirt and pants, gloves and over-the-ankle boots.
"No matter how much fun you're having, always keep in mind that the ATV or dirt bike you're riding is not a toy," says Dr. Brocious. "It's a powerful machine that demands your attention and that you wear proper safety gear to keep you safe."
2. Inspect your ATV or bike every time
A quick inspection before you start will help to keep you safe. Look for worn and damaged tires and rims, worn chains and sprockets and make sure cable connections are intact.
You should also never try to ride a dirt bike or ATV that is too large or powerful for your size and skill level. "Any mistake you made will be amplified by a bigger, faster vehicle," says Dr. Brocious. So as part of your inspection, make sure you're about to ride an ATV suited for your size and skillset.
3. Stay on the trails, not the road
Remember that ATVs and dirt bikes are designed for riding off-road, not on paved surfaces. Riding on a public road increases your risk of being hit by another vehicle.
Many instructors in ATV safety courses offer advice on local spots where you can ride safely and legally. You can also visit local state forest websites for trails and guidelines on operating ATVs on the premises.
4. Never ride your ATV under the influence
Using any kind of drugs or alcohol impairs your judgment and reaction time, making it harder to maintain control of a vehicle. And on top of that, operating an ATV under the influence is illegal.
"One drink begins to impair your ability to operate any motor vehicle," says Dr. Brocious. "Your vision, motor skills, vigilance and attention all suffer when you've consumed alcohol or drugs."
5. One rider per vehicle
Unless you are riding an ATV specifically designed for two people, stick to the one-rider rule. "Piggybacking" or "side-riding" increase the chances for injury, both for the driver and the passenger.
But you should never go out to ride alone. If something happens to you or you get lost, having a friend with you — riding their own ATV — will make getting back home safer, no matter your age.
"And even when you ride with friends or family, you should always carry a cell phone with you and know your approximate location," says Dr. Brocious. "If you or a friend are injured, call 911 right away."
Next steps:
Meet Bradley Brocious, DO
Know when to go to the ER or urgent care
Get care now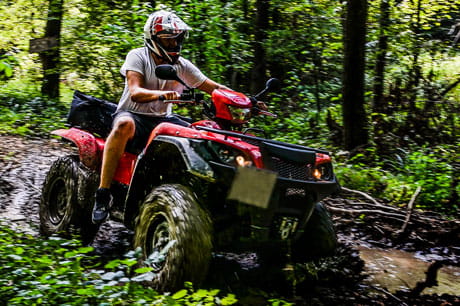 Content from General Links with modal content