Hand sanitizer: Handwashing's powerful sidekick 
Know how and when to use it to best protect your hands and your health.
These days, many of us aren't leaving the house without a small bottle of hand sanitizer. Which is a good thing — hand hygiene is one of our best defenses against getting sick.
"Keeping your hands clean is key when it comes to preventing the spread of germs and viruses that cause colds, flus and viruses like COVID-19," says Jeanne Lorraine Gricoski, DO, internal medicine physician at Geisinger Orwigsburg. "And hand sanitizer is a great way to do that — especially when you can't get to a sink to use soap and water."
Here's how and when you should use hand sanitizer to best protect your health.
When is the best time to use hand sanitizer?
In light of the coronavirus pandemic, we know that keeping our hands clean will help slow the spread of the virus and lower our chances of getting sick. That's why many of us are arming ourselves with hand sanitizer — store-bought or homemade — when we leave our homes.
"Alcohol-based hand sanitizers are very effective at keeping microorganisms at bay and preventing viruses and bacteria that can make you sick from getting into your system," Dr. Gricoski explains. "You should have some on you when you run errands, go for a hike or walk, or travel to any place where you might not be able to wash your hands with soap and water."
While you may have heard some concern over overusing hand sanitizer in the past, that isn't the case during the pandemic. It's better to keep your hands clean to avoid getting sick or spreading COVID-19.
How to protect yourself from getting sick
Remember that hand sanitizer is a great supplement to soap and water, but not a replacement. "You should use soap and water whenever possible, washing your hands vigorously for at least 20 seconds, and avoid touching your face, eyes and mouth," says Dr. Gricoski.
In other words, hand sanitizers shouldn't replace hand washing, but rather be used as a supplement to washing your hands when soap and water aren't available. "When you're at home, try to avoid using hand sanitizer. A moisturizing hand soap and water will do the trick," says Dr. Gricoski.
But cleaning your hands after you go grocery shopping shouldn't be the only time you reach for the soap or hand sanitizer. Practicing overall good hand hygiene works wonders in keeping your hands clean, and yourself from getting sick.
"You should always wash your hands before and after preparing food, petting an animal, treating wounds, before putting in or taking out contact lenses, after using a bathroom or changing a diaper, after blowing your nose, coughing or sneezing, and after handling garbage, among other situations," says Dr. Gricoski.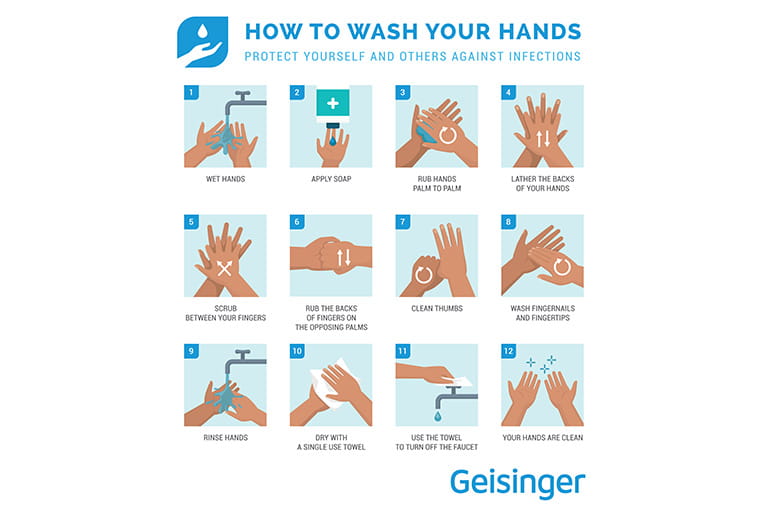 Dry and itchy hands?
Using hand sanitizer too frequently can dry out your hands, leading to dryness, itching, cracks and contact dermatitis. If your hands are dry and itchy from over-sanitizing, self-treat at home with petroleum jelly or use lotion after you wash your hands.
"If it doesn't get better in one to two weeks, call your doctor," says Dr. Gricoski. "They can recommend a treatment, like a steroid cream, that can help you find relief."
Next steps:
Make an appointment with Jeanne Lorraine Gricoski, DO
Here's how proper handwashing can help stop the spread of germs