How to prepare for knee replacement surgery
If you're tired of avoiding the stairs and icing your knee night after night, knee replacement surgery may be your best option for returning to a more active and pain-free life. Over 600,000 knee replacement surgeries are performed every year, and doctors anticipate that number will grow to 3 million per year by 2030 as the baby boomer generation ages.

"Greater than 90 percent of people who have knee replacement surgery experience a significant reduction in pain," said James E. Murphy, M.D., an orthopaedic surgeon at Geisinger Wyoming Valley Medical Center in Wilkes-Barre. "However, recovery requires diligence, patience and practice, which is why it's important for patients to prepare for their surgery ahead of time."

Exercises to strengthen your knee

Your surgeon or physical therapist may suggest exercises before surgery that will help you recover faster. These exercises strengthen the muscles and tendons that support your knee. Check with your doctor first before trying these exercises at home:
Thigh squeezes: Lie on your back with your legs straight and tighten your thigh by pushing your knee to the floor. This will help you build your quadriceps muscle.
Leg raises: Lie on your back, keep your knee straight and raise your leg. Hold it for several seconds before lowering it. This will help you strengthen your hip flexors.
Knee bends: Sit in a chair and bend your knee back under the chair as far as it will go. This helps improve your range of motion.
Sitting kicks: Sit in a chair with your knee bent, then straighten your leg. Hold for several seconds then lower your leg. This also helps strengthen your quadriceps muscle.
Chair lifts: While sitting, grasp the arms of your chair and lift your body. Hold for several seconds and lower. This will strengthen your triceps, which will help you lift yourself when you can't use your leg after surgery.
Getting ready at home

The vast majority of patients go home after surgery, making an inpatient rehabilitation stay unnecessary. In addition, most are able to return to their home that day after surgery. In preparing for this return to home, keep in mind that after knee replacement surgery, your mobility will be limited. It's a good idea to prepare your home beforehand so you have access to everything you need after surgery.

If your bedroom is on the second floor of your home, prepare a sleeping area on the ground floor so you will not have to climb stairs. Remove area rugs and electrical cords from pathways that could create a tripping hazard. In the bathroom, install a shower bench and a toilet seat riser to alleviate the stress on your knees caused by standing and bending.

The road to recovery

Typically, you will be in the hospital for one day after surgery so your doctor can monitor your progress and manage your pain. During this time, you'll advance you rehabilitation with a physical therapist who will provide instructions for exercises you can do at home.

Your recovery instructions will outline when you should increase your activity level. Typically, this will start with walking around the house, then walking around outside, followed by light household tasks and strengthening exercises.

"You'll recover faster if you follow your doctor's instructions closely," said Dr. Murphy. "However, it's important to be patient and take things slow since you'll need time to return to full mobility."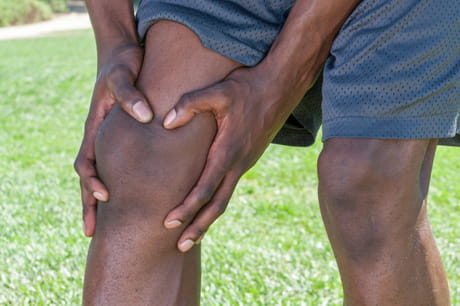 Content from General Links with modal content