Avoiding caregiver burnout
Taking care of a loved one can leave you feeling physically and mentally exhausted. Here are some tips to avoid burnout.
When you're responsible for a loved one, you can easily devote much of your day to making sure that person is cared for at all times.
But taking care of someone around the clock can be a stressful job — especially if you're also balancing a career and family, leaving little time for yourself. This can lead to stress and even your own health problems if you neglect self-care. In fact, more than 30% of Americans who take care of a sick or elderly family member report feeling caregiver burnout.
What is caregiver burnout?
Taking care of a family member can be mentally and physically exhausting. Caregiver burnout is a very real thing that happens to those responsible for the day-to-day care of a family member or friend. It starts as mild stress, and someone suffering with it may be irritable, experience anxiety or have trouble sleeping. They may develop health problems or withdraw from friends and family.

As a caregiver, it's important to know the signs of stress and how to prevent it so you can continue to care for your loved one.
"Being a caregiver, even part-time, can be extremely stressful. Overseeing the day-to-day activities of a loved one can be overwhelming, especially if you're balancing other responsibilities such as work or school. If you're not taking care of yourself, physical and mental exhaustion can settle in, as well as the risk of developing your own health problems," says Dr. Mark Evans, internal medicine physician at Geisinger's 65 Forward Health Center in Kingston.
Preventing burnout
There are things you can do to avoid the weariness that comes with being a caregiver and keep stress at bay:
Ask for help (and accept it when it's offered)—If you have friends or family who are close, don't be afraid to ask for help. Help doesn't necessarily have to be caring for your loved one; it can be with daily chores, such as grocery shopping or doing laundry.
Take a break—This can be as simple as stepping away to catch up on emails and phone calls, reading a book or watching a movie. If you can't take much time away from your caregiving responsibilities, taking quick breaks here and there can still help you recharge.
Delegate responsibility—Identify tasks others can help with, such as running errands, and delegate those tasks. Taking even one or two small tasks off your plate can help relieve some of your burden.
Communicate honestly—Let others know how you're feeling. Since no one can read minds, those close to you may not realize you're struggling. Start the discussion and keep the dialogue open.
Find a support group—Look for a support group in your local area. Talking with other caregivers can help you feel less isolated and grow your support network in the process.
Continue to see your friends—Don't let your personal relationships fall through the cracks. Spend time with those you care about. They'll take your mind off of your caregiving duties and be there when you need them. Do things you enjoy, without feeling guilty.
Stay on top of your health—Make sure to keep your own medical appointments. If you're feeling stressed, talk to your doctor. They may be able to recommend ways to reduce your stress and avoid getting sick.
Look into care options—If caring for your loved one becomes too difficult, it may be time to consider other long-term care options, such as adult day care, home health or a skilled nursing facility. Medicare and private insurance often cover a portion of the cost.


"Caregivers are so busy putting their loved ones first, they often neglect themselves. Even if you enjoy taking care of someone you love, it's hard work. It's important to do things to reduce your risk of burnout, such as taking breaks wherever possible and maintaining your support network," Dr. Evans says.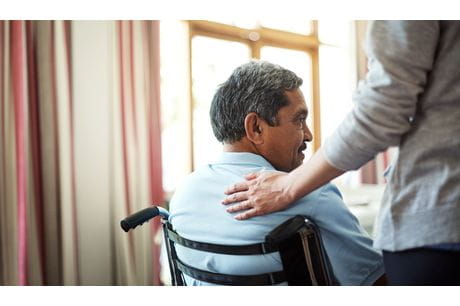 Recognizing signs of stress
First, learn to recognize when you are stressed. If you're feeling angry, irritable, depressed or anxious, stress is likely taking its toll. Having sleepless nights, not feeling well-rested and having a hard time concentrating are other signs of stress that you shouldn't ignore. Stress can also cause some physical problems such as blurred vision, stomach problems or high blood pressure.

In addition to managing stress, it's also important to get regular exercise, eat a healthy diet and take some time to yourself.

Relaxation techniques, such as meditation and breathing exercises, can help you reduce stress and cope better.

Finally, if you feel like you're overwhelmed by caring for your loved one, consider seeking professional help.

"Don't get so caught up in your loved one's needs that you forget your own," advises Dr. Evans.
At Geisinger, we're helping seniors live better, healthier lives. Through programs like Geisinger 65 Forward, we're delivering more patient-centered care, designed with seniors' needs in mind.


Next steps:
Make an appointment with Mark Evans, DO
Find a senior health provider
Learn more about Geisinger 65 Forward