Garlic can help lower your cholesterol levels
The health benefits of garlic have been talked about for centuries. Fragrant and packed with flavor, garlic is rich in manganese — which plays a big role in regulating blood sugar and boosting your metabolism. Pop this flavor powerhouse into your favorite savory dish.
Servings: 4
Ingredients
1 tbsp olive oil
8oz sliced mushrooms
3 garlic cloves, minced
1 medium zucchini, thinly sliced
4 (8-inch) whole-wheat flour tortillas
Cooking spray
1/2 cup unsalted tomato sauce
1/2 tsp dried oregano
Dash of salt
6oz part-skim mozzarella cheese, shredded (about 1 1/2 cups)
Instructions
Preheat broiler to high.
Heat a large skillet over medium-high heat. Add oil; swirl to coat.
Add mushrooms, garlic, and zucchini; sauté 6 minutes or until tender and mushroom liquid evaporates.
Arrange 2 tortillas on a baking sheet; coat tortillas with cooking spray. Broil 2 minutes or until browned Place, browned side down, on a work surface. Repeat with other 2 tortillas.
Combine tomato sauce, oregano and salt in a small bowl.
Spoon 2 tablespoons sauce on unbrowned side of each tortilla.
Divide vegetables over tortillas; sprinkle each with 1/3 cup cheese.
Place 2 pizzas on baking sheet. Broil 2 minutes or until cheese melts.
Repeat with remaining tortillas.
Enjoy!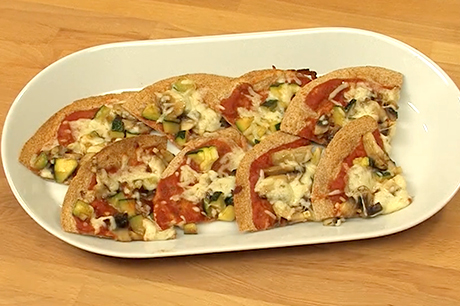 Content from General Links with modal content