What To Expect After Hip Replacement Surgery
You've been in pain for a while. It hurts to walk, sit down and get out of a chair, and even to simply lean over. In fact, your hip even hurts when you're just sitting or lying down. So you've decided to move forward with hip replacement surgery.
You're not alone. More than 300,000 people in the U.S. have complete
hip
replacement surgeries every year.
One reason people are hesitant to move forward with this surgery, as with most surgeries, is not knowing what to expect after you wake up from surgery.
To quell your worries, here's a breakdown of what you can expect to happen after your hip replacement surgery.
Recovery begins immediately
As soon as your surgeon completes the surgery, your recovery begins by walking the same day as surgery.
"You will receive antibiotics after your surgery to ensure no infections occur. You'll also receive medications to control your pain and prevent blood clots. Walking is the best medicine to prevent post-operative problems," said Geisinger orthopaedic surgeon Dr. James Murphy. "Most people will stay in the hospital overnight, and some may actually go home the same day. The length of your hospital stay depends on your health."
While you are healing following surgery, you can become susceptible to congestion in your lungs. "You should work on breathing deeply and frequently coughing to clear your lungs as part of the healing process," Dr. Murphy said.
Physical therapy is your new hip's best friend
While you're still in the hospital, you will learn to move your feet up and down, flexing your leg muscles – this keeps your blood circulating. You will most likely begin working with a
physical therapist
the day of surgery and learn how to protect your hip in the correct positions while recovering.
"Your physical therapist will work with you one to two times per day to teach you specific exercises to regain full hip movement. After you leave the hospital, you'll work with a physical therapist three to four times a week," Dr. Murphy said.
Getting active
Being physically active is crucial for your post-surgery recovery.
"Your physical therapist will work with you to strengthen your hip and show you how to get back into your daily routine with graduated walking and your normal household activities – these will increase your mobility," Dr. Murphy said.
Depending on your progress, you should be able to return to most of your normal physical activities, but you should avoid taking on too much too soon and give yourself time to heal. And your doctor will probably discourage you from participating in any activities that may put too much stress on your new joint, such as running.
"You don't want to push yourself too hard within the first two weeks of surgery. And you don't want to put yourself in the position where you could fall – that can damage your new hip and require more surgery," Dr. Murphy said.
You can avoid falls by using crutches or another means of assistance until you're completely healed and can be safely mobile on your own.
Once you reach the six-week mark and when you've regained full hip movement, you'll most likely be able to resume driving.
"Depending on the physical nature of your job, your surgeon will give you the OK to return to work six weeks after surgery," Dr. Murphy said.
As you work to improve your hip mobility, you should find that you have much less pain than before your surgery. In fact, studies show that nearly 90 percent of people who undergo hip replacement surgery feel better and can get back to normal activities within a few months, and sometimes even weeks, after surgery.
"Patients usually discover that their daily activities have become much easier because their joint moves better than it did before surgery," Dr. Murphy said. "And that's the whole point."
Dr. James Murphy is a board-certified and fellowship-trained adult reconstruction specialist. His clinical interests include progressive hip and knee replacement, rapid recovery protocols, revision surgery and treatment of infections. To schedule an appointment, call 800-275-6401.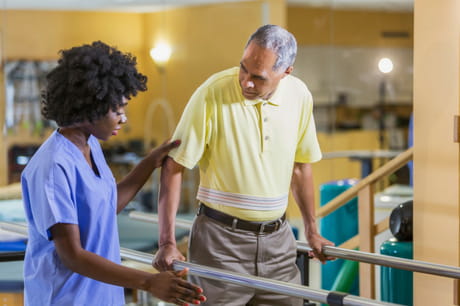 Content from General Links with modal content