Considering a hip replacement? Here's what you need to know
Return to a pain-free life
If you've been dealing with chronic
hip pain
, you're not alone. More than 300,000 Americans receive a complete hip replacement surgery each year due to the long-term effects of deteriorating joints. Luckily, many of them find relief—nearly 90 percent of hip replacement patients report improvement in pain and range of motion following the treatment.
"Patients don't have to live with the pain and stiffness of a failing joint," said Geisinger orthopaedic surgeon Theodore J. Tomaszewski, M.D. "With all of the technological advancements in today's OR, there's no better time to explore the possibilities with your doctor and determine what's right for you."
Before having a conversation with your doctor about the surgery, it's important to be aware of the symptoms, benefits and recovery plan for a total hip replacement.
Here are some questions to consider.
Is a hip replacement right for me?
Studies show that 95 percent of hip replacement patients are over the age of 45; typically they've developed age-related osteoarthritis. However, people involved in an accident or traumatic event may also experience similar deterioration in the joint.
If it hurts to walk, climb stairs or stand for an extended period of time, your hip may be failing. Visible deformities like a bowed leg can also signal permanent damage.
However, surgery should never be the first course of action.
"Your doctor should initially prescribe a regimen of anti-inflammatory medications, physical therapy or assistive devices like a cane or crutches," said Dr. Tomaszewski.
If these don't work and you're free of blood clots and don't have a history of getting infections, it's time to consider a hip replacement. But keep in mind, recovery can be a long process.
"Patients who need a hip replacement are accustomed to the discomfort of a failing joint, making it harder for them to take the time necessary to heal after surgery," said Dr. Tomaszewski. It's important to allow your body up to a year to heal following the surgery, which may mean limited mobility and ability to work.
What are the benefits?
The first and most obvious benefit of a hip replacement surgery is a dramatic reduction in
pain
. Additionally, after vigorous rehabilitation, some patients are even able to return fully to sports and physical activities.
"This isn't in every case, but I have seen patients return to their golf game following a hip replacement and 16 months of
physical therapy
," said Dr. Tomaszewski. "But don't expect your hips to feel 25 years younger. They will still require exercise and good habits to maintain strength and stability."
How does the surgery work?
The day of a hip replacement, your surgeon will remove damaged bone and cartilage around the hip, which will be replaced by a prosthetic joint featuring a combination of metal and plastic components.
The prosthetic, which is like any other ball and socket joint, will be attached to your bone and padded with plastic to minimize friction.
Thanks to modern, minimally invasive surgery, you can expect your hospital stay to be less than four days. And with a single-incision surgery, scarring can be minimized to just a 6-inch mark. Doctors are also able to disturb less of the healthy muscle, which helps you recover faster.
Expect to be on your feet and beginning rehabilitation just a few hours after surgery. Once you're able to accomplish a set list of goals from your physical therapist, it's off to an outpatient therapy program to exercise your new joint and relearn good habits.
Within 6-10 weeks you could be getting around without trouble, and back to your favorite recreational sports in 18 months.
Dr. Theodore J. Tomaszewski is a board-certified general orthopaedic surgeon with a subspecialty interest in joint replacement. He sees patients at Geisinger Orthopaedics and Sports Medicine in Scranton. To schedule an appointment, call 800-275-6401.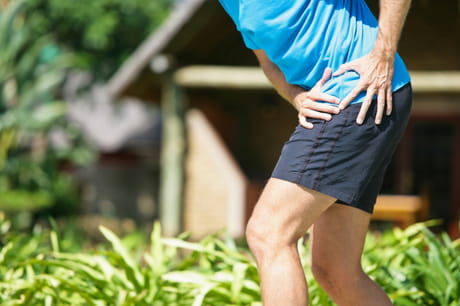 Content from General Links with modal content