How to switch Medicare or Medicare Advantage plans
Want to change your Medicare plan? You've come to the right place.
Did you know that you can switch to a different Medicare or Medicare Advantage plan two times per year? The Annual Enrollment and Open Enrollment periods let you find the best plans for your healthcare needs.
Medicare Annual Enrollment Period (AEP)
Each year, the Annual Enrollment Period takes place Oct. 15 through Dec. 7.* If you currently have a Medicare Advantage (Part C) or prescription drug (Part D) plan, you can add, drop or change your plan during this time.
Medicare Advantage Open Enrollment Period
If you enrolled in a Medicare Advantage plan during the Annual Enrollment Period, you'll have from Jan. 1 through March 31 to leave your plan and go back to Original Medicare.
During this time, you'll also have a one-time opportunity to:
Change your Medicare Advantage plan
Enroll in a standalone Part D prescription drug plan

This applies if you're disenrolling from a Medicare Advantage plan that included Part D prescription drug coverage to return to Original Medicare
Outside of these two time frames, you may qualify for a Special Enrollment Period (SEP) if you experience a qualifying event, such as moving out of your plan's service area, leaving your employer or losing credible drug coverage through no fault of your own.
Medicare vs. Medicare Advantage plans
Now that you know when you can enroll or switch plans, here are the key differences between Medicare and Medicare Advantage coverage options.
Medicare, also called Original Medicare, is made up of Part A and Part B plans. This is a government-issued health insurance plan that covers medical costs for people over age 65.
Medicare Advantage (Part C), also called MA, is a private insurance plan that offers more benefits than Original Medicare. Besides covering hospitalization and medical care, Medicare Advantage health plans provide coverage for services that Medicare doesn't.
Finding the right Medicare plan
To find the best plan for you, it's helpful to know the parts and what they cover:
Part A

helps cover the big things, like hospitalizations and skilled nursing care.

Part B

helps cover routine care, like doctor visits and preventive care.

Part C

(also called Medicare Advantage) includes Part A and Part B benefits and:

Often has no or low monthly premiums

Often includes prescription drug benefits (Part D)

Limits your out-of-pocket expenses

Can include extra benefits like dental, vision, hearing and wellness

Part D

can also stand alone as separate prescription drug coverage.
Have questions about switching? Talk to our Medicare advisors at 800-482-8163 (TTY: 711).
*If you're still working and covered under an Employer Group Health Plan (EGHP) at the time you're first eligible for Medicare, you'll have an 8-month Special Enrollment Period that starts either the month after employment ends or the month after your EGHP ends — whichever comes first.
Next steps:
Learn about the difference between Medicare and Medicare Advantage
Interested in Medicare Advantage? Here's how to choose a plan
Learn more about Geisinger Gold Medicare Advantage
Geisinger Gold Medicare Advantage HMO, PPO, and HMO SNP plans are offered by Geisinger Health Plan/Geisinger Indemnity Insurance Company, health plans with a Medicare contract. Continued enrollment in Geisinger Gold depends on annual contract renewal.
Y0032_23269_1_M Accepted 10/1/23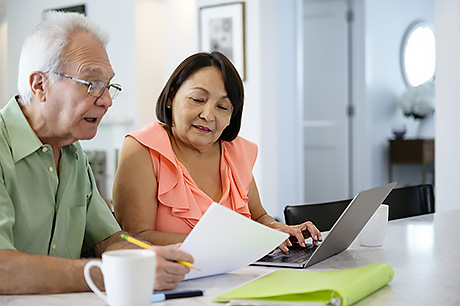 Ready to Shop?