What to pack when coming to Geisinger Marworth
If you're preparing to come to Geisinger Marworth Treatment Center, don't let packing stress you out. We've put together a list, so you know exactly what to bring and what to leave behind when you stay with us.
Deciding to come to a rehabilitation center is an important one in your recovery. Knowing what to bring and what to leave at home can help you get all you can out of your treatment. These tips will help you pack and be one step closer to recovery.
What should I pack?
Geisinger Marworth asks you to limit what you bring to one carry-on suitcase and an overnight bag. Less is sometimes more — you'll want to bring only the necessities with you.
We recommend you pack five to seven days' worth of clothing. This will help you make the most of the closet space you are provided. We provide washers, dryers and laundry detergent free of charge. Ironing boards and irons are also provided. Consider this one less worry to help you to focus on your treatment as much as possible.
Here are some staples to pack:
Exercise clothing or activewear
Journal
Pajamas
Seasonally appropriate clothing (pants, shirts and/or shorts, depending on the time of year)
Shaving kits (razors must have a plastic handle)
Socks and underwear
Sunscreen
Sunglasses
Toiletries (new or unopened)
Watch, wedding ring or other daily jewelry


Smoking is allowed in designated areas outside of the building, and you must bring your own (sealed) commercial cigarettes.
These items will help you to comfortably stay at Geisinger Marworth for the duration of your inpatient rehabilitation. You'll also want to make sure you bring photo identification, your insurance card, a list of important phone numbers and any medications with you. As cellphones are not permitted, you'll want to bring a calling card to make phone calls. Once you arrive, calling cards are available for purchase from our on-site store.
What should I leave behind?
Knowing what to bring is just as important as knowing what to leave at home. We want you to be able to focus on your treatment, so eliminating distractions is both necessary and helpful.
Here are some items we recommend you leave at home:
Candles and incense
Cellphones or any electronics
Clothing that requires dry cleaning
Food or drinks
Games
Perfume or cologne
Sporting equipment
Tight-fitting clothing, such as spandex, leggings or tank tops
Toiletries that contain alcohol, such as mouthwash or nail polish remover or hairspray
Valuables, including expensive jewelry or meaningful personal items
Video games or DVDs
Vapes, electronic cigarettes or unsealed commercial cigarettes


When packing, think of what you need rather than what you want. If you ever have questions about what you can and cannot bring, call us at 1-800-442-7722. Also, remember that anything you forgot or found you need once you've arrived can be arranged through your primary counselor.
If you have a client struggling with substance abuse, Geisinger Marworth can help. Call us at 1-800-442-7722 or email marworth@marworth.org to explore options with an admissions counselor.


Next steps:
Talk with an admissions counselor
Download your packing checklist
Download the Geisinger Marworth dress code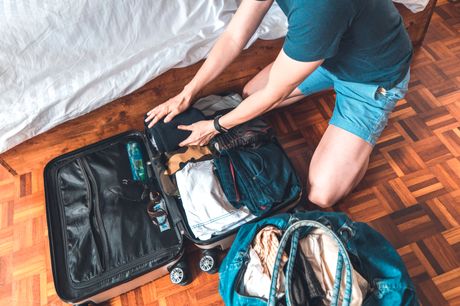 Call us for a confidential assessment