Living with dementia: How to take care of yourself
If you've been diagnosed with dementia, you may be wondering how you're going to properly care for yourself and perform your regular tasks. The good news is it's possible. Learning how to cope can help you stay happy, healthy and independent.
Dementia education matters
When you have dementia, educating yourself about your condition is key. Start by asking questions about the type of dementia you have and how it will progress. Tell those close to you about your condition so you can work together to better understand what to expect.
The internet is a wonderful resource for dementia education. Not only can you access educational materials, you can also find local support groups for patients and caregivers who can help you manage your condition. These resources can aid in planning for the future. Geisinger offers many support groups for caregivers, loved ones and those with dementia each month.
Seek assistance from others
Delegate who will be responsible for your finances, general care and legal planning should you need assistance in the future.
"Patients with dementia in the earliest stages are still able to make sound decisions. This is a crucial time to make arrangements and set directives. Making decisions now ensures your wishes will be honored later," says Maya Lichtenstein, MD, a neurologist at Geisinger's Memory and Cognition Program. "It will also help make things easier for you and your family down the road."
Establish a routine
If you've been diagnosed with dementia, daily activities you once did with ease can feel like a struggle. Establishing a daily routine will help you map out your day. Create a schedule for as many tasks as you need, such as bathing, getting dressed, taking medicine and spending time with loved ones.
"People in the early stages of dementia are often still functional and do not need constant care. Sticking to a routine can provide a sense of calm, reduce anxiety and help them stay focused on performing regular tasks," Dr. Lichtenstein advises.
Additionally, having a routine provides familiarity and can reduce the risk of surprises. Performing the same predictive tasks each day can help with short-term memory loss by storing these tasks in your long-term memory bank and keeping them familiar.
If you had hobbies you enjoyed before your diagnosis, continue to enjoy them. Whether it's spending time in the garden, reading the paper or collecting stamps, if you did it before, continue to devote time to it. Having dementia may mean that things are different than they were before, but it doesn't mean you can't live a full life.
Write things down
Simple notes can help you remember important things, such as turning off the stove, remembering to eat or asking for help if needed. Placing notes throughout your house can provide a map of your day, keep you on your routine and help fill in the blanks.
Setting reminders and using to-do lists can also be helpful to jog your memory. Keep lists or reminders in an easy-to-find location, such as next to your bed or on the refrigerator. Use a calendar to keep track of the date.
Writing in a journal can also help you process your feelings or document anything unusual or noteworthy.
"Many people with dementia feel if they don't write things down, they might forget them. Writing as much and often as needed and referring to those notes can help their memory," notes Dr. Lichtenstein.
Flexibility is key
Following a daily routine is important — so is allowing flexibility. Some days you may have more energy than others and want to do extra activities. Other days, you may feel more tired. Try to stick to your routine but let how you feel that day dictate your level of activity. On days when you feel like doing less, be sure you complete critical tasks such as taking any medicines, going to doctor's appointments, bathing and eating.
"Changes in routine can feel disruptive or upsetting. Keep to your regular schedule as much as possible. When unexpected changes do arise, ask questions and talk about how they make you feel. This can serve as an important tool in your care," Dr. Lichtenstein says.
D-CARE study at Geisinger
Are you caring for someone with dementia or have dementia yourself? We invite those affected by dementia and their caregiver to be part of our national research study that will compare three different models of dementia care over the course of 18 months.
If you're interested in participating or for more information, call 570-808-7215.
Next steps:
Meet Maya Lichtenstein, MD
Find a memory and cognitive disorders specialist
Learn about dementia and Alzheimer's treatment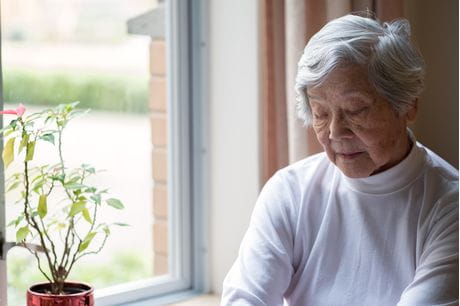 Content from General Links with modal content