Quick to prepare and fun to make, the traditional taco gets a nutritious spin with the choice of ingredients.
Tacos can be an easy, nutritious meal for one or the whole family. Quick to prepare and fun to make, the traditional taco — defined as a fried tortilla that is folded or rolled and stuffed with a mixture such as seasoned meat, cheese and lettuce — gets a nutritious spin with the choice of ingredients.
Tortilla: Choose a corn tortilla over a flour tortilla for a lower-calorie, lower-fat option per serving that also gives you more whole grains. If you prefer a flour tortilla, choose a whole wheat tortilla for an additional 4g of fiber per serving.
Protein: From traditional ground beef to ground turkey, it's important to choose lean ground meat. When opting for ground beef, aim for a 90/10 mixture or higher. This means 90% of the product is meat and 10% of the product is fat.
Ground turkey or chicken comes in different levels of leanness as well. You can find ground poultry up to 99% fat-free. Additional choices of protein include fish (as featured in the recipe below), shrimp or protein alternatives, such as beans and tofu. Be careful when selecting your seasoning options — salt can be in abundance. If choosing a taco seasoning packet, pick a "reduced sodium" or "low sodium" option for at least 25% less sodium then the original. You can also consider making your own taco seasoning at home by combining chili, garlic, onion, crushed red pepper flakes, oregano, paprika, ground cumin and pepper for a salt-free option.
Cheese: We all know it can be easy to go overboard with the cheese. If going with a traditional taco, choose a Mexican cheese blend over a taco-seasoned cheese for less sodium in your meal. Also watch your portion size, remembering that ¼ of a cup is about 100 calories.
Something crunchy: The options here are endless. Shredded lettuce is traditionally used for a good "crunch," but you can try anything from shredded green and purple cabbage, carrots, cucumbers or zucchini for a nice, low-calorie crunch.
Seasoning and sauces: Instead of high-calorie sour cream, try low-fat or nonfat plain Greek yogurt. Spice it up by mixing some chipotle into your Greek yogurt. A good squeeze of lime can go a long way, too! When deciding on salsa or pico de gallo, choose fresh for generally less sodium. Finally, add some of nature's mayo (aka avocado), for a heart-healthy fat—a good serving size is about 1/3 of a medium avocado.
If making your own tacos is not your thing try this "out-of-the-box" fish taco for a healthy twist on a traditional favorite.
Makes: 4 servings (2 tacos each)
Ingredients:
For the fish
4 pieces, 4 oz each of skinless, firm white fish (such as cod, snapper fillet or mahi-mahi). Fresh is best. If frozen, thaw first.
1/2 teaspoon cumin
1/4 teaspoon salt
3/4 teaspoons chili-lime seasoning, such as Mrs. Dash "Fiesta Lime"
For the sauce (makes 1/2 cup)
1/4 cup fat-free Greek yogurt
3 tablespoons light mayonnaise
1 tablespoon lime juice
1 to 2 tablespoons water, to thin
3/4 teaspoon chili-lime seasoning, such as Mrs. Dash "Fiesta Lime"
1/8 teaspoon salt
For the slaw
1

/4 cup chopped cilantro
1 cup white cabbage, sliced
1 cup red cabbage, sliced
1/4 cup shredded carrots
1 tablespoon olive oil
1 tablespoon lime juice
1/4 teaspoon salt
8 corn tortillas
Lime wedges, for serving

Directions:
Season fish with salt, ground cumin and chili-lime seasoning.
Combine the ingredients for the sauce in a small bowl and refrigerate until ready to eat.
Toss the slaw ingredients and keep cold.
Place fish on a preheated skillet and spray with olive oil. Cook 4 to 5 minutes on each side until fish is just opaque and charred. Break up in large chunks.
Char the tortillas over an open flame on the burner or in a skillet for about 30 seconds on each side. Stack on a plate covered with a towel to keep warm.
Assemble tacos. Place slaw on the bottom of each tortilla, top with fish and drizzle with sauce. Serve with lime wedges.
Nutrition information (2 tacos per serving): 342kcal calories; 38g carbohydrate; 35g protein; 9.5g fat; 1.5g saturated fat; 56.5mg cholesterol; 493mg sodium; 4.5g fiber; 2.5g sugar

Recipe modified from skinnytaste.com.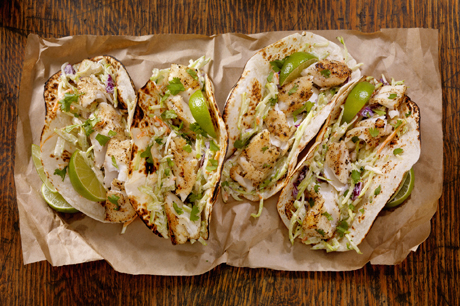 Content from General Links with modal content