6 trick-or-treating alternatives
From parties at home to scary movie nights, get creative with your Halloween celebrations this year.
Even before the pandemic, many parents looked for alternatives to traditional trick-or-treating. Reasons might've ranged from concerns about sending their children door-to-door to addressing a child's health or mobility issues.
These days, social distancing has inspired even more families to put a new spin on celebrating Halloween.
Not sure where to start?
We've got ideas that are spooky fun and let your kids enjoy Halloween costumes and treats, without ringing doorbells in the dark.
Finding inspiration
"At Halloween, most kids just want to wear their costumes and get candy," says Dr. Dana Smith, a pediatrician at Geisinger's Lock Haven clinic. "There are plenty of ways for them to do that without feeling like they're missing out if they don't go door-to-door."
Being home with your family can be a source of inspiration again this Halloween. Ask family members for suggestions on decorating themes and ways to celebrate. Browse the web for inexpensive décor. Then turn to local farm stands for things like pumpkins and corn stalks to set the perfect scene.
Here are 6 alternative ways to celebrate the season of scares this year:
1. A trick that's really a treat
Ringing a doorbell and running sounds like a trick — unless you've left behind a treat bag filled with goodies.
Gather the whole gang to assemble Halloween goodie bags. Then drop the sacks at your friends' and neighbors' front doors, knock or ring the bell and dash. Your kids will have fun surprising their pals with favorite treats like:
• Baked goods
• Candy
• Photos
Hand sanitizer or a fall-scented soap make great bonus treats for adults. Personalized notes are a nice touch, too.
2. Throw a party at home
Social distancing is still a good idea, and you may again avoid big get-togethers this fall. But you can still have a small gathering with your immediate loved ones. "Hosting a small Halloween party at home is a great way to enjoy the season together safely," says Dr. Smith.
3. Host a Halloween candy hunt
Instead of trick-or-treating to get the candy your kids crave, hold an after-dark treat hunt. Buy inexpensive, Halloween-themed treat bags, tuck in some goodies — including an activated glow bracelet or stick — and hide them around the yard or a park. Then the search is on!
4. Have a virtual costume contest
Technology can bring people together for a socially distanced costume contest. Invite friends and family to log in to a video chat and show off their costumes. Guests can vote for their favorites or categories like funniest or scariest. After the votes are tallied, the winner gets bragging rights, or maybe some small prizes like emailed certificates or e-gift cards.
5. Fill a piñata
A piñata offers a creative alternative to traditional trick-or-treating. Whether you're looking for a piñata to break with a stick or a pull-string option, you can find one at your local party store. Fill it with trinkets and watch as participants take turns in hopes of making treats rain down.
Don't want to fill it with candy? No problem. "For a healthier alternative, opt for crayons and coloring pages, gift cards or individually wrapped bags of pretzels," suggests Dr. Smith.
6. Stay in for scary movie night
From silly to spooky, you'll find a wide range of Halloween-themed films to appeal to every taste. Browse titles on your favorite streaming service or cable provider to find something the whole family will enjoy.
Popping some corn? Add a handful of candy corn or gummy worms, then settle in for a ghoulish good time.
"The options for a fun, safe Halloween are almost endless," says Dr. Smith. "It's all about getting creative."
Next steps:
Read our pediatrician's guide to parenting right now
Making Halloween safer for your child with food allergies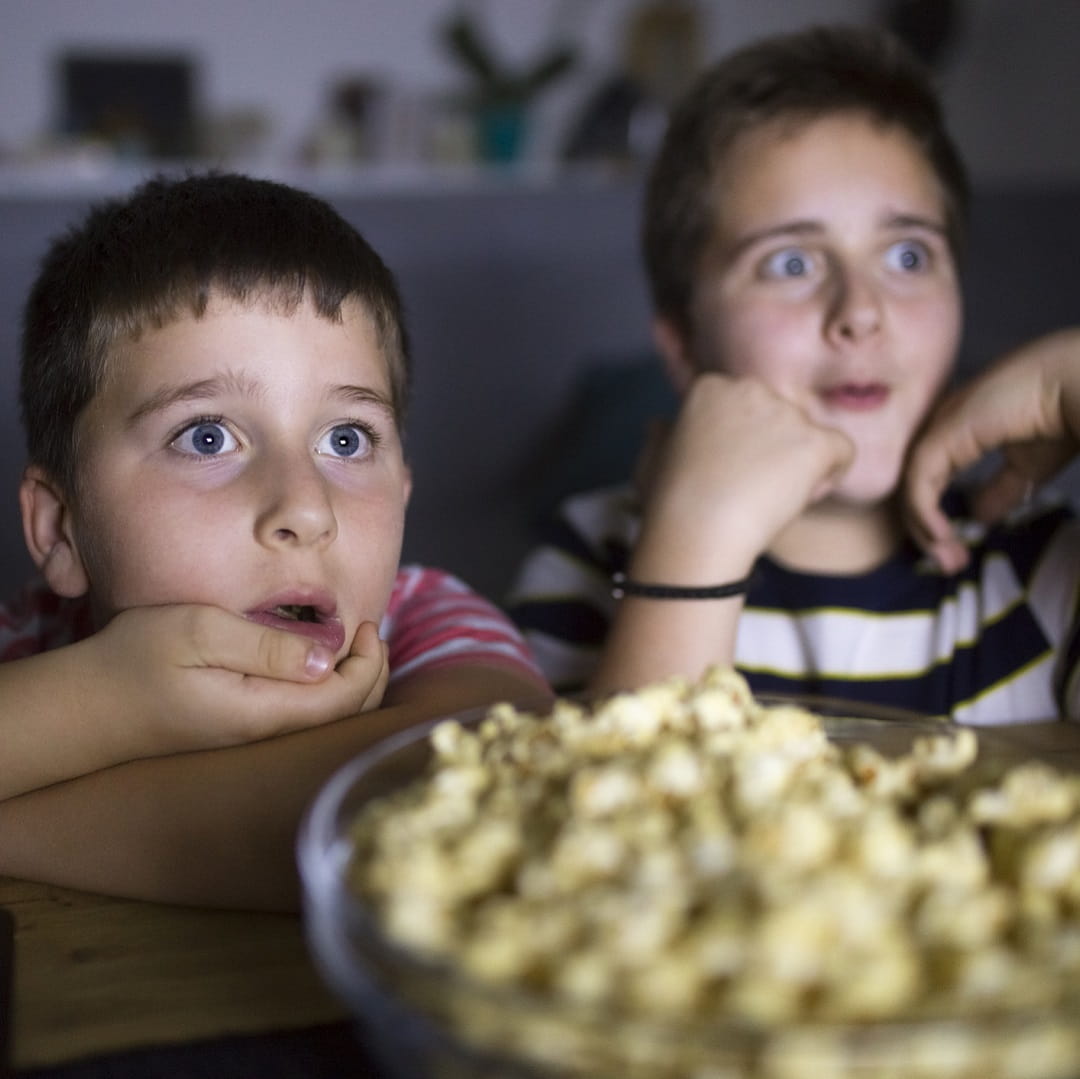 Content from General Links with modal content