Are plant-based meats healthy?
Plant-based meats offer an alternative to eating meat. But are they better for you?
These days, plant-based meat products are more popular than ever. They're cropping up on grocery shelves, fast food menus and in restaurants around the country — and they're changing the way people eat.
Whether you're new to the plant-based scene or a longtime vegan, you'll want to get the lowdown from our heart surgeon and nutritionist, who break down what you should know.
What is plant-based meat?
Popular with both meat and non-meat eaters, plant-based meats (also called "fake meat") is exactly what it sounds like — meat made from plants. These meat substitutes can be made from a variety of plant-based proteins including:
Soy
Peas
Beans
Lentils
Wheat gluten


These alternative protein sources look, taste and cook like "regular" meat. Many even have a similar appearance and texture.
"Some 'fake meats' are surprisingly similar to animal meats," explains John Conte, MD, cochair of the Heart Institute and chair of cardiothoracic surgery at Geisinger. "Some even appear to 'bleed' like traditional meat does when touched."
Besides looking (and tasting) the part, you can find meatless meat almost everywhere.
"There are a wide variety of choices available in the plant-based meats space," says Kimarie Segiel, a registered dietitian at Geisinger.
Comparing your options
You'll find meatless selections to suit every palate, in numerous tasty forms, such as:
Ground "meat"
"Sausage" links
"Chicken" nuggets
"Fish" filets
Fake "bacon"


"With so many meatless options widely available, it's easier than ever to enjoy the occasional vegetarian or vegan meal or to adopt a plant-based diet," Dr. Conte says.
Many meat substitutes offer a wide range of nutritional benefits, like protein, iron and fiber. Some even have no cholesterol.
But not all plant meats are created equal. That's why it's important to do your research.
"Some plant-based products that market themselves as healthy are anything but," says Dr. Conte.
It's all about balance
If you're interested in trying a plant-based protein, look at the food label to get a better understanding of its ingredients. A rule of thumb? The shorter the ingredient list, the healthier it often is.
"Many plant-based foods can be high in sodium, especially if they're processed," says Ms. Segiel.
If you're watching your sodium, you may want to avoid frozen or pre-packaged plant-based meats or, when you do eat them, pair them with a low-sodium side dish, such as salad, brown rice or steamed vegetables.
"To be sure you're eating as healthy as possible, you can also start with fresh ingredients and prepare meatless dishes at home," Ms. Segiel says.
Getting creative in the kitchen
Cooking plant-based meals at home is easier than you might think. Browse the internet to find some healthy meal ideas, like lentil burgers or plant-based beef with broccoli. Pick up fresh ingredients at your local grocery store, then head to the kitchen.
Freeze any leftovers or use them for lunches during the week. If you're feeling creative, repurpose leftovers by putting them over greens or your favorite pasta or turning them into soup.
And if you do enjoy the occasional processed meal, Dr. Conte says don't stress about it.
"Like anything, it's good to enjoy these plant-based meats in moderation," he notes.
"It's all about balance," Ms. Segiel adds. "If you eat lower sodium meals throughout the day, then it's OK to occasionally work in something with higher sodium, like a plant-based burger or frozen meal."


Next steps:
Planning a barbecue? Here's how to lighten up the menu
Cut stress to improve your blood pressure
Meet John Conte, MD
Meet Kimarie Segiel, RDN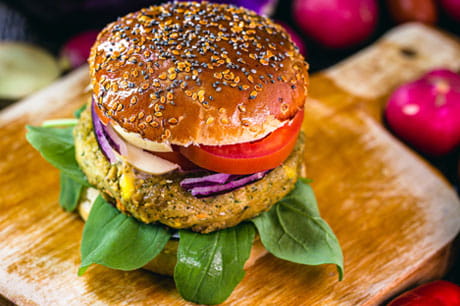 Content from General Links with modal content